Tailored fishing kayaks boost sales and price points.
By Eugene Buchanan
Bells and whistles, hands-free propulsion and hulls that are both fast and stable. That's the buzz in the fishing kayak world as manufacturers continue to cater to anglers' every need, whether they're chasing rooster fish or bass.
The reason: potential sales. The nation's nearly 40 million licensed anglers generate more than $46 billion in retail sales, with kayak fishing having the highest, three-year participation growth of all kayaking disciplines (more than 20 percent), according to the U.S. Fish and Wildlife Service's National Survey of Fishing. Throw in a median household income of between $75,000 and $125,000, and it's a ripe market to cast to.
Over the trailing 52 weeks, through April 16, 2016, fishing (or sporting) kayaks have accounted for the second largest sub category in kayak unit retail sales, behind recreational models, according to SSI Data*, and their higher price points have them nearly matching the latter in dollars sold during the period. Sales of sit-on and sit-in sporting kayaks are up a combined 25 percent in units and up 32 percent in dollars sold at retail over the past 52 weeks, suggesting a healthy market with rising average sales prices.
Sales aren't automatic, however. Today's kayak anglers are picky, brands and retailers tell us. Customers want rod storage, attachment points for fish finders and coolers, bait wells, tackle platforms and more, all in a craft that's stable and responsive.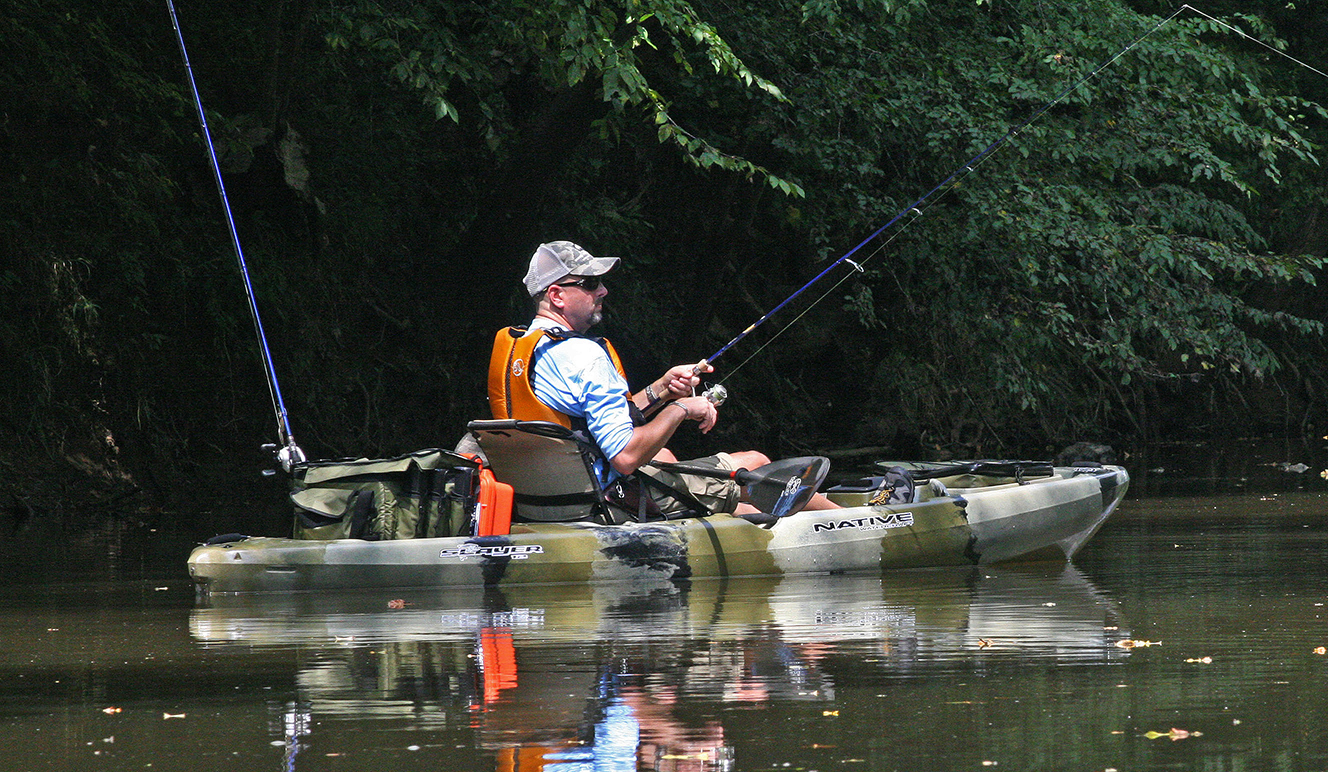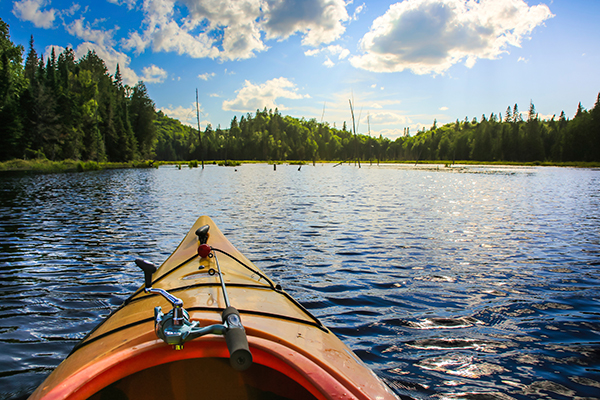 Here are the trends SGB is following for fishing kayaks this summer and next.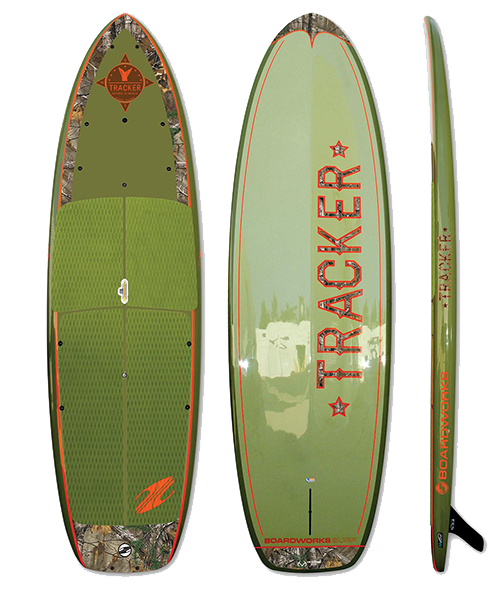 1. Sit Or Stand
More manufacturers are realizing that anglers often want to stand up to better see their quarry, cast farther and reel it in. Case in point: a new breed of Kayak/SUP hybrid craft catered toward anglers. "For the novice and more experienced kayak angler, the desire to stand or walk around the deck of the boat is a must, which has driven the ultra-stable sit-on-top design trend," said Confluence Director of Marketing Evan Lyendecke. SSI Data* shows the majority of sales and strength coming from the sit-on-top models.
Wilderness Systems addresses the trend with its "highly walkable" ATAK, a sit-upon fishing kayak also stable enough to walk on for sight casting and reeling, despite its low-profile and wind-shedding hull. Also walking this line is Hobie's new i11, an inflatable, low-profile design for sitting or standing. The i11 is the lightest weight model in Hobie's fleet with two air chambers on each side and a drop-stitched center chamber with insertable fin. "It's about enhancing the small boat fishing experience by providing stable, dry and efficiently propelled craft," said Hobie Designer Keeton Eoff.
Companies are also hopping on the SUP bandwagon for fishing, as illustrated in Boardworks' new Tracker SUP, an 11-foot-long, 35-inch-wide angling-specific platform with flat deck for walking around and cooler storage, and tie-down Connex deck plugs for extra gear. Made from tough Krypto-Mat Innegra fiberglass construction, the model comes with a double concave hull for stability and single stern fin for tracking. Native Watercraft also enters the game with an angling specific SUP called the Versa Board Angler, a stable platform with retractable skeg system, paddle holder and a groove track for mounting rod holders.
2. Comfort At All Costs
No one wants to be uncomfortable for hours on end, which is often the time it takes to land a lunker. So comfort remains a cornerstone of design with builders pulling out all the stops to ensure consumers have couch-like comfort in their craft. Hobie's Vantage Seating System offers a high-back padded seat with multiple adjustment points and breathable mesh (bonus: it can also be removed to use as a beach chair). Wilderness Systems makes the cush push with its new AirPro MAX Lite seat, with an innovative slide-on-track system for fore/aft trimming. Look for it on the Tarpon 130X sit-on-top.
3. Propulsion And Control
Whether you have a fish on the line, or are sneaking up on a school, control is paramount for today's kayak anglers. That's why hands-free propulsion systems and rudder technology is de rigueur, be it on a pedal system like Native Watercraft and Hobie offer, or a paddle-propelled craft. "Forward and reverse pedal drive systems in fishing kayaks is huge and it makes sense as it provides the ability to control the boat while being hands free," said Native Watercraft's Tyler Brown, whose models offering it include the Slayer Propel 10 and 13 and Ultimate FX Propel 13. Also addressing the hands-free craze, Hobie's i11 combines its patented MirageDrive with Glide Technology propulsion, letting anglers put down their paddles and pedal to troll or get to that favorite spot. Hobie also debuts a new finger-tip rudder control that can be switched to either side for use with either hand.
And don't forget motor adaptations. "Propulsion is the next frontier in kayak fishing," said Confluence's Lyendecke. "More designs are emerging with these compatibilities as are more fishing tournaments allowing motorized or pedal driven kayaks into their competitions among paddled kayaks. The ability to propel a kayak without a paddle gets those who may be paddle-adverse or even those with disabilities into kayak fishing and drives the overall growth of the sport." For this season,
Wilderness Systems unveils its new Helix Propulsion Technologies products, including the Helix MD Motor Drive launched in April and the Helix PD Pedal drive coming this December
4. Gadgetry
When he's reincarnated, Inspector Gadget would do well to come back as a kayak angler. Manufacturers are hitting their consumers over the head with every tool available to make the pastime as easy as possible. "A big trend is the need for anglers to be able to customize their kayak platforms to their individual fishing preferences," said Confluence's Lyendecke, toting Wilderness Systems' SlideTrax and self-contained Flex Pod console concepts as industry standard for adding accessories, electronics and propulsion opportunities. In addition, the company's new Tarpon 130X offers a bevy of customizable features for electronics, accessory mounts, seat adjustments, and more.
Photo courtesy Confluence Outdoor
Anglers also want to hop on and go. "Kayak fisherman are seeking feature-rich boats right out of the box," said Native Watercraft's Brown. As an example, he points to such features on the new Ultimate FX Propel 13's as Propel Pedal Drive System, easy-turning rudder system, anchor trolley system, Paddle Parks for paddle storage, open deck for storage, built-in transducer mount and battery box for connecting electronics, box storage behind the seat, groove tracks for mounting accessories along the deck of the boat, and adjustable thwart box.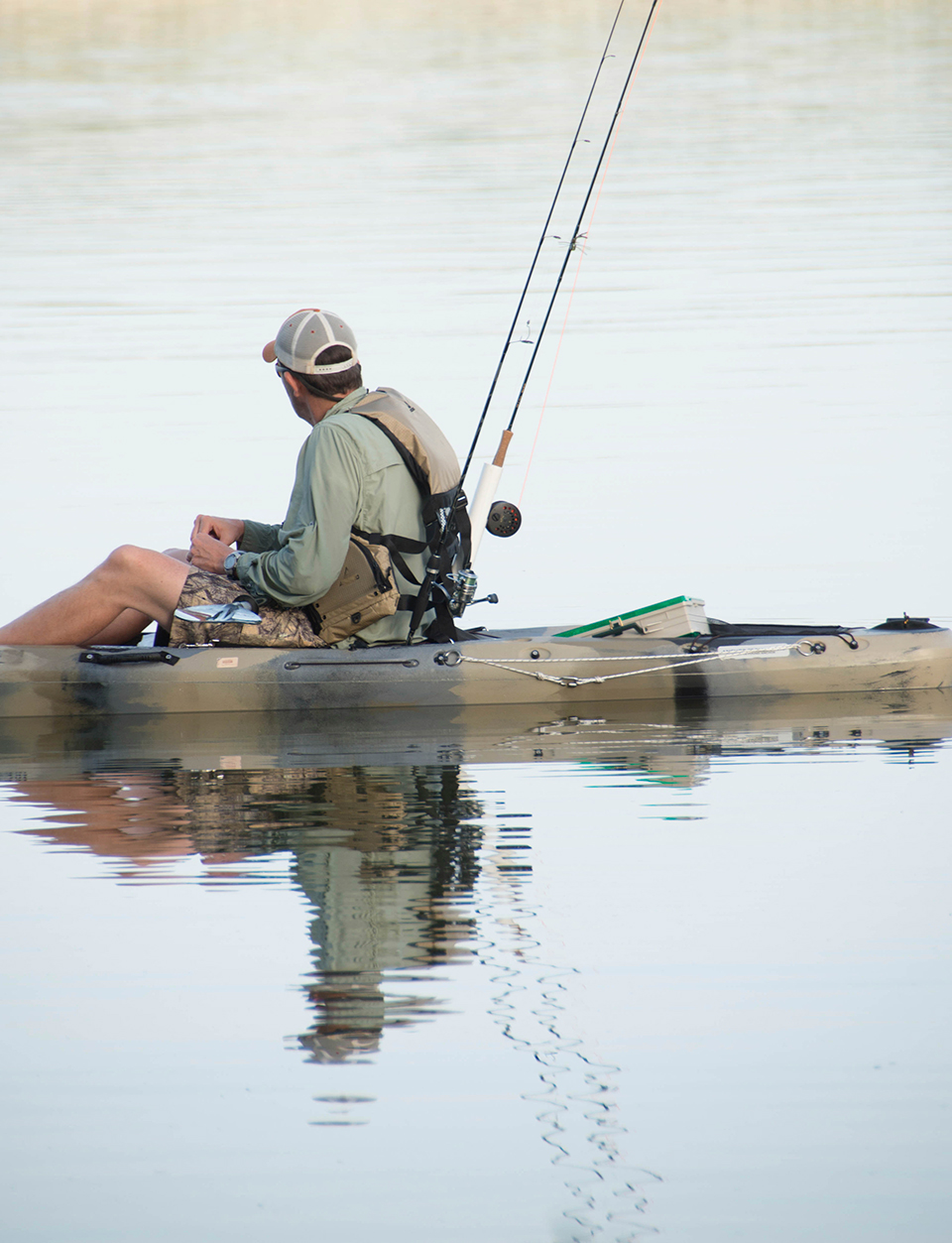 5. Stability For The Long Haul
Beginner or expert, you don't want your boat to be tippy, especially when casting or, worse, with a fish on the line. "Most anglers getting into the sport are not necessarily kayakers and the first obstacle to overcome is their fear of overturning the kayak," Confluence's Lyendecke said. "But many manufacturers have over-compensated in response to this need; a kayak hull doesn't have to sacrifice maneuverability, acceleration, responsiveness and tracking for more stability. Nor does it need to be excessively big, wide and heavy." He heralds the Wilderness Systems A.T.A.K. 140 and its new hull technology as addressing this need.
Long known for its rec boat designs, Pelican debuts its Catch 120 for beginners and intermediates thanks to a wide and flat stable platform, new Ergocast dual position seating system, Flush mount rod holders, paddle and rod tie-downs, and a large storage well. The 11-foot, 8-inch-long, 34-inch-wide boat also comes with a tunnel hull for stability.
6. Fishing On The Fly
Kayak fishing isn't just for the spin-casting crowd. Manufacturers are also targeting fly fishers with features specifically for them. "Kayak angling has matured in its toolset," said Jackson Kayak marketing director James McBeath. "The future is trending towards technique and species-specific craft, addressing evolving paddling skill sets and specific river, lake or ocean locations." He touts the Jackson Coosa HD as a craft focused on the advanced river angler who targets fish for both fly fishing and casting, with performance in maneuverability, stability for standing and fly fishing and options in the decking that can be used as is or stripped down for fly fishing.
7. Growing The Market
Companies are also prioritizing getting new customers involved in kayak angling by offering price-friendly beginner models. "Over the past 10 years kayak fishing has grown exponentially. It's no longer a niche sport, it's mainstream," said Pelican's Joel McBride, whose new Catch 120 fishing kayak comes in at a more wallet- (and walleye-) friendly $749. "It allows people who would otherwise maybe not own a boat to get off the bank and expand their horizons with confidence." Perception addresses the newbie crowd with its new Pescador Pro 12, whose hull shape tracks well while still offering beginner-friendly initial and secondary stability. Other features include a stadium-style seat and easy-to-reach foot braces.
*SSI Data, powered by SportsOneSource, collects and analyzes POS data from more than 15,000 retail doors across nine channels of distribution. To learn more, call 303.997.7302 or email Solutions@SportsOneSource.com.
Lead photo ATAK Dusk Fight. Photo courtesy Confluence Outdoor