Big Agnes's has hired two top managers from Eastern Mountain Sports (EMS) and added four other employees in recent months to prepare for explosive growth in 2015.

Wes Green, who worked as the merchandise and product development director at EMS, joins Big Agnes as the brand manager for Helinox, a trekking pole and camp furniture brand Big Agnes has distributed in the Americas since 2009. Tony Roina, who held the position of director of global manufacturing, quality assurance and compliance at EMS, has been named Big Agnes manufacturing and sourcing manager. Roina worked at EMS for 30 years.
Green and Roina will work closely with Big Agnes co-founder and president Bill Gamber and product line manager Melissa Minter. Based in Steamboat Springs, CO, Big Agnes has also recently added two people to its marketing staff and two to customer service.
Both Big Agnes and Helinox are on fire right now so we needed to grow our team, said Bill Gamber, co-founder and president. Were excited to work with a couple of salty industry veterans who bring a wealth of experience as well as some talented, younger folks. These additions surely position us for the next level of growth.
Big Agnes has carved out a reputation as a bit of an upstart by bringing "why didnt I think of that" innovations to sleeping bags, sleeping pads and tents. It broke into the industry in 2001 by launching sleeping bags with an integrated sleeve for sleeping pads. The design simultaneously eliminated the problem of sliding off your sleeping pad and compressing insulation between the campers body and the ground.
The company has grown double digits every year since. It expanded into tents in 2004 and entered the insulated apparel market in fall 2013. Next spring, its new line of LED-equipped mtnGLO tents will launch at retail. The line spans 14 models ranging from family car camping shelters to backpacking tents. All can run their lights for up to four days continuously off three AA batteries.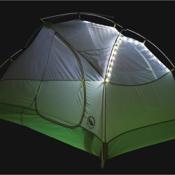 "We took technology from a different applications and brought it to the outdoor industry," said Gamber, who also co-founded and co-owns the energy and nutrition brand Honey Stinger. "It only adds $40 to the retail price and 4 ounces to the weight. I think mtnGLO will help sell more tents next year because it's a really cool innovation that will lure people into camping who may not have done it before."
Helinox, meanwhile, has grown to a point where it deserves a dedicated senior manager like Green. Big Agnes has been the brand's exclusive distributor in the Americas since 2010. The brand is owned by DAC, the South Korean company that is the largest supplier of premium aluminum tent poles in the world.
Between expanding its apparel line, launching mtnGLO, Helinox and international growth, Gamber said Big Agnes, including Helinox, is on track to grow sales 40 to 50 percent in 2015. The company has been able to expand in Europe, Canada and Japan by selling direct to key retailers. In Germany, for instance, its sells to Globetrotter, a major adventure travel and specialty outdoor retailer.
Gamber credited the accelerating growth to a "perfect storm."
"That's what helps us to sleep at night," he said. "It's not just one thing. It not just North America, or mtnGLO or Helinox. Business is great and we are working hard to expand marketing, sourcing, design and development and sales."