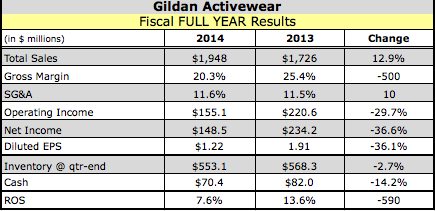 Gildan Activewear reported a loss of $41.2 million, or 34 cents a share, in its first quarter ended Jan. 4 due to previously-announced price reductions in its Printwear segment designed to compete more effectively in the marketplace.
In another move to further its printwear foothold, Gildan announced that it signed a definitive agreement to acquire substantially all of the assets of Comfort Colors, a supplier of garment-dyed undecorated basic T-shirts and sweatshirts, for $100 million.
The loss – forewarned on Dec. 4 – stemmed from a shift to lower base selling prices significantly and reduce and simplify its discount structure.
On a conference call with analysts, Laurence Sellyn, CFO, said the price reductions reflect the pass through of a portion of the cost savings from the company's capital investments in new yarn-spinning facilities and other capital investment projects. They also reflect the further reduction in the price of cotton futures that occurred in the latter half of calendar 2014, even though the company will not benefit from current low cotton futures until the second half of calendar 2015.
"Our strategic pricing actions in printwear are achieving our objective of reinforcing our industry leadership," said Sellyn. "We expect to continue to achieve sales volume growth in printwear due to entering new segments of the North American printwear market, and increasing our penetration of international printwear markets in Europe, Asia-Pacific, and Latin America."
The company applied the benefit of the reduction in selling prices to existing distributor inventories, resulting in a distributor inventory devaluation charge of $47.5 million, which was reflected as a deduction from sales in the quarter.
Sales for the Printwear segment dropped 38.8 percent in the quarter to $160.3 million as a result of the lower selling prices and subsequent inventory devaluation. The segment incurred an operating loss of $21.0 million in the quarter, versus operating income of $48.3 million in the same quarter last year.
Comfort Colors, which will become part of the Printwear segment, has seen strong annual growth over the last four years. In 2014, it had sales of approximately $95 million, or $55 million after eliminating Gildan sales of undecorated shirts to Comfort Colors. Said Sellyn, "This acquisition enhances our strategy to increase our penetration of the higher value and growing fashion basics segment in printwear, where we have also repositioned the Anvil brand."
EPS accretion in the balance of calendar 2015 from the acquisition is projected to be approximately 5 cents a share after reflecting the amortization of intangible assets and a non-recurring acquisition-related inventory charge. The company projects EPS accretion in excess of 20 cents once the integration of the acquisition is complete, including projected revenue and cost synergies and continued organic growth.
The purchase consideration will be paid in cash and will be financed out of Gildan's bank credit facility.
Net sales for the Branded Apparel segment rose 21.5 percent in the quarter to $230.3 million, primarily due to the acquisition of Doris, organic growth in Gildan branded programs, and growth in licensed brands. Sales of branded underwear in the quarter grew approximately 90 percent.
Gold Toe revenues declined due to the timing of shipments and inventory destocking by certain retail customers. Excluding the impact of Doris, organic sales growth in Branded Apparel grew 8 percent.
Operating income in the Branded Apparel segment dropped 62.1 percent to $ 8.3 million. Operating margins declined due to the consumption of high-cost opening inventories, which included the impact of transitional manufacturing costs relating to the integration of new retail products during 2014, and higher marketing and advertising expenses.
Sellyn said the company is launching new branded Gildan retail programs, and obtaining distribution in new retailers while converting retailer private label programs to Gildan brand. To further spur growth, Gildan signed reigning five-time CMA Awards "Male Vocalist of the Year," Blake Shelton, to promote the Gildan brand.
Including the impact of Comfort Colors, Gildan is now projecting consolidated net sales for calendar 2015 to be slightly in excess of $2.65 billion, compared to initial guidance of sales of close to $2.65 billion. Printwear sales are expected to increase approximately 5 percent in fiscal 2014 while sales of Branded Apparel are projected to increase approximately 30 percent. Gildan is maintaining its guidance for adjusted diluted EPS for the 12 months ending Jan. 3, 2016 of $3.00 – $3.15.
As previously projected, results in the first half of calendar 2015 will continue to be negatively impacted by the timing of lower Printwear selling prices.
EPS growth is expected to resume in the second half, when it begins to benefit from manufacturing cost savings from its yarn-spinning investments and other capital investment projects, and fully benefits from the decline in cotton costs. In addition, certain high-valued printwear products will be shipped later than previously projected due to the impact of the changes in the company's distributor incentive programs.
The company is projecting adjusted EPS of 46 to 48 cents a share for the March quarter, on projected sales revenues in excess of $630 million, compared with EPS of 64 cents on sales revenues of $549 million in the corresponding quarter of the prior year.