Gildan has signed on as the title sponsor of Esprit de She – The Spirit of Her Race Series, the premiere athletic event series for women run by Life Time Fitness.
Since its inception in 2013, more than 25,000 women ranging in age from 5 to 80 have participated in the series with sellout registrations at multiple events.
The race series, which features fitness-inspired 'happy hour' 5k and 10k runs, duathlons and triathlons for every pace and passion, is a perfect addition to the Gildan sponsors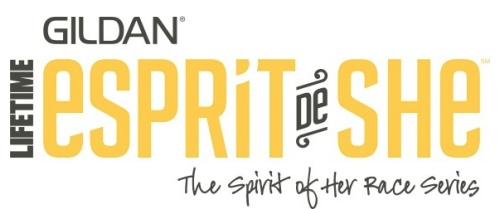 hip portfolio allowing the company to celebrate women who have been vital to the growth of its brand. The sponsorship also allows Gildan to activate another cornerstone of its brand: corporate social responsibility. Girls on the Run, a physical-activity based, positive youth development program for girls in the 3rd – 8th grade, returns for the third year as the National Charity Partner and beneficiary of the Gildan Esprit de She race series, and creates the opportunity to build the next generation of empowered women as the non-profit celebrates its milestone in serving one million girls this year.
"More than a race series, the Gildan Esprit de She initiative is a true celebration, elevating the positive, active, empowered lifestyles that Gildan built its brand on," says Rob Packard, vice president marketing, Gildan Brand. "Gildan has always connected well to the values held by women and families, and we'll be adding more women's apparel in the near future, making this the right opportunity to more directly support women."
The 2015 series celebrates the theme "Happy in Numbers" and kicks off May 3 in Tempe, Az. with a duathlon and triathlon; subsequent races take place in key markets across the nation, including: Atlanta, Chicago, Dallas, Denver, Houston, Minneapolis, Raleigh and San Diego.
"Gildan Esprit de She events are known for uniting women, families, communities and like-minded partners including Gildan in the spirit of fitness," says Lindsey Kurhajetz, Gildan Esprit de She Brand Director. "During each race, women's personal fitness milestones are honored and celebrated. Welcoming Gildan to the Esprit de She family as title sponsor is an iconic milestone we are proud of as we prepare to launch the 2015 race season. Our race participants will notably enjoy getting to know Gildan throughout the year and will enjoy the special event activations Gildan has designed."
To RSVP for any of the Gildan Esprit de She events, visit www.espritdeshe.com, the official website of The Spirit of Her Race Series.
Gildan is a leading supplier of quality branded basic family apparel, including T-shirts, fleece, sport shirts, underwear, socks, hosiery and shapewear. The Company sells its products under a diversified portfolio of company-owned brands, including the Gildan, Gold Toe and Anvil brands and brand extensions, as well as the Secret, Silks and Therapy Plus brands. The company also has the U.S. sock license for Under Armour, and licenses for Mossy Oak and New Balance brands.