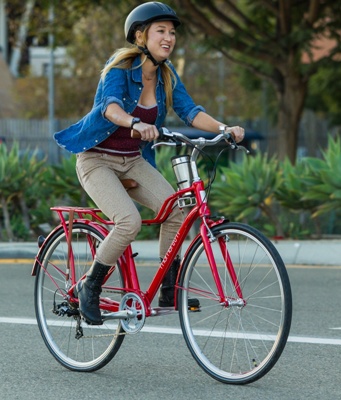 All Momentum iNEED Street bikes come equipped with a rear rack, fenders, a cup holder and an MSRP of $425.
Giant officially launched its Momentum brand of neighborhood bikes that sell for an average retail price of just $425 Monday in a major initiative aimed at helping its dealers become more relevant to less affluent consumers.
"The new Momentum models are shipping to you now, and we believe these impressive new bikes will bring an important new customer into your business," Giant USA Executive Director John Michael Thompson said in an email sent to dealers Monday morning, May 4.
Giant told dealers in February its it would launch the bikes in response to consumer research that showed big spending Baby Boomers are aging out and being replaced by less affluent consumers. Research from Gluskin Townley Group released shows the average household income of bicyclists who call themselves 'enthusiasts' has dropped by more than $80,000 over the last three years.
"That's because the enthusiast population is aging out, according to Jay Townley," Thompson noted. "Cyclists in their 20's and 30's earn much less than older riders, who just aren't buying bikes like they used to.
"Demographic shifts are seeing more people moving to metro urban areas, especially young people," Townley says. "Their bike needs are simple – a comfortable bike with a basket. There is not a lot of tech in these bikes, but price is important."
At the same time, a new study done by PeopleForBikes has found that one in three Americans rode a bike at least once last year. That's one-third of all Americans!
"Both of these trends are exactly why the Momentum brand has arrived," said Thompson. "More riders want uncomplicated, attractive, well-built bikes at an attainable price. This is a huge opportunity for Giant and Liv IBD's!"
Giant launched nine new models of iNeed STREET and iWant PARK with an ARP of $425
"Our aim is clear: we're going to drive these new riders into your business and away from big box stores," Thompson said. "These riders are tomorrow's cycling enthusiasts; together let's get more people on bikes and keep them coming back to your store for fun!"