Genesco Inc.s fourth quarter earnings rose 12% and exceeded expectations, driven by strong sales at Hat World and its direct-to-consumer catalog and e-commerce businesses combined with higher gross margins and lower expenses. Sales increased 6% to $479 million with flat comps. Comps at Hat World Group increased 6%, the Journeys Group decreased 3%, Underground Station decreased 2%, and Johnston & Murphy Retail increased 2%.


Genesco reported a profit of $25.8 million, or $1.08 a share, for Q4, up from $23.2 million, or $1.05 per share, in the year prior quarter. Excluding special items, EPS was $1.16 versus its guidance of $1.07 to $1.13 and the adjusted EPS of $1.06 per share in Q4 last year. Overall gross margins increased by 80 basis points to 49.4% of sales, driven by lower margin reductions and higher overall initial mark-on. SG&A decreased to 39.7% of sales from 40.0% of sales in the prior-year quarter.

On a conference call with analysts, freshly-minted Chairman and CEO Bob Dennis said a better-than-expected performance at Hat World offset a choppy performance at Journeys. All businesses are reportedly seeing good momentum in Q1. For February, comparable sales increased 10% for Hat World Group, 4% for Journeys Group, 13% for Underground Station, 4% for Johnston & Murphy and 6% for the total company. Including the 17% comparable sales increase for the Direct businesses, February comps increased 7%.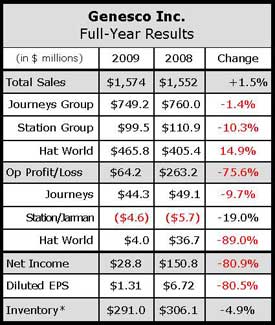 We believe we have some attractive growth opportunities in this coming year, especially within Hat World, as well as an opportunity to improve operating margins in all of our businesses, due in part to our continued success in managing rents, which means we get economic leverage off modest comps, said Dennis. Genesco also reaffirmed its fiscal 2010 EPS guidance of $2.00 to $2.10 a share.

At Hat World Group, sales rose 25% to $152 million in Q4. Excluding Sports Fan-Attic, acquired in early November, Hat Worlds sales increased 15% for the period. About 2 points of the 6% comp gain was attributed to the Yankees World Series win with the rest attributed to a general strength in the business, reduced competition, the continued rollout of in-store embroidery, and better execution of the NFL business. Within the core hat business, strength was again paced by MLB, action sports brands, private-label and embroidery. Direct sales increased 38%. Hat World's operating income jumped 35.1% to $20 million. Gross margins were lower due to the recent acquisition of Sports Fan-Attic and the lower wholesale margin of Impact Sports.

Dennis said Hat World represented 43% of the company's operating profits and seems to me underweighted relative to the role it plays in Genesco.

Hat World has more than 800 stores currently and has room for over 1,000 in North America. Forty more will be added this year. Sports Fan-Attic, which is being renamed Lids Locker Room, added nicely to the fourth-quarter results and will grow through both new store openings and acquisitions with the goal of achieving a national footprint over the next several years. E-commerce capabilities will also be added.

Impact Sports, a wholesale team sports business acquired in October 2008, is being renamed Lids Team Sports. Dennis said 2010 represented an investment year in both systems and people, for Impact Sports but he expects substantial growth in the top line and a nicely positive bottom line in 2010 along with possibilities for further acquisitions in this space.

On the front end, our goal is to have the customer think of Lids first, whether they are thinking about the teams they play for or the teams they root for, added Dennis. We see lots of synergies in the market to this customer.

Journeys Groups sales decreased 2% to $225 million with comps down 3%. Direct sales increased 20% and represented 3% of sales. Operating income dipped 5.9% to $24 million from $25.5 million adjusted for expenses related to the termination of a store lease last year. A gross margin improvement of nearly 70 basis points due to lower markdowns was more than offset by negative expense leverage. Average selling prices increased 4.6%, driven by improvements in casual footwear, primarily women's footwear, including women's boots.

February comps for the Journeys Group were up 4%. By concept, comps grew 3% at Journeys, 6% at Journeys Kidz, and 10% at Shi by Journeys.

Dennis said that while Journeys benefited from a trend toward women's boots, the chain missed out on the toning footwear trend. Going forward, we have decided to move carefully into the toning category, he said. We are not yet fully convinced that teens have grabbed onto this trend as of yet.

Dennis said certain vendors have produced toning product for spring that they see as more fashion-oriented, and as such, better suited for our customer. Therefore, we will give it a shot, explained Dennis.
The weakest category for Journeys was athletic brands, although Dennis said skate held up nicely. The Journeys casual business saw a nice increase on the boot categorys strength. Overall, Journeys was also hurt by being too ambitious on our expectations for inventory turns and probably tried to do too much with too little in the fourth quarter. Management said this will be an opportunity for improvement in the coming year.

In the U.S, the Journeys chain will focus on driving comp gains instead of expansion due do what management sees as expected closings at marginal malls. But the chains first three stores are opening in Canada, where Hat World has found success. The Journeys chain is forecasting a low-single digit comp this year with slightly-improved operating margin.

The focus of the Journeys team right now is on improving operating margins where the Group finished fiscal 2010 at roughly 6% versus recent historical historic levels in the low double digits, said Dennis.
They are working the expense equation hard, especially rents, but the key to getting back to these historic levels is comp sales, he said.
Journeys Kidz was especially strong in the fourth quarter due to a focus on boots and strength in accessories, which were up 11% for the period. The kids athletic business also remains solid, said Dennis.
Management said Shi by Journeys results are still below expectations and no expansion is being planned until further improvement is evident.

Underground Station Group sales were down 5% to $32 million in the fourth quarter, reflecting a 2% comp decline and a 6% reduction in store count to 170 stores. Underground Station posted operating earnings of $1.5 million, up from earnings of $600,000 in the prior-year period, due to higher initial mark-on and lower markdowns.

A February comp gain of 13% was attributed to tax refunds and a favorable inventory position earlier in the month. Dennis said, We keep in mind that these are still very difficult times for the Underground Station core customer, but that said, we also feel that we may be finding the bottom for this business