Garmin Ltd. reported revenues in its Fitness segment grew 23 percent in the third quarter ended Sept. 26 while sales in its outdoor segment slipped 5 percent. On an adjusted basis, earnings slid 33 percent, in line with a forecast given in mid-October.
Summary items for the quarter and recent product announcements include:
Total revenue of $680 million in the third quarter of 2015 with fitness, outdoor, aviation and marine delivering 61 percent of total revenue
The relative strength of the US Dollar compared to other major currencies negatively impacted revenue by approximately $52 million, or 7 percent, in the third quarter of 2015
Gross and operating margins were 53 percent and 18.5 percent, respectively; gross margin was impacted by geographic revenue mix shifting toward countries with weaker currencies relative to the U.S. Dollar and lower average selling prices; operating margin was further impacted by strategic investments in R&D and advertising
Shipped approximately 3.9 million units in the quarter, a 4 percent increase over the year ago quarter
Pro forma EPS(1) of $0.51 for third quarter 2015
Announced new products available for the fourth quarter including fitness and wellness devices incorporating Garmin Elevate™ wrist-based heart rate technology and the babyCam™ serving a new product category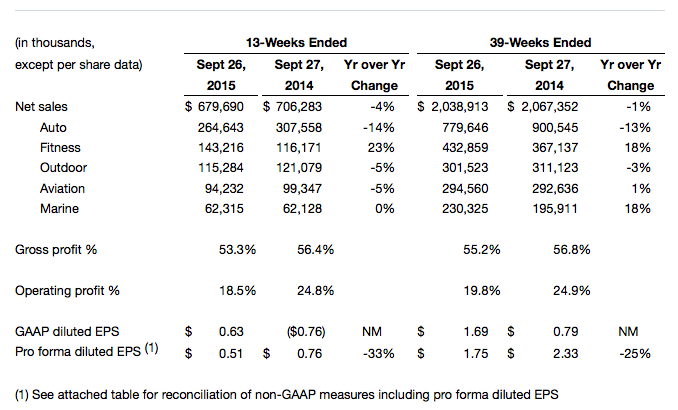 Executive Overview from Cliff Pemble, President and Chief Executive Officer:

"The global economic environment and intensified competitive landscape have challenged our ability to repeat the strong financial performance of 2014," said Cliff Pemble, president and chief executive officer (CEO) of Garmin Ltd. "However, we have a solid plan to improve our results over the long term. Our plan includes compelling new products, some of which have already launched in the fourth quarter with many more to come in 2016. We look forward to once again meeting the expectations of our investors and ourselves while creating long-term sustainable value."
Fitness:
The fitness segment posted revenue growth of 23 percent in the quarter. The sequential acceleration in growth reflects the strength of wellness, multisport, and cycling product offerings. Gross margin fell to 54 percent in the quarter, while operating margin declined to 19 percent. The gross margin decline was driven by both the unfavorable currency movements and a competitive pricing environment for certain product categories. The operating margin decline further reflects ongoing investment in advertising to support our long-term goals in the segment.
Garmin continues to view these investments as appropriate given the sizeable opportunity that exists in the global fitness and wellness markets. It recently introduced a new line-up of Forerunner products including the 230, 235 and 630. The Forerunner 235 is Garmin's first product to incorporate Garmin Elevate wrist-based heart rate monitoring technology. The Forerunner 630 builds off our prior advanced running watches with the addition of new running metrics and physiological measurements. Each of the new devices are compatible with Connect IQ™, our smartwatch platform. Also new for the fourth quarter is the vívosmart® HR, offering wrist-based heart rate via Garmin Elevate, along with an always-on display, smart notifications and activity intensity levels. To support these products and many others, we recently launched an update to Garmin Connect Mobile. The update offers a new modern and colorful interface, the ability to customize based on individual needs and improved social capabilities.
Outdoor:
The outdoor segment posted a 5 percent revenue decline in the quarter, due to geographic exposure to weak currencies. Gross and operating margins within the segment were largely consistent with the prior quarter at 59 percent and 33 percent, respectively. On a year-over-year basis, unfavorable currency movements, along with pricing and category mix created downward pressure on gross margin. In addition, we continue to invest in research and development to expand our product portfolio and explore new market opportunities which impacts operating margin. While some outdoor categories have slowed, we continue to see opportunities for growth in existing and adjacent categories in 2016 through innovation and exploration.
2015 Guidance:
As pre-announced, Garmin expects revenue of approximately $2.8 billion, down from the previous guidance of $2.9 billion.
Full year fitness growth is expected to be approximately 15 percent in consideration of the year-to-date results, the dynamics of the market, and in recognition that the strong growth of fourth quarter 2014 will be more challenging to repeat this year.
Outdoor revenue is now expected to be weaker than previously forecast at a decline of approximately 4 percent.
Total company gross margin is expected to be approximately 53.5 percent. In light of the revised revenue and margin outlook, Garmin expects an operating margin of approximately 18.5 percent. Full year tax rate is expected to increase to 21.5 percent due to an unfavorable mix of profits by taxing jurisdiction. The result of these changes is expected pro forma EPS of approximately $2.25.
On Oct. 15, Garmin, in its second downward revision of the year, trimmed its EPS and revenue outlook for the year due to pricing pressures and foreign currency headwinds. Revenue targets were also lowered for its fitness, outdoor and aviation segments. EPS on a pro-forma basis is now expected to reach approximately $2.25 for full year 2015, short of its prior guidance of approximately $2.65. In the year-ago period, it earned $3.10.