Riding the wave of skyrocketing ammunition and firearms sales that began to peak during the back-end of 2008, Gander Mountain emerged from fiscal 2008 flying high on a fourth quarter that allowed the outdoor retailer to achieve record-breaking fiscal and quarterly results in several areas.


Gander Mountain posted consolidated sales of $334.1 million for the fourth quarter, an increase of 5.2% over consolidated sales of $317.6 million in the fourth quarter of 2007. Consolidated net income for the fourth quarter improved to $13.0 million, or 54 cents per diluted share, compared to a net income of $5.8 million, or 25 cents per diluted share, in the fourth quarter of 2007. Fourth quarter earnings bested an average of analysts' estimates by 5 cents. Included in results for the 2008 quarter was a $6.5 million non-cash charge for impairment of goodwill, which management said was primarily due to the book value of the company being higher than the market capitalization. Gross margins for the quarter improved 50 basis points to 27.3% of sales from 26.8% of sales in the year-ago period.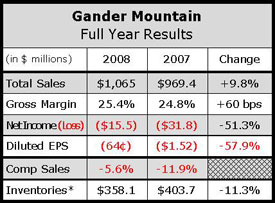 Retail segment sales for the fourth quarter increased 3.2% to $322.0 million from $312.0 million in the year-ago period. Same-store sales slipped 0.2% for the period, a significant improvement over the 6.5% drop in comps from the fourth quarter of 2007. Retail sales were boosted by an average ticket that increased 2.1% for the quarter.
GMTN management noted that strength from firearms, ammunition, seasonal hunting and footwear more than offset weakness from boats, ATVs and power sport services — all of which are categories the company is in the process of exiting.

Total net operating income for the retail segment was $16.6 million in Q4, a 58.0% improvement from net operating income of $7.0 million in the fourth quarter of 2007. For the year, the retail segment incurred a net operating loss of $9.4 million as compared to a net operating loss of $30.6 million in 2007.

Gander Mountain's direct business, which has been supplemented of late by the launch of GanderMtn.com in August 2008 and the 2007 acquisition of Overtons, saw sales jump 55.0% to $12.1 million from $5.5 million in the year-ago period. In a conference call with analysts, management said the company distributed two million catalogs in the second half of 2008. Last summer, a U.S. District Court issued an order granting GMTN the right to use certain Gander Mountain trademarks in direct marketing, a decision that allowed the retailer to resume direct marketing operations for the first time in 12 years. Previously, rights to GMTN's catalog and Internet marketing operations belonged to Cabela's, Inc.

The total net operating loss for the direct segment widened to $3.5 million in the fourth quarter, compared to $1.2 million in Q4 2007. For the year, additional investments in the direct segment resulted in a net operating loss of $6.1 million compared with a net operating loss of $1.2 million in 2007.

Record cash flows from operating activities for the year were $59.2 million, an improvement of roughly $90 million in 2007, which management attributed to improved operating results and lower retail segment inventory levels.

Management said debt at year-end was reduced by $38 million versus the prior year-end.