In a quarter that historically results in the lowest volume for hunting/
fishing retailers, Gander Mountain, Inc. posted remarkably strong results
on notable strength in several key categories. Expectedly, ammunition
and firearms sales remained strong, and management noted solid results from fishing and camping during the fiscal first quarter ended May 2, 2009.
Strength in these categories drove same-store sales for the quarter up
7.4% compared to the first quarter of 2008, a feat that warrants a nod
considering the condition of the retail market and the shortage of discretionary income among consumers. Adjusting for a 5.7% comp sales decline in boat, ATV and power sport services — which the retailer is in the process of exiting — Gander Mountain recorded a 12.8% comp store sales gain for the quarter.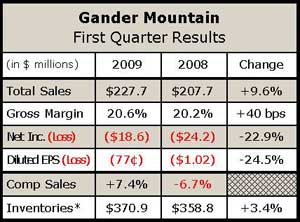 In a conference call with analysts, management noted that they have
seen an increase in store traffic, which reflects an increase in spending in advertising and promotion along with "improved merchandising and execution at the store level." Average ticket price increased 1.6% to $59.48.
Retail stores posted an impressive 11.6% sales increase to a record
$209.9 million while the retail operating loss improved 28.3% to a loss
of $16.4 million for the period.

Direct sales, which has changed face recently due to the August 2008
launch of GanderMtn.com and the 2007 acquisition of Overton's, saw
sales slide 9.6% to $17.8 million from $19.7 million in the year-ago
period. The direct segment posted a $2.3 million operating loss versus
an operating loss of $1.6 million in Q1 last year. Management attributed
the wider loss to "the investment in the Gander Direct business."
GMTN reported a consolidated net loss of $18.6 million, or a loss of 77
cents per diluted share, compared to a net loss of $24.4 million, or a
loss of $1.02 per diluted share, in the first quarter of 2008.
Management said the improvement reflected higher sales volumes, improved merchandise margins and expense control. Retail IMU increased of 93 basis points and Retail gross margin expanded of 96 basis points versus the year-ago period.

Inventory at quarter-end stood at $371 million versus $426 million a
year-ago. Retail inventories were up 3.5% to $346.7 million and Direct
inventories were up 4.4% to $24.3 million. Management said retail
segment inventory per square foot, excluding pre-opening inventory,
was down 17% to $52.20/sf versus $62.72/sf from the prior year
quarter-end.

Gander Mountain opened one new store during the quarter for a total
of 116 stores and three outlet centers at quarter-end totaling approximately 6.6 million square feet of retail space. Total square footage year-over-year increased 4.4%. The comp store base at the end of the quarter was 110 stores.

The company utilized $23.1 million in net cash used in operating activities compared to $18.5 million last year. Additional cash usage was attributable primarily to the company's decision to exit the power
sports category as well as lower new stores inventory purchases.

Newly minted company EVP and COO Michael Owens said the company
does not expect significant growth over the next several years to
come from new stores, but from increased sales per square foot and
the expansion of the Gander Direct business, particularly in "crosspromotional activities for both in-store and on-the-web specials."