G3 Genuine Guide Gear Inc. has hired John Pieper as vice president of sales to lead the company's rapidly expanding sales and distribution efforts.
Pieper brings with him over 15 years of experience in sales director positions at industry-leading brands Petzl, Osprey and Gregory and will step into his new role at G3 on April 13.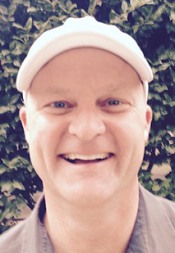 "I'm honored to be joining one of the industry's true premium, independent companies," said Pieper, who is pictured to the right. "As a longtime user and admirer of the brand, I look forward to furthering the obvious strength G3 has developed in the last few years under Oliver Steffen and Gord Bailey's guidance. We will support continued sustainable growth in the years ahead, and maintain a fun and inspirational edginess that revolves around innovative, high-quality products for a fast-growing backcountry community."
Over the past three years, G3 has seen significant growth and is investing back into the company with a new and much larger office space and manufacturing facility in Vancouver, British Columbia. 2014 was a banner year for the company with the launch of the ION binding, a debut into the backcountry poles market and carbon technology added to the entire ski and splitboard collection.
"G3 has seen enormous success with the ION binding and exciting innovations in skins, poles and carbon technology. We surpassed all sales expectations across six product categories and have a strong foundation to continue on that trajectory," said Oliver Steffen, Founder and President of G3. "With John at the helm of our sales team, G3 will look to keep growing sustainably and reach new consumers while still maintaining the great customer service and retailer support we are known for. His many years of experience in the industry and his deep connections to retailers will help launch G3 into the next phase of growth. We are thrilled to bring John into the G3 family and look forward to big things ahead."
Pieper will take over for Gord Bailey, who is retiring as G3's as vice president of sales and marketing. Bailey led the company's important ION launch as well as its debut into the ski poles category. During Bailey's tenure, G3's climbing skins, ION bindings and ski and splitboard collections have garnered awards and user accolades and appreciation. Bailey will continue to work with G3 as a consultant on special projects.
Based in Vancouver, B.C., G3 manufactures gear for backcountry skiing and snowboarding and has been producing avalanche safety equipment since 1995. The G3 product line includes skis, splitboards, alpine touring and telemark ski bindings, poles, climbing skins, avalanche shovels, probes and other ski accessories.