Owner and head coach Connie Sciolino is making Colorado's outdoor athletes stronger and faster for the roads, peaks and challenges ahead.
Writer: Carly Terwilliger
It's 8 a.m. on a Tuesday morning in Boulder, CO, and behind a nondescript storefront a small group of outdoor athletes are sweating and training under the expert tutelage of Connie Sciolino.
Sciolino is the owner and head coach of the Alpine Training Center. She holds a Master's degree in Exercise Science from Montana State University and is a certified strength and conditioning coach through the National Strength and Conditioning Association. During this morning's session, she walks between the athletes, offering advice and encouragement as they train for a variety of outdoor sports – which is the whole point of Sciolino's business.
"We're different because we look at gym training as a tool for being better outdoors, not better in the gym," said Sciolino. Today, her cyclists and runners are in a "power endurance cycle," which comes after a month-long strength cycle. "They'll use that strength from the workouts to make them faster outside," she explained.
The athletes are in good spirits – a climber works out on the hangboard and there's a group lined up working the "puzzle pieces" for the day's workout, which are listed on a white board. While the other athletes cheer him on, a skimo – short for ski mountaineering – athlete cranks into high gear on the stationary bike. He's the guy in the gym who's breathing the hardest – as soon as he's done with one set it's on to the next, with some good-natured ribbing from the rest of the group.
Everyone's working hard, but the pace isn't frenetic and Sciolino is calm and encouraging even as her athletes start kicking into high gear. Although "garage gyms" like CrossFit are becoming more and more popular, the difference at the Alpine Training Center is that the goal is to increase sports performance outside and decrease the rate of injury. For the center's climbers, "Part of their task in here is the prevent injuries, and that goes for the endurance group too," said Sciolino. "The lifting gives them a foundation for their sport.
Now the main group is pushing a sled loaded with weights up and down the floor, heading out the door for sprints between sets. "You can do a sprint on the bike if you don't want to run," Sciolino offers to one athlete. "Nah, I can run," she replies stoically. The board says, "Sled Push – light/fast." The trainer seems to know who needs encouragement and who's doing fine on their own. "Straight arms, stay low," she coaches. Then, "Good job."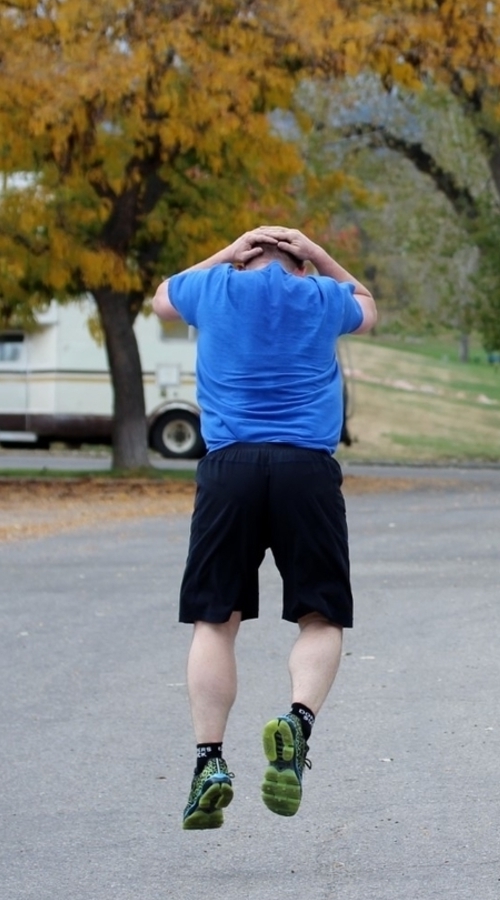 Finally, everyone's cooling down and headed home satisfied. "It's hard to find something similar to this. I've found a lot of boot camps, but nothing as intense as this," said one participant, because it pushed her harder and introduced variety into her training regimen. "Plus it's very supportive," she commented. "You're not in competition with each other."
"The group atmosphere is really motivating," agreed Sciolino. "A lot of people come in at the same time week after week, so they get to know each other. That's motivating, too." They can see each other's progress, so it's inspirational. The athletes get to know people from all kinds of disciplines because the groups aren't organized by sport or skill level. "They come in whenever it is they can come in," said Sciolino. "Today, everyone who comes in does the same workout, with adjustments."
The athlete who converted from boot camps to the Alpine Training Center had it recommended to her by a friend, which Sciolino said isn't uncommon. "If people bring their friends in, usually their goal is to get the friend to the same level they're at. They'll say, 'You should come do this, you'll get stronger,'" she noted. "It's hard to push yourself on your own." For new athletes, Sciolino tells them to "at least two days a week. If they're in here too much it wears them out for the weekend, which would defeat the purpose of the workout."
Sciolino expects a lot from her athletes, and inside the gym they're hardworking and self-motivated, but for her it's important to remind them why they're here. "I want them out doing what they're passionate about," she said, whether that's a race or a hut trip in Canada. And in a way, the workouts are a way to get pumped for whatever's next on the docket. As the athletes recover from an especially intense set, Sciolino walks up to one with a smile and says, "It's kind of fun, though, right?"
Photos courtesy Alpine Training Center