Forzani Group's third quarter results came in slightly below expectations, but the Canadian sporting goods giant noted that its stores continue to perform well against a standout year-ago performance and have shown good momentum so far in the fourth quarter. On a conference call with analysts, company CEO Bob Sartor said performance is being particularly helped by a decision to eliminate commission pay at Sport Chek, its flagship chain.


"We have abandoned the sales commission system at Sport Chek and have worked hard to redirect our store teams from a hard-sell mentality [based] on commission to one focusing on the customer experience, and by that I mean cleaner, better merchandised stores and helping the customer," said Sartor. "Our stores have never looked better and consumer feedback on the service experience is overwhelmingly positive."

Sartor also noted that the shift was made while maintaining its payroll percent to sales on an annualized basis.

The Sport Chek chain has also benefited from a shift from casual to more performance-oriented offerings. The move has lessened the ability of consumers to price shop the store. While Sport Check took some markdowns and increased marketing given the tough climate in the quarter, it didn't have to resort to the "much earlier than usual, massive reductions, '50% to 70% off' seen at other mall stores." Sartor adds, "We have not had to do that for two reasons — a, lean inventories; and b, again, if you want to buy, for example, Under Armour, we're the only game in town so we don't have to do that."

Sartor noted that for the first five weeks of the fourth quarter, comps nudged ahead 0.1% at its corporate stores and grew 6.2% at its franchise stores. These results were on top of comp increases in the prior year of 4.9% and 16.7%, respectively. Corporate store margins improved on both a rate and dollar basis.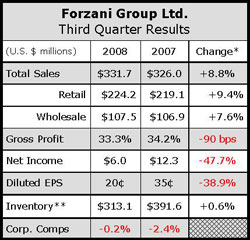 Though comps declined at corporate stores, Sartor called Q3 "a pretty good result" given recessionary conditions and "really an unseasonably warm period across all of Western Canada for most of the quarter."
Excluding a tax charge related to assessments in the 2004 and 2005 tax years, third quarter earnings were down 33% to CN$8.4 million ($6.8 mm), or CN28 cents a share. Revenue rose 8.8% to CN$362.9 million ($290 mm) due to the acquisition of Athletes World and an 11.5% comp hike in franchise locations. Comps at corporate stores slipped 0.2%. Analysts were apparently expecting an average of CN36 cents a share and revenue of CN$358.8 million.

Corporate store revenues climbed 9.4% to CN$245.3 million ($196.4 mm), thanks to Athletes World sales. Wholesale sales climbed 7.7% to CN$117.6 million ($94.1 mm) as a 10.3% hike in wholesale sales to its franchisees offset declines in licensing due to a challenging U.S. wholesale market.

By category, footwear comped positively in the quarter despite some aggressive liquidation activity, according to Tom Quinn, company president and COO. Outerwear and athletic clothing "continues to post impressive positive comps." In equipment, fitness, racquet sports, camping, travel, backpack and sport bag categories achieved solid positive comps. Ski and snowboard were softer as Forzani pushed advertising in these categories later in the season. Said Quinn, "Whatever comps declined in the third quarter have already been made up in the last six weeks." Bike, team sports and hockey saw relatively flat comps.

Gross margins contracted 90 basis points due to more aggressive promotions and sharper pricing "given the prevailing retail landscape," management said. Corporate same-store operating expenses were reduced to 25.4% of sales from 26.0% a year ago due to cost controls and reduced performance-related compensation accruals.

Highlighting key initiatives, Quinn said early results of a repositioned Athlete's Word "indicate an interesting growth in profit potential for this business." With the testing of six Nevada Bob's stores in its Sport Chek chain going well, an additional 21 conversions are planned next spring. The first 20,000 square foot Fitness Source concept opening in Calgary this month is expected to "quickly establish its leadership position in this category." The new S3 and Hockey Experts banners have "consistently surpassed our expectations" and the Atmosphere outdoor lifestyle banner "has already established positioning in the marketplace after four years that had taken Sports Experts 40 years to achieve with consumers."

Going forward, Forzani Group plans around $30 million in capital spending for 2009, down from the mid-$30 million range this year, but still expects to open a minimum of 50 corporate stores in 2008. It will also continue to focus on reducing inventories, which Sartor called "in absolutely phenomenal shape."