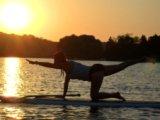 Paddle the Mitten (PTM), one of Michigan's first fully dedicated Stand Up Paddleboard "Studios," has selected Artichoke Creative to assist in building the Paddle the Mitten brand throughout the Midwest.
Artichoke Creative is an integrated marketing firm headquartered in Encinitas, CA with a satellite office in Royal Oak. Founder David Boylan is a Michigan native with strong ties to the Great Lakes water sports scene from his days in college as the First Mate on the Masco Corporate yachts and as a Great Lakes surfer and water skier. He currently divides his time servicing clients in Michigan and California.
"I am very excited to be working with PTM and Linda Brown, who has been way ahead of the curve in bringing SUPs to Michigan and is utilizing them in innovative ways," said Boylan. He added, "Michigan has always been home, and I've been seeking clients here for the past few years to facilitate opening an office to do my part to contribute to Michigan's economic recovery. That has not been easy to say the least. Stand Up Paddleboarding or SUP, is one of those bright spots in the Michigan economy and it fits perfectly with my experience."
PTM is the vision of Linda Brown, who is dedicated to bringing SUP awareness to the Mitten state and Greater Great Lakes Region. With over 20 years of working in the water sports industry, specifically working with her former employer, Surftech, and now Hovie SUP, she offers a unique angle to the SUP lifestyle. Before moving back to the Mitten, she lived an active life in Santa Cruz, California where she taught, volunteered and challenged herself with surfing and the newly emerging sport of SUPing. Being one of the main Pioneers of the SUP sport in Michigan and the Chicago area, she has paved the way for many others to find their Stoke!
"David and I share the same passion for Michigan and watersports and we have both also had a taste of the West coast and real surf culture. He is still very immersed in that in Encinitas. That shared passion and experience makes Artichoke Creative a perfect fit for PTM," said Brown.
PTM offers private, group, indoor (Nov-April) or outdoor (May-Sept) classes. PTM represents Hovie SUP, Inc in the Greater Great Lakes Region — stretching to Chattanooga, Tennessee, and as a Hovie SUP Dealer throughout Michigan, Illinois, Ohio, Indian, Wisconsin. PTM is also growing SUP community that enjoys paddling together and having fun. Over the summer months, Eco-SUP Adventures to Northern & Upper Peninsula of Michigan are scheduled. Beginner SUP classes, SUP yoga, SUPilates™ & SUP with your Pup(SM) classes available. Instructor & Certified Emergency Rescue Trained.