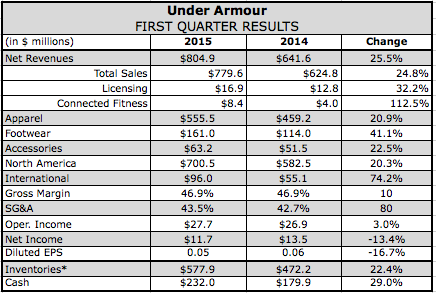 Under Armour Inc. reported revenues jumped 25.5 percent to $804.9 million in its first quarter, its 20th consecutive quarter of 20-percent plus revenue growth. On a currency-neutral (c-n) basis, net revenues increased 27 percent for the period.
The gains in the first quarter were boosted by particularly gains in running and basketball footwear, golf apparel and training, as well as explosive growth overseas.
On a conference call with analysts, Kevin Plank, chairman and CEO, admitted that Under Armour has had a string of luck lately with its brand ambassadors with Tom Brady winning the Super Bowl MVP and Stephen Curry the likely winner of the NBA's MVP. He joked that the brand's latest star success, Jordan Spieth, who won the Masters in a record-setting performance, didn't have a drivers the license the last time the company didn't achieve at least 20 percent growth. But he also inferred it was also part of a calculated plan.
"To quote the great Dodgers executive, Branch Rickey, 'Luck is the residue of design,'" Plank stated. "And knowing that we have Jordan Spieth as the face of Under Armour golf into the future solidifies our presence in the category and aligns us with the new face of golf in the United States."
Not everything went so smooth. UA said its North American business experienced some disruptions from the West Coast port delays and weather-related store closures during the period, which it estimated had a 1 percent to 2 percent cumulative impact on overall net revenues.
Earnings also declined 13.4 percent due to higher year-over-year marketing expenses to support its first Brand Holiday marketing campaign of 2015, as well as the one-time deal closing cost for its acquisition of Endomondo and MyFitnessPal in its Connected Fitness segment although the drop was largely expected. Earnings topped Wall Street's consensus target by a penny.
By category, apparel sales in the quarter grew 20.9 percent to $555.4 million. The gains were led by the introductions of Armour Base Layer and its updated training platform, as well as continued growth in golf and running.
Footwear sales jumped 41.1 percent to $161.1 million, representing 20 percent of its total business for the first time since its initial running shoe launch in early 2009. Receiving the main focus of its Brand Holiday campaign in the period, its new Speedform Gemini and Apollo Event running shoes, as well as Stephen Curry's first signature basketball shoe, the Curry One, "drove tremendous excitement for the category in the marketplace," said Brad Dickerson, CFO, on the call.
Accessories advanced 22.5 percent to $63.2 million, with particular strength within its bags line.
Global direct-to-consumer revenues expanded 21 percent for the quarter, representing approximately 25 percent of revenues. The e-commerce growth rate exceeded its retail growth rate during the quarter with the weather-driven store closings. It ended the quarter with 153 owned stores, including 134 Factory House stores and 19 Brand House stores, including new stores in Chicago and in Minneapolis at the Mall of America as well as its first brand house stores in Brazil. Last year, it had 134 owned stores, including 11 Brand House stores.
Regionally, North American sales jumped 20.3 percent to $700.5 million. On a c-n basis, revenues grew 21 percent, driven primarily by growth in the apparel and footwear categories and in its direct-to-consumer channel.
International sales grew 74.2 percent to $96.0 million, representing 12 percent of sales. On a c-n basis, revenues expanded 86 percent for the period.
In the EMEA region, its new Dutch website saw a strong launch, a new office in Germany was opened, and its first regional Brand House opened in the Middle East in Abu Dhabi. In Asia-Pacific, China's revenues more than tripled with an acceleration of its partner store expansion efforts and e-commerce gains. In Latin America, its recent signing of Sao Paulo Football Club, its new Sao Paulo store, and a local marketing push in conjunction with its Speedform Gemini launch are all helping build brand awareness.
Gross margins were essentially flat at 46.9 percent. Favorable product margins in both North American and international apparel and footwear benefited gross margins by approximately 110 basis points for the period. However, higher airfreight costs as a result of the West Coast port disruptions hurt margins by approximately 60 basis points. Finally, the strengthening of the US dollar impacted margins by approximately 50 basis points.
SG&A expenses increased 80 basis points to 43.5 percent. Marketing costs decreased to 13.4 percent of revenues for the quarter from 13.7 percent, driven primarily by the shift of certain planned expenditures to later in 2015. Other SG&A costs increased to 30.1 percent of revenues from 29 percent, driven primarily by its Connected Fitness acquisitions and investments in Brand House and e-commerce. The one-time deal closing costs of $6.3 million for the Connected Fitness acquisitions negatively impacted the quarter by approximately 80 basis points. Operating income increased 3.0 percent to $27.7 million.
Highlighting some of UA's successes, Plank said the Curry One, Stephen Curry's first signature shoe, saw a "great launch" as part of the NBA All-Star game and "there's tremendous buzz in the sneaker community about that shoe, as well as great anticipation already around the Curry Two." With the shoe and the athlete, Planks believes Under Armour is "really in the game" in the basketball category and stated a company goal as "building a billion-dollar basketball brand."
In other footwear areas, its Speedform Gemini running shoe at $130 "continues to collect rave reviews in check at retail" and the brand is introducing cleated models in both American and global football.
Golf was also strong and builds on success seen over the last two years. Spieth is expected to benefit both the footwear and apparel side in the years ahead. Said Plank, "When we signed him, we knew he had the ability to help drive our brand beyond just golf and that we needed to align our product stores with his aggressive, young and fearless personality."
Armour, its reengineered base layer featuring enhanced ventilation, saw a "strong start," and the company's expanding presence in footwear categories like running and basketball are supporting apparel gains in those areas. Added Plank, "Our growing strength in footwear is also helping to drive apparel sales with kids as we understand how critically important the footwear piece is to how our young male and female consumers dress."
Operationally, Plank sees an "a great opportunity to improve both how our supply chain gets product to market and how our product looks once we get there."
To improve merchandising at its wholesale partners, Kevin Estrich, who has been establishing the brand for the last two years, has been re-designated to run its global merchandising team. Plank elaborated, "Our ability to stratify our presentation at retail with multiple end-use categories is an asset we have yet to fully maximize and we believe these types of surgical improvements in our merchandising will help ensure our continued growth with our wholesale partners."

At its own stores, Plank called out its new 30,000 square foot Brand House store on Magnificent Mile in Chicago as an example of how the company remained "laser focused" on creating "elite" presentations internally. The store features dedicated space for running, golf, basketball, hunt and studio and is the first store to feature Connected Fitness. Its Connected Fitness community added over 10 million unique users since February and now totals more than 130 million combined. It averaged more than 130,000 people in the first quarter downloading one of its four apps.
To further the integration of its four companies, Under Armour is expanding its partnership with SAP for the infrastructure that will help create a single integrated view of its consumer. Said Plank, "We believe the brands that can build true communities among their consumers by improving their health and fitness will be best positioned and we are focused on the competitive advantage we enjoy by having the world's largest digital health and fitness community."
Internationally, Under Armour will add over 100 total stores in 2015. Erick Haskell, formerly at Adidas, takes over as general manager of China. But a particular focus will be Brazil, where the kits for its newest team, Sao Paulo Football Club, will be unveiled in May. Said Plank, "Adding key assets like Sao Paulo accelerates our presence in these new markets and helps us deliver authenticity as we establish ourselves in global football."
With the Q1 performance, the company now expects 2015 to expand 23 percent, up from an expectation of 22 percent previously. Operating income is now expected to climb between 13 percent and 15 percent over 2014, up from a former range of 12 percent to 15 percent.
The strengthening of the US dollar is expected to impact its 2015 net revenues by approximately 2 to 3 percentage points. Gross margins are now expected to be roughly in line with last year's 49 percent rate compared to its prior guidance of a modest year-over-year improvement due to the continued strengthening of the U.S. dollar along with anticipated higher ongoing air freight in the second quarter. Second-quarter and third-quarter margins will be down approximately 50 basis points.