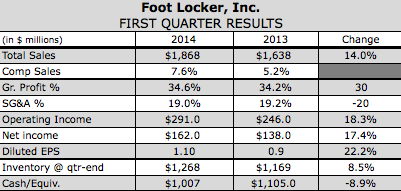 Aided by its role as kingpin of the basketball category, Foot Locker Inc. reported its most profitable quarter in its history an athletic company and perhaps its 135-year history.
In its first quarter, profits rose 17.4 percent to $162 million, or $1.10 per share. Wall Street's consensus estimate had been $1.06 a share.
On a conference call with analysts, Ken Hicks, chairman and CEO, noted that his internal IR team had "reviewed every annual report for the last 100 years to be sure we've never earned more than $162 million of net income in a first quarter," and the company believes it's a historic achievement.
Its athletic history dates back only to 2001 when the company changed its name to Foot Locker Inc. from Venator Group. For most of its history it was known was Woolworth Corp., which was founded in 1879 and best known for its legendary five & dime shops.
Hicks also noted that the period marked its 17th consecutive quarter of comparable sales gains and profit increases, and that the company was "strong in almost every region and division."
Excluding approximately $2 million of charges related to a trade name impairment in Ireland and additional integration costs tied to Runners Point Group, EPS would have been $1.11 against 91 cents excluding certain RPG acquisition costs a year ago – a gain of 22.0 percent.
Sales in the quarter rose 14.0 percent to $1.87 billion, benefiting from last fall's acquisition of Runners Point, the German run specialty chain, and a comp gain of 7.6 percent. Comps were up 6.4 percent at its stores and 17.2 percent in its direct-to-customer segment.
Gains were seen in traffic and units sold. Average unit retail increased due to higher ticket and a lower markdown rate.
By month, comps grew in the low-double digits in February, increased in the low-single digits in March despite an Easter shift from March to April, and then jumped low-double digits in April with the Easter boost.
Comps in the first few weeks of May were up mid-single digits and consistent with its expectations. Officials reiterated its outlook for the year.
Among its domestic store divisions in the quarter, Kids Foot Locker again led the way, with a mid-teen comp gain. Foot Locker division in the U.S. was also strong, posting a high-single digit comp sales gain. Footaction and Champs Sports posted a mid-single and low-single digit gain, respectively. Lady Foot Locker came in with a low-single digit comp loss although it represented significant sequential improvement over last year.
Foot Locker Europe generated a mid-single digit comp gain with Italy the only country not posting a gain. Several countries were up double digits, including its Foot Locker business in Germany. Runners Point Group delivered a comp gain in the double digits, although it won't be included in comps until October. Foot Locker Asia saw a high-single digit comp gain. Foot Locker Canada suffered a mid-single digit decline.
The 17.2 percent comp gain in its direct-to-customer segment was driven by its store banner.com business, with gains in excess of 40 percent. Eastbay, still the biggest part of direct-to-customer, was up low-single digits while CCS, the smallest piece, was down mid-single digits. Direct-to-customer accounted for 11.3 percent of total sales, up almost 100 basis points from a year ago.
Gross margins improved to 34.6 percent of sales from 34.2 percent a year ago. Sales leverage on fixed costs offset a 30-basis decline in merchandise margin, due primarily to initial markup declines.

FL's SG&A was slightly reduced to 19 percent of sales from 19.2 percent, representing its best ever quarterly SG&A rate as an athletic company. Excluding Runners Point Group, its SG&A rate would have been 18.6 percent. The improvement in expenses also came despite the $2 million increase in its legal reserves.
Among categories, Footwear jumped low-double digits, according to Dick Johnson, EVP and COO. Apparel was down mid-single digits and Accessories was up low-single digits.
In Footwear, basketball was up "solidly in the teens," led by Jordan and Nike marque player shoes. Said Johnson, "As was the case throughout most of last year Jordan was strong across-the-board. Jordan brand shoes like the True Flight, all of the retro releases, and the Player Edition shoes including Mello and CP performed well in the quarter."
Lebron, KD, and Kobe Nike marque shoes "performed consistently well in our stores and online," said Johnson. Basketball footwear sales were up in all geographies.
Outside North America, running was the company's largest category and its international running business climbed "well into the double digits." Gains in running in Europe were led by Max Air by Nike, especially the Max 90 and Max One style. Adidas' ZX Flux contributed "significantly" to its European success in run.
Across the company, running was up high-single digits with a low-single digit decline seen in the U.S. Overall, Nike lightweight running was strong with Free continuing to provide "meaningful growth." Also selling well was Fingertrap Max, which benefited from some exclusive product. Added Johnson, "Some of the other technical brands trended off, although Under Armour Speedform Apollo shoe got off to a good start albeit with limited pairs thus far."
Foot Locker is also benefiting from taking a strong position in Puma, "as they begin to draw inspiration for their new innovative products from their performance sports heritage," said Johnson. Puma Lab shops were installed in about 100 of its U.S. Foot Locker stores and "are performing well."
In casual footwear, styles such as the Huarache, Roshe and Thea, all from Nike, performed well. Vans "did well," especially in the classic silhouettes, as well as core White/White Air Force Ones. While Converse was down overall in the quarter, basic white and black Chuck Taylors "continue to sell well," said Johnson.
In apparel, the mid-single digit decline reflects "the competitive environment in the malls" in the category, said Johnson. Online also "remains challenging and yet we did hold nearly flat from the U.S."
The premium tees, tanks, fleece and shorts that hook to footwear sold well, especially in Jordan and Nike signature basketball. Remodeled stores showcasing these hook ups showed apparel gains in the quarter.
In Europe, apparel declined double digits with drops in Adidas Originals product not offset by some successes in Jordan and NBA license tees and shorts. Johnson added, "Nonetheless we're optimistic about the Adidas business for the back half of the year as we see a more innovative pipeline of product arriving during that period."
Europe was also impacted by warmer weather in most of the continent. Johnson added, "While that probably helped our running business it hurt our fleece business which was particularly strong a year ago."
While its momentum slowed from recent quarters, socks continue to drive Accessories. Fashion socks with sublimated prints and "other fun styles" from vendors such as Stamps continued to boost the category. The stores "continue to be a key destination for multi-pack basic socks from our major vendors as well as our own private label socks," said Johnson.

Headwear was "strong," especially knit hats, including licensed hats with team logos and prints. Said Johnson, "These mid hats sold well not just in cold weather markets and like Timberland boots knit hats were a popular style choice around the country, north and south throughout the quarter."
Elaborating on some successes, Hicks noted that beyond Kids Foot Locker's mid-teen percent gain, children's was up in the "very high teens" across banners. New Kids Foot Lockers are opening and more space is being dedicated to children's in many of its other banners.
In Europe, Foot Locker is increasing its store count in under-penetrated markets, including six stores opened in the quarter in France. Runners Point had a "terrific start" to the year and learnings are ongoing. Said Hicks, "We're still in the process of more clearly differentiating the assortments in their unique banners. That effort has been going very well."
Digital, while "still small" versus the U.S., is "growing rapidly" across Europe.
Apparel penetration declined with the overall comp dip in the quarter but Foot Locker's goal continues to be to increase it to the 30 percent level it had reached in the past. A focus on premium apparel, often exclusive, is the focus. Ongoing remodels will showcase more apparel but Hicks described it as "an ongoing process to build the right mix of performance and basic apparel now given that the majority of our stores at this point are not yet remodeled."
Johnson noted that the company is on track to have remodeled 20 percent of the Foot Locker stores in its Willowbrook format in the US, and 30 percent of Champs in its Tyrone format by the end of 2014. A new remodel format for Footaction is in test mode but earl reads are "encouraging."
Said Johnson, "Cumulatively, the remodel program is already producing good net sales lifts, even factoring in the time the stores are closed for construction. We believe the momentum of improved sales will get even stronger as we complete more remodel projects through the next several quarters."
Johnson said its women's banners are improving with a positive low single digit comp in April and so far in May, but "the business is not yet where we want it to be."
At Lady Foot Locker, the Bridgewater remodel, featuring an enhanced footwear wall and pant and bra bars with mannequins to highlight fit, are lifting sales and a "few more" remodels are set for spring and summer.
Its other women's banner featuring a more expansive apparel assortment, 602, "continues to do well" but different assortment mixes continue to be tested before a rollout decision is made later this year.
On the technology front, a new labor scheduling system is in place in North America and Europe. A hiring tool has been implemented "with great success" throughout the US, and a European rollout being planned for 2015. A new merchandise allocation system is being rolled out in the fall designed to lower markdowns and lift sales.
Foot Locker continues to expand shop-in-shops. House of Hoops operated 139 shops at the end of the quarter with goals to reach 200 "globally soon." Other tests include Nike Yardline at Champ Sports in several locations, Adi Collective shops in Footaction, a Jordan Flight 23 shop in Footaction, the Fly Zone at Kids Foot Locker and Puma Labs in Foot Locker. Said Hicks, "Some of these tests are too early to call but we'll make adjustments in order to maximize their profit potential and we're optimistic about all of them at this point."
Relatedly, Hicks noted that the opening of the first four Eastbay Performance Zone at Champs Sports in St. Petersburg, Minneapolis, Milwaukee and Sacramento. The 150 square-foot areas feature an array of Eastbay product to sample and buy as well as a four-foot touch screen that highlights other sizes and colors available on eastbay.com. Hicks called the store "another great example of the creativity of our teams as we drive the evolution of the store experience to be integrated with our industry leading digital capabilities."