Foot Locker, Inc. saw their first quarter financial results come in better than expected going into the period, but they see the external forces impacting retail remaining "quite challenging" – at least in the near term. The world's-largest-athletic-footwear-retailer has focused on managing expenses and improving margins-moves that translated into bottom line improvement in the first quarter-and sees these moves continuing to help expand profits in a tough retail environment.


Company chairman and CEO Matt Serra said that three key factors helped cushion Foot Locker's exposure to external forces during the quarter. "Our international businesses each produced positive comp store sales increases," said Mr. Serra on a conference call with analysts. "A more favorable athletic cycle continued to emerge in both the U.S. and international markets and third, the higher priced marquee segment of our business, particularly in technical basketball footwear, where we have the large quantities of exclusive products is performing extremely well.

The retailer reported that fiscal first quarter sales decreased 7.1% to $1.22 billion for the period ended May 2. Excluding the effect of foreign currency fluctuations, total Q1 sales decreased 2.2% and comparable store sales decreased 2.4% for the period.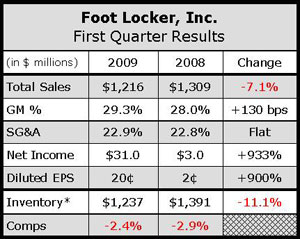 Management said they "came out of the box well in February," producing a low-single-digit comp store sales increase. March comp store sales declined in mid-single-digits and April comps declined in low-single-digits, which they said was "disappointing given the Easter shift" to April this year. Management said the sales comparison for April was "affected negatively by the anemic economic environment as well as a couple of very strong product releases last year that were stronger than the comparable releases this year."

Combined U.S. store operations decreased low- to mid-single-digits for the quarter. Mr. Serra said athletic footwear sales in the U.S. were essentially flat with last year, with strength in the kids business essentially offsetting weakness in the women's footwear sales. U.S. apparel sales continued to decline versus last year, but Serra said they were "encouraged" that the branded apparel business was positive. These branded apparel gains were not enough to offset the declines in the private label and license categories.

The combined Foot Locker, Footaction, and Kids Foot Locker businesses in the U.S.-which combined represented approximately 50% of total store count and sales during the period-produced the retailer's strongest profit increase for the quarter. The first quarter profit increase in the big U.S. Foot Locker division was said to be the "most significant," reflecting a strong merchandise margin rate increase, lower operating expenses, and better-than-expected sales. Serra said they also generated a strong profit increase at both the Footaction and Kids Foot Locker divisions.

Mr. Serra reported that the underperforming women's footwear category negatively affected each of the U.S. divisions, including the Lady Foot Locker division. The Champs business was negatively impacted the most by weaker private label and licensed apparel sales.
The strength of the U.S. men's and kids footwear businesses continue to be in the higher-priced marquee basketball category, with strong sell-through reported for weekly Nike and Jordan launches. They said they continue to be "very encouraged" with the sales of Jordan Retro product as well as Nike brand LeBron and Kobe product. They also continue to have success with Nike Hyperdunk styles.

The lifestyle category, dominated by vulcanized product, was said to be developing rapidly in the global marketplace and is offsetting the decline in the fashion category that is dominated by the low profile styles.

Mr. Serra called out Nike, Adidas, Puma, and Converse as offering the most exciting products in the category. The running business in the U.S. reportedly trended down, but they said they generated some "strong gains" from Asics, Puma, some selected Nike Air Max styles, and what Serra called their "most successful launch of Under Armour." Premium classics from Nike also reportedly continued to be strong, with gains in Prestige, Dunks and Blazes leading the way. Converse Chuck's also continue to perform.
The new Reebok Easy Tone shoe -which is a mall exclusive for Foot Locker in the U.S. – is reportedly doing "extremely well." Average footwear selling prices in the U.S. increased in mid-single-digits, reflecting both a lower markdown rate and the continuing mix shift towards higher priced footwear. On the U.S. apparel side of the business, Serra said they are beginning to make some "meaningful progress" with branded offerings, generating a comp store sales gain here during the quarter. Sports license product continued to be weak, a trend management said is price-related as consumers trade down from the higher-end jerseys. Private label apparel was said to be weak, but Foot Locker appears to be committed to the business.

In constant currency dollars, Foot Locker, Inc. generated double-digit profit growth in its international business.

The Asia-Pacific division-with 93 stores in Australia and New Zealand- produced a double-digit comp store sales increase for the quarter. This business also more than doubled its division profit versus the first quarter of last year. Foot Locker Europe increased low-single-digits and Foot Locker Canada increased low-single-digits.

The 132-store Foot Locker Canada division, which was said to be the second most profitable international group, produced a low-single-digit comp store sales increase for the quarter and nearly a double-digit division profit margin rate.

Foot Locker Europe, which currently operates 512 Foot Locker stores, produced a low-single-digit comp store sales gain for the period and a double-digit profit increase in constant currency dollars for the quarter. The sales strength in Europe came from strong apparel sales in private label, branded, and licensed categories. Technical running, which was described as the region's largest and most important footwear category, produced a strong sales gain for the quarter. Foot Locker posted positive comp store sales gains in France, Italy, Germany and the Netherlands. However, the retailer is still experiencing weakness in Spain and the UK.

The direct-to-customer Foot Locker.com business declined mid-single-digits for the quarter. Total sales, including the newly acquired CCS business, increased in high-single-digits. The Internet piece of the business reportedly continues to grow and now produces 84% of the direct business versus 81% at the same time last year. Overall, Serra said they were "somewhat disappointed" with the sales results of the direct division during the quarter, even though the core FootLocker.com/Eastbay business continued to generate a double-digit profit margin rate. Mr. Serra said that CCS sales were somewhat below expectations and profits were essentially a breakeven. He still believes CCS has an opportunity to generate a double-digit profit margin rate for the year.

Two additional franchise stores were opened during the quarter, bringing the total to 19 doors at quarter-end, which operated principally in the Middle East and South Korea.

First quarter gross margins improved by 130 basis points versus Q1 last year, reflecting improvement of the merchandise margin rate and flat buying and occupancy rates. The merchandise margin rate improvement this year was attributed to inventory levels that were "significantly better positioned than it was at the same time last year" and lower product promotion rates. First quarter buying and occupancy expenses were $15 million below last year.

Net income was $31 million, or 20 cents per share, for the company's first quarter, compared with net income of $3 million, or 2 cents per share, in Q1 last year. First quarter results in 2008 included store closing expenses of $3 million, after-tax, or 2 cents per share, and a non-cash impairment charge of $15 million, after-tax, or 10 cents per share. Excluding those items, first quarter net income in 2008 was $21 million, or 14 cents per share.

The merchandise inventory position of $1.2 billion at the end of the first quarter was 11.1% lower than at the same time last year. Over the past two years, Foot Locker has reduced its merchandise inventory by $253 million or 17%. On a constant currency basis, inventory was 16% lower than two years ago.

Foot Locker, Inc. ended the year with 3,633 stores, reflecting 16 new stores, 24 stores closed, and 47 remodeled and relocated stores during the quarter. The retailer has funding to open up to 40 new doors this year and to remodel or relocate up to 150 existing stores.