Last month saw the most gun-related background checks run by the Federal Bureau of Investigation of any March on record, apparently sparked by concerns over heightened gun-control legislation following the Parkland, FL shooting.
The March 2018 NSSF-adjusted National Instant Criminal Background Check System (NICS) figure of 1.5 million represented an increase of 10.8 percent compared to the March 2017 NSSF-adjusted NICS figure of 1.36 million. For comparison, the unadjusted March 2018 FBI NICS figure 2.75 million reflects a 13.7 percent increase from the unadjusted FBI NICS figure of 2.42 million in March 2017.
Handgun checks increased 3.9 percent, while long-gun checks increased 17.3 percent.
In February, background checks were down 2.0 percent on an adjusted basis while gaining 3.1 percent unadjusted. In January, sales were down 8.0 percent on an adjusted basis and down 1.7 percent unadjusted.
In a note, Andrew Burns at D.A. Davidson said March was the the first year-over-year increase in NICS checks since May 2017, most likely driven by "increased rhetoric from retailers and politicians following the Parkland, FL shooting."
He also noted that Sportsman's Warehouse on its fourth-quarter conference call noted an increase in demand beginning in late February, calling for a return to positive comps in 1Q18. Wrote Burns, "While a pull-forward of demand, similar to San Bernardino, is not out of the question, a pick up in firearms sales helps create a stronger outdoor sporting goods retail sales environment."
James Hardiman, at Wedbush Securities, also noticed the uptick in long guns. The rise, he wrote, confirms "the increased buying activity is largely due to the heightened talk of gun regulation following February's tragic shooting in Florida."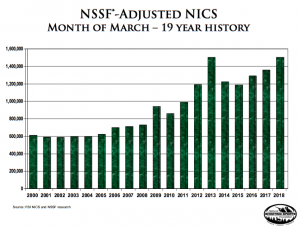 The first quarter 2018 NSSF-adjusted National Instant Criminal Background Check System (NICS) figure of 3.73 million  reflects an increase of 1.0 percent over the 3.69 million figure for first quarter 2017.
The adjusted NICS data were derived by subtracting out NICS purpose code permit checks and permit rechecks used by states for CCW permit application checks as well as checks on active CCW permit databases. NSSF started subtracting permit rechecks in February 2016.
The strong background check data suggests that the industry is picking up after slipping into a deep slump in the aftermath of President Donald Trump's electoral victory. Gun sales are often trigged due to fears of heightened firearms legislation. Last year, firearms background checks on an adjusted basis were down 13.4 percent in the fourth quarter and declined 11.0 percent over the full year.
Photo courtesy Cabela's