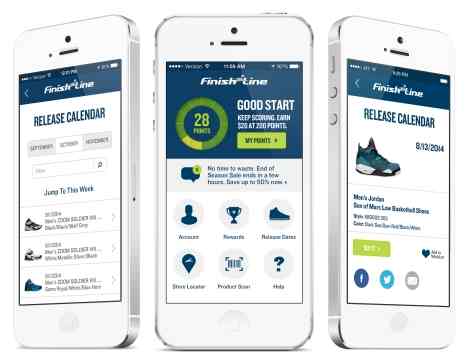 The Finish Line, Inc. announced the launch of its new mobile app aimed at providing services and conveniences that reward Winners Circle loyalty program customers with points and loyalty perks.
Available as part of the athletic retailers mobile commerce platform, the new Winners Circle customer loyalty app reinforces brand interactions, improves customer service and sales, and also provides timely information about customers favorite product releases.
We closely examined the needs of our customers and created features within this app that make it easy for them to keep tabs on their Winners Circle points, rewards and special offers, said Danielle Quatrochi, Finish Lines Vice President, Digital. This app enhances our customer experience as another omnichannel resource, especially for those who shop us regularly. Were excited to offer them details that assist in the decision making process right from their smartphones.
The Winners Circle app includes features for customers such as:
Rewards
Get up-to-date information on Winners Circle points and direct access to rewards. Customers can scan rewards or coupons in the store directly from the app or use them online.
Message Center
Keep an eye on exclusive offers, hot releases, and local events with the message center.

Account/Order Tracking
Track orders and check order history from anywhere. View Winners Circle points history. Manage a Wish List and share it socially. View and scan a Winners Circle card and edit the online customer profile quickly and easily.
Product Scan
Scan the bar code on a product in a Finish Line store and read information on that product to make the shopping experience even better.
Release Dates
Stay on top of things and never miss a new shoe release with this feature. It includes a calendar of the releases complete with photos and details of the shoes.
Store Locator
Simply open the store locator feature and the closest stores will show up, including the stores address.
Finish Line teamed with IBM (NYSE: IBM) and IBM Business Partner PointSource on the apps development. It was designed using the IBM MobileFirst application development portfolio to capture the attention of sports enthusiasts and provide a rewarding user experience.
The new app is an important component of Finish Lines strategy to deepen the understanding of the customer, inform enterprise decisions and encourage loyalty and sales, and incorporates the in-store sales associate in the overall customer engagement. For example, using geo-location technology, customers can get push notifications and information about nearby stores including real-time visibility into inventory to determine if a specific item is in stock and available for purchase. The app also enables customers to make purchases directly from the stores website no matter where they are.
Leveraging mobile clearly brings value to the Winners Circle rewards program-particularly when you consider that many shoppers actually look for offers on their mobile devices while theyre in the store," Rodney Bryant, retail expert and consultant, IBM Global Business Services. The collaboration with Finish Line and PointSource creates greater insight into consumers purchase patterns and shopping preferences to be able to improve and personalize interactions at every touch point."
Finish Lines mobile solution, created by PointSource, is the first to use SoftLayer and Xtify, part of the IBM ExperienceOne portfolio, to provide cloud-based access to the IBM MobileFirst portfolio and a personalized notification strategy.