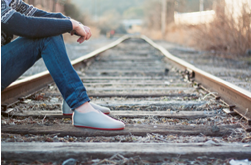 Feetz, which specializes in customizable footwear using 3D printing, closed on a $1.25 million seed round.
The capital infusion will be used to launch the Feetz platform directly to customers later this year via the first micro-manufacturing center in Chattanooga, TN.
Silicon Valley (Menlo Park) based Khosla Ventures led the investment. Additional partners include the JumpFund (Chattanooga, TN) and Uli Becker, former CEO of Reebok who has also joined the Feetz board of directors.
"Today, we wear a shoe that's been made and sized to fit anyone. I'm excited to bring a new reality to market by offering 7+ billion shoe sizes: 1 for everyone in the world," says Lucy Beard, CEO and founder of Feetz. "We celebrate your uniqueness by offering the only size you'll ever need: SizeMeTM. Our shoes are not only custom fit but can be customized so that no two pairs are ever the same."
Customers create their ideal size at home in minutes by using the Feetz App to get a 3D scan of their feet using one piece of paper and three photos of each foot. Consumers select the design and colors, then Feetz uses the foot data to create custom fit, tailor-made shoes delivered within seven days.
"The core idea of Feetz is huge and so disruptive to footwear and its processes as we know it today," says Uli Becker. "This paired with the substance both founders bring to the table, I decided to throw in my experience and support to help build the company, so that Feetz becomes a powerful force in the marketplace."
Feetz, a member of the 2014 Master Accelerator program The TENN led by Launch Tennessee, presented at SXSW as a Wearables finalist at Accelerator event on Saturday, Mar 14.
"Feetz has applied 3D printing technology to the footwear industry enabling consumers to have a perfect customized fit," said Vinod Khosla, partner at Khosla Ventures. "Founder and CEO, Lucy Beard came to us with her vision to never try on a pair of shoes again, and we're excited to help make that a reality."
"Feetz has the key elements of a company in which the JumpFund seeks to invest– a strong, talented female leader, disruptive technology with huge market potential, and founders willing to grow their company in the Southeast," says Kristina Montague, general partner, The JumpFund. "Lucy and her team are on the front line of making 3D printing wearables."