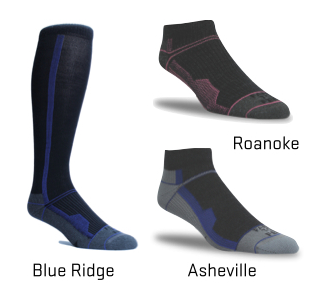 Farm to Feet has signed on as the official sock of 2015 Blue Ridge Marathon. In honor of the relationship, Farm to Feet has introduced the Blue Ridge Series of running socks. Each participant running in "America's toughest road marathon" on April 18, 2015, will receive a pair of Farm to Feet run socks in their race packet.
"Everyone should visit the Blue Ridge Mountains at some point and running amongst them is a great way to experience their beauty," said David Petri, Farm to Feet marketing director.
The race course starts in downtown Roanoke and climbs to the top of Mill Mountain and Roanoke Mountain along sections of the Blue Ridge Parkway for a total elevation change of 7,430 feet, making it America's toughest road marathon.
Farm to Feet's Blue Ridge series of running socks feature Farm to Feet's Friction-Free technology which uses US sourced PTFE nylon, that has a low friction coefficient to reduce abrasion and the chance for blisters. Additionally, PTFE is hydrophobic which enhances the movement of perspiration away from feet for quick drying and enhanced comfort.
The Roanoke, named for the marathon's host city, is an ultra light running sock with a flat-knit frictionless bottom (MSRP- $14). The Asheville is a similar sock, but with half density cushioning under the foot (MSRP- $14). Both socks are designed with airflow channels over the instep and venting panels on the sides and rear for improved breathability. The socks are offered in low and quarter-crew heights and are available in men's and women's styles.
Rounding out the collection is the over the calf Blue Ridge which features graduated compression. It has a targeted compression of 17.5 mmHg starting at the ankle and decreases up through the calf, to assist blood flow and reduce muscle vibration for enhanced performance and recovery. The 16" tall Blue Ridge with Friction-Free technology has half density cushioning underfoot for additional comfort. MSRP- $30.00.
All the socks in the Blue Ridge Run Series feature all US sourced materials, a 100% seamless toe closure, reciprocated heal and toe pockets for a great fit, and double welt tops.
"We are excited to be teaming up with Farm to Feet," said Pete Eshelman, director of outdoor branding for the Roanoke Regional Partnership. "Their socks are a great match for our event; a perfect balance between beauty and toughness."
To further support the partnership Farm to Feet has included imagery and descriptions for the event on the socks' packaging.
The Farm to Feet Blue Ridge series of run socks are available nationwide and online at www.farmtofeet.com.