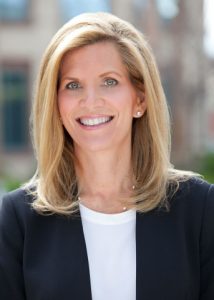 Caleres announced Molly Adams, pictured right, will join Caleres as president of Famous Footwear on May 29.
Adams will lead the largest brand in the Caleres portfolio and continue to build upon its success by focusing on consumer engagement, store productivity and omnichannel initiatives. In 2017, Famous Footwear made $1.6 billion in revenue, which accounted for 59% of the revenue in the Caleres portfolio.
Adams comes to Caleres from The Walt Disney Company, where she was executive vice president, global merchandising and product development since 2008. There she led two multibillion-dollar business areas and a combined global merchandising and product development team.
"Molly brings to us a wealth of retail and product experience that resulted in consistent growth during her tenure at Disney," said Diane Sullivan, CEO, president and chairman of Caleres. "She was successful in integrating and aligning teams across two critical areas of business, and in leading strategy, financial planning and product development and merchandise assortments across the business, all while maintaining that incredible Disney brand integrity everyone aspires to. Her leadership, pace and vision will be invaluable to our Famous Footwear business, and her passion around the consumer experience will come to life in our stores and through our dedicated team of Associates."
"What drew me to Famous Footwear and Caleres was the opportunity to be involved in a fast-paced and evolving business grounded in tradition and values," said Adams. "I grew up in retail and love the idea of building world-class brands with strong emotional consumer connections. I see a lot of exciting and challenging prospects on that front with Famous Footwear, and I'm confident in the great team in place supporting the business and honored to work with them and build upon their successes."
Prior to Disney, Adams had experience with private equity-owned and smaller companies in retail and entertainment. Adams spent eight years at Anchor Blue Retail group as a senior vice president and general merchandise manager and divisional merchandise manager. Anchor Blue Retail Group was a family-owned specialty fashion retail chain with 300+ stores in the western and southeastern U.S. She also served as president of Stony Apparel Corporation, a designer and manufacturer of juniors' and kids' fashion apparel. Adams also held a variety of retail positions early in her career including merchandising, buying, sales and management positions at major department stores and specialty retail stores.
Adams holds a bachelor's degree in Business Administration and Marketing from the University of Tennessee. She is replacing Rick Ausick, who announced his retirement earlier this year.