EBay announced a series of steps it is taking to accelerate its efforts in local commerce, including plans to extend its popular eBay Now delivery service to 25 markets by the end of 2014, including Chicago, which launched Tuesday.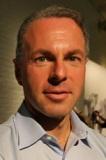 "The world is changing, with the lines between online and offline commerce blurring and the expectations of buyers and sellers rising rapidly," said Devin Wenig, president of eBay Marketplaces, who is shown at right. "With eBay's latest steps, we are bringing together the best of what people need from a shopping experience – speed and convenience – with things people love about shopping, like discovery and inspiration."
In recent years, traditional commerce and online commerce have begun to merge. Today, almost two-thirds (65 percent) of consumers in the U.S. (1) and one-third globally (2) use multiple channels to shop. At the same time, due to advancements in technology, consumers' expectations of trusted and engaging shopping experiences have risen dramatically. With eBay's mobile leadership, vast selection and improved fulfillment capabilities, the company is in a unique position to partner with retailers to address these converging trends.

"EBay is a technology company; we understand that retailers, brands and sellers of all sizes need a new set of solutions to deliver the kinds of experiences consumers expect in today's environment," continued Wenig. "We're making fundamental changes to our business that put us in a position to be the right partner for merchants and the best place for people to shop – anytime, anywhere and on any device."

Last October, eBay introduced eBay Now, a service available through iPhone, Android and desktop web that allows shoppers to have products from local stores delivered in as little as an hour. eBay Now is one element in a larger strategy to advance eBay's capabilities in local commerce, and help retailers take advantage of technology to reach more customers and increase sales.

"Today, approximately 75 percent of what people buy is local, found within 15 miles from their home," said Wenig. "Traditional retail isn't going away. But it is transforming, and that creates enormous opportunity within the $10 trillion total commerce market."

eBay's new local commerce initiatives include:



eBay Now: The company plans to expand the eBay Now service to 25 markets by the end of 2014, including major metro areas in North America, including Chicago today and Dallas later this year, and select international markets, including London in early 2014.

Shutl: The company has announced its agreement to acquire Shutl, a marketplace that uses a network of couriers to deliver local goods that same day. The company believes that the acquisition of Shutl's technology, talent and expertise will help eBay to reach its goal of expanding its local delivery capabilities.

In-Store Pickup: In keeping with eBay's commitment to enable shoppers to choose how, where and when they receive purchases, customers can also now buy online at eBay.com and pick-up in local stores. This service is available today for Toys "R" Us and Best Buy, with more retailers coming soon.

Scheduled Delivery: Soon, eBay will be releasing scheduled delivery for eBay Now, enabling customers to buy something on their mobile phone, pick a time that works for their schedule, and have their items delivered to them then.

Now on eBay.com: The company also plans to offer eBay Now same-day delivery for local goods on eBay.com, bringing the speed and convenience of eBay Now to cities where the eBay Now service is live.

New features allows shoppers to follow designers, other favorite curators
EBay also introduced several new features aimed at blending the dependability of search with the inspiration of browse and element of social shopping for its 124 million active users. The include:



Collections: groups of products that have been hand-selected from eBay's more than 500 million listed items by expert curators, eBay buyers, and sellers

Curators: top trendsetters across a variety of interest areas, who create beautiful collections on eBay to help easily connect you with items you'll love

Follow: a simple, one-click way for you to personalize your feed by following the collections, curators, eBay users, and interests that inspire you

Profiles: a customizable page – for both buyers and sellers – where you can share information about yourself, the collections you've created, and the interests, collections, and people you follow

eBay Today: a new page on eBay that helps you easily discover the very best collections of items on eBay, selected daily by eBay's Chief Curator and Editorial Director Michael Phillips Moskowitz, eBay's new Chief Curator and Editorial Director, will oversee the eBay Today destination, providing a daily view of some of the site's most interesting items and the stories behind them. His inspiration will be available alongside a roster of more than 200 curators across a wide range of interests – from Pharrell Williams and Solange Knowles to Todd Selby and Kelly Oxford. These curators will be creating a dynamic set of collections to intrigue and inspire shoppers.

On his role as curator, Pharrell Williams said: "Shopping on eBay is unlike shopping anywhere else – it's a place to discover things you love and things you never knew you needed. Now, anyone can create their own collection on eBay and fill it with all their dream items."