Is a shirt referencing a college athlete satire or a violation of NCAA rules?
Writer: Carly Terwilliger
Smack Apparel's "Yo Grayson … Why You Trippin'?" t-shirts have attracted unwanted attention from Duke University, where Allen is a well-known junior guard on the basketball team.
Duke claimed the shirt, which refers to Allen's reputation for tripping opponents, is in violation of the NCAA rules preventing companies from profiting off college athletes. The university responded by sending a cease and desist letter to Tampa, FL-based Smack, as reported by TMZ.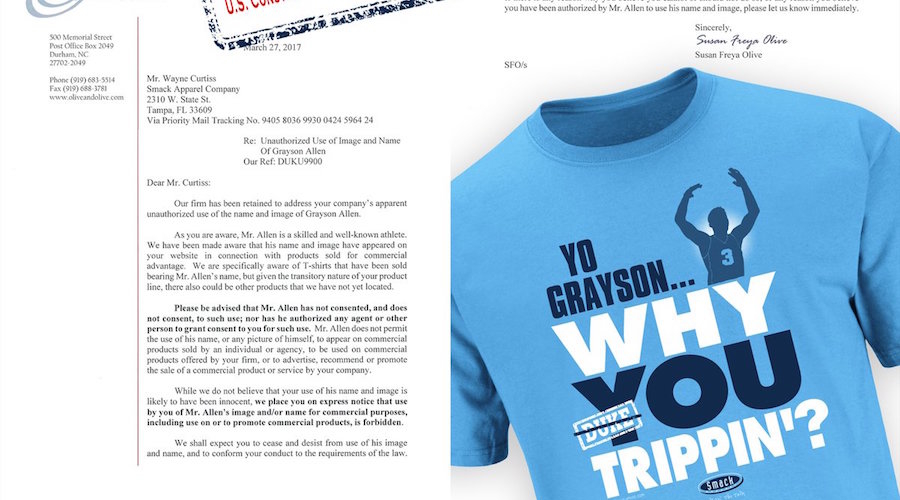 Smack, a company that specializes in apparel that mocks teams and players, responded to Duke's legal team via Twitter with a claim that the shirts fall within the First Amendment right to satire. However, Grayson is a NCAA student-athlete who hasn't authorized the use of his name or likeness. Also, Allen could lose his remaining college eligibility if a company profits off his likeness, as pointed out by Deadspin.
Smack Apparel Owner Wayne Curtiss offered to fly to the Durham/Chapel Hill, NC area and conduct a poll, according to CBS Sports. If more than five people thought that the shirt was sponsored by Duke or Allen, he would stop production and provide 25 percent royalty on all sales to the university. If not, he wants the law firm to reimburse him $2,000 for his time and travel expenses.
As of Monday, the shirt was still featured and available for sale for $19.99 on the brand's website. The full text of the letter sent to Smack Apparel can be found here.
Photo courtesy Smack Apparel