Dorel Industries reported that its Recreational/Leisure Segment lost $5.4 million after mostly non-cash restructuring charges that reduced its overall earnings by nearly 43 percent.

Dorel warned investors in early February that continued discounting and delayed orders at its bicycle business would cause it to report 2013 fourth quarter consolidated earnings below 2012 levels.
Dorel reported that it took a $13.5 million pre-tax charge in the fourth quarter to reflect the restructuring of its Leisure/Recreation segment, which is one of the largest bicycle suppliers in North America. The company's Cycling Sports Group designs, imports and markets Cannondale, GT, Mongoose and higher end Schwinn bikes to independent bicycle dealers (IBDs), while its Pacific Cycle unit sells bikes to mass merchants such as Wal-Mart Stores Inc. and Costco Wholesale Corp.
The Toronto, Canada based company, which also makes small applicances, cleaning products, juvenile products and other consumer products through two other segments, said the restructuring charge reduced its consolidated net income for the fourth quarter by about half, or $8.2 million.

"2013's performance was disappointing," stated Dorel's President and CEO Martin Schwartz. "A number of the issues we faced were industry and economy related, while others were the result of less than perfect execution on our part. As announced last month, our Recreational/Leisure segment was negatively affected by top line weakness and a poorer product mix as mass merchant store traffic in general was reduced and the independent bike dealer (IBD) channel was reluctant to increase inventories going into the New Year. Matters in our direct control are being addressed and there has been definite progress."
Dorel disclosed in January that the Recreational/Leisure segment would restructure its operations to enhance its competitiveness.
"Specifically, we want to significantly reduce development and supply chain lead times with our global partners, improve cost structures and operating margins. This plan will result in higher levels of service for our customers and consumers and will improve profit through 2014 and 2015. We expect to realize annualized cost savings of at least $6 million once the restructuring is completed in late 2014," added Mr. Schwartz.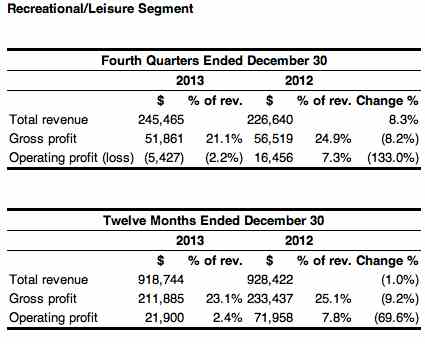 Dorel reported that Leisure/Recreational segment revenues were up $18.8 million or 8.3 percent for the quarter. Organic sales, which exclude the impact of foreign exchange and the acquisition of Bazilian bike maker and retail Caloi, increased approximately 1 percent. Sales were affected by the global bike market slowdown, a sluggish start to the holiday season in both the IBD and mass merchant channels as well as an unfavorable product mix. Industry discounting continued throughout the quarter and more 2013 model year bicycles with lower gross profit were sold than had been anticipated. As well, supply for firm customer orders for more than $10 million of CSG 2014 models did not arrive in time for fourth quarter delivery and were shipped during the current first quarter.
The US$13.5 million pre-tax restructuring charges and costs resulted in a decline of the segment's results to an operating loss of $5.4 million from an operating profit of $16.5 million in 2012. Excluding the restructuring charges, the segment posted $8.1 million in operating profit. All organic businesses experienced a profit decline in the fourth quarter. Caloi, acquired in August 2013, contributed a full quarter of profitability.
Full year
The organic sales, excluding the impact of foreign exchange and acquisitions, declined approximately 2 percent in both the IBD and the mass merchant distribution channels. In both cases the decline was driven by a 2013 global decrease in the bicycle market, predominantly caused by the extremely poor weather during the first half of 2013.

For the year the segment recorded a total of $15.4 million pre-tax in restructuring charges and costs. Operating profit in all of the segment's divisions, with the exception of Caloi, was down as increased price discounting was prevalent through the year. Unfavorable product and customer mix was also a major contributor to the reduced gross profit.
Outlook
Schwartz said that with restructuring and cost-cutting initiatives underway, bike markets expected to recover worldwide and a full year of Caloi results, he is confident about the year ahead.
"Weather is always a variable that we cannot control, but if last spring's record rain and cold in both North America and Europe are not repeated, we are definitely well positioned to return to much higher levels of profitability," Schwartz said. "Earnings for the first quarter should improve by at least 20 percent to 25 percent over last year."
Dorel's Recreational/Leisure segment owns the Cannondale, Schwinn, GT, Mongoose, Caloi, IronHorse and Sugoi cycling brands.