Dick's Sporting Goods Inc. posted a bigger-than-expected quarterly profit and forecast a strong year ahead as it saw margins swell and online sales rise during the holiday quarter. Footwear and apparel strength drove an overall comp increase of 9.4%.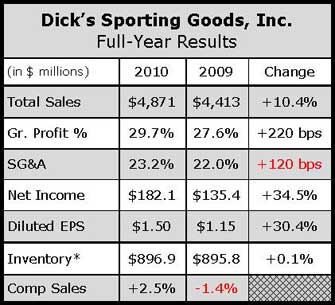 Net income rose 29.9% to $87.5 million, or 71 cents a share. Excluding charges, earnings on a non-GAAP basis climbed 36.0% to $94.0 million, or 76 cents per share – exceeding guidance provided during the retailer's third quarter conference call of 69 cents to 71 cents a share. The fourth quarter included an after-tax charge of $6.5 million, or 5 cents a share, related to its previously-disclosed, fourth quarter settlement of wage and hour class action lawsuits.

Sales increased 13.6% to $1.53 billion in Q4. The overall comp gain consisted of an 8.6% jump at Dick's Sporting Goods (DSG) stores, a 2.2% increase at Golf Galaxy and a 36.3% increase in the e-commerce business.

The increase of the DSG stores was driven in part by an 8% increase in transactions and a 0.6% increase in sales per transaction. Comps at DSG stores were driven primarily by apparel and footwear. "Specifically, we saw meaningful growth in both athletic apparel and outerwear as well as athletic footwear and boots," said Ed Stack, chairman and CEO, on a conference call with analysts.

Golf comps at DSG were down 2%, which Stack attributed to extended wintery weather in many parts of the country. Hunting was also "soft," primarily driven by the gun and ammunition business. Fitness was described as "okay, not great."

At Golf Galaxy, profitability improved as expected, driven by occupancy leverage due primarily to the closure of the 12 underperforming stores in the third quarter. The e-commerce gain here was driven by "all but a few categories," said Stack.
Gross margins in the period improved to 31.6% of sales from 29.2% in the prior-year period. The increase was driven primarily by an increase in merchandise margin of 107 basis points, primarily due to a change in mix at the DSG stores and continued effective inventory management. Occupancy leverage contributed 109 basis points to the GM gain.

SG&A rose to 21.9% of sales in Q4 from 20.7% in the prior-year period, including pre-opening expenses of $1.3 million versus zero expense in that area last year. Excluding litigation settlement costs, SG&A expenses were 21.2% of sales. The larger contributor to the increased spend was advertising, then the store closing costs and the increase in incentive pay.

Inventory per square foot decreased 4.1% due to lower clearance levels. The company ended the year with $546 million in cash and cash equivalents and no outstanding borrowings under its $440 million revolving credit facility. The prior year, DKS ended with $226 million in cash.

Looking at 2011, Dick's SG expects to generate earnings growth of 16% to 17%, reaching EPS of $1.89 to $1.91. Comps are expected to increase approximately 3%. For the first quarter, EPS is expected to range between 26 to 28 cents a share, up from 22 cents in year-ago quarter. Same-store sales are expected to increase 4% to 5%.

Asked about the projected mid-single-digit gain for the first quarter, Stack said he was "pretty enthusiastic" about the golf business with the TaylorMade R11 Driver and the new Burner Driver launches. Athletic footwear business "continue to do very well" both in basketball and running. A direct mail marketing campaign around running was put together at the end of the fourth quarter to help drive first quarter sales.

"Our footwear business as a whole has been really very good," said Stack. "The whole lightweight piece of running, whether it be the Nike Free, Lunar, AdiZero, Reebok Zig — all of those technologies are doing quite well. So we continue to be enthusiastic on the footwear business."

At the Bank of America/Merrell Lynch Consumer Conference last week, Stack said the strength in running is offsetting the sudden decline in the toning category.

Stack admitted that a year ago, he had speculated that the toning trend would last two to three years. He quipped, "I was only off by 12 to 36 months. It ended pretty quickly."

He said Reebok has particularly helped them reduce inventories to avoid markdown damage. Overall, he believes the toning trend was hurt by "bad press" around whether they work and people getting hurt using them. But unlike other trends such as Crocs and Heelys, it had other areas to make up for the toning drop-off.
"Our athletic footwear business will be fine. But the toning category is not what it used to be a year ago," said Stack.
The first quarter comp gain is also expected to benefit from some inventory investments in baseball and lacrosse toward the end of the first quarter.

At the Bank of America conference, Stack also said the retailer will be devoting more square footage and providing more "visibility" to grow its youth apparel business, led by Nike and Under Armour. It also plans to "be more aggressive" around youth equipment. He admitted that the DSG stores remain underpenetrated in youth athletic footwear and hasn't "figured out yet" that business while adding, "The biggest opportunity we see right now is in the youth athletic apparel business."
Regarding overall sales in the fourth quarter, Stack said at the conference that apparel particularly benefited its second straight strong year in outerwear, with average unit retail increases tied to strength in brands such as The North Face, Marmot and Patagonia. Added Stack, "We identified some key SKUs inside the Spyder brand from an outerwear standpoint that were just were great, were absolutely off the charts." He also noted that outerwear has benefited from weather that "has been perfect for us two winters in a row."

Regarding growth prospects, Stack said on the fourth quarter conference call that they plan to drive bottom and top-line increases through its three core growth drivers: expanding its store network, building its e-commerce business and continuing to increase margins.

For 2011, it expects to open 34 new DSG stores, representing a unit growth rate of approximately 8% for the chain in 2011 compared to a 6% growth rate in 2010. It also plans to remodel 13 in 2011. Golf Galaxy is expected to add three new stores in 2011.

New store productivity at the DSG stores was 111% in Q4 compared to 84% in the fourth quarter of 2009. Said Stack, "During the past year we actively leveraged the difficult economic conditions to both find prime locations for new stores and to secure more favorable lease terms and conditions."

During 2010, DKS opened 15 stores in total, opening 26 DSG stores and closing one. They opened two Golf Galaxy locations and closed 15. Approximately 60% of the new stores in 2010 were open in existing markets and 40% in new markets. DKS closed the year 538 stores in total – including 445 DSG units and 93 Golf Galaxy locations. Management reiterated that it sees an opportunity for at least 900 DSG stores in the U.S. without any acquisitions.

On the e-commerce front, investments are being made in content, functionality and productivity of its websites with various design and systems upgrades.

Stack said the company is looking to extend e-commerce beyond "just another distribution channel" to help drive traffic to its stores and also serve as more of a complement to its brick & mortar stores.

"This means going beyond offering the best products, exclusive promotions and great prices," said Stack. "It means also providing site visitors with a trusted resource for accurate and in-depth information on our products. In addition to enriching the content of functionality on our site, we will build out a concentrated effort to integrate our online presence with our store network while capturing opportunities to enable more efficient fulfillment and improve profitability."

Toward that end, in-store pickup and ship-from-store capabilities are expected to be rolled out in 2012 and 2013, respectively. A shift in mix toward higher margin categories, such as apparel, footwear and accessories, is also expected to lift online margins.
Nonetheless, Stack cautioned on the conference call that he doesn't expect e-commerce to produce "any type of meaningful profit expansion to our overall business" over the next few years.
Overall margins are expected to benefit starting in 2012 from the implementation of systems like price optimization, merchandise sizing and packaging optimization tools, supply chain intelligence and inventory management. Overall merchandising margins climbed 140 basis points last year.

Stack said margins particularly benefited from improved allocation and markdown processes that reduced end-of-season markdowns and led to a 30% decline in volume of clearance inventory at the end of 2010 compared to 2009.

Margins are also expected to benefit from a goal of increasing private label offerings to 20% of sales over the next five years, up from around 15% currently. Select store enhancements, such as the new shared service footwear model, are also helping bolster margins. Stack said he continues to be "very pleased" with the sales results and consumer feedback from the shared-service footwear model.

"We have also gained insight on ways to refine the footwear area that have led us to add more seating, improved sight lines and adjust our merchandise layout as we continue to refine this concept,' said Stack. DSG currently has 79 shared-footwear models and expects to add another 50 to 55 in 2011 between new stores and remodels.

Finally, DKS expects to continue to drive margin by working with its vendor partners on better terms and sales conditions and develop more exclusive products and in-store promotions. As an example, he cited the success is the Nike Fieldhouse concept, which he said "continues to perform extremely well." DKS has eight of the larger Pinnacle Fieldhouse shops and about 28 of the smaller Evolution Plus Fieldhouse shops. It expects to add around 50 Fieldhouse shops combined in 2011. At the Bank of America conference, Stack said athletic apparel in these shops "have been really spectacular." He added that after Nike, DSG will be rolling out bigger Under Armour concept shops "and we think as we add these, Under Armour will have the same type of success in these stores as Nike's had."

Asked about inflation on the conference call, Stack said there has been a little increase in product pricing in the first half of the year, partly because the higher-ticket golf business is doing better. But he hasn't seen any noticeable pricing pressures so far for 2011. Said Stack, "There's a number of our important vendors that have had very little increases in price in the back half of 2011. But I get a little bit concerned that we're going to see that hit us in 2012."
Asked about the challenge of doubling the DSG chain to 900 stores without acquisitions, Stack said that although there's not many shopping centers being developed, the retailer will look to take advantage of vacated space from liquidated retailers, such as Borders and Ultimate Electronics. He also said they acquired Chick's Sporting Goods as part of a "very aggressive" push to gain market share in a "difficult economic time," but new stores as a way to enter other regions. He admitted that it has taken some time for DSG to understand how to approach some new regions, mentioning challenges in Southern California and Texas, but added DSG's formula eventually finds a way to adapt.

"The toughest competitor we had has been Academy, and we have now gone into the heartland of Academy in Dallas, in Texas, and we are very pleased with what we have done from a performance standpoint," said Stack on the conference call. "And the 900 stores we have talked about does not anticipate any acquisitions, and we are very comfortable that we can get there."