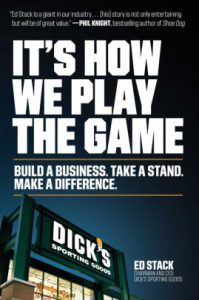 Ed Stack, Dick's Sporting Goods CEO who has earned acclaim for his company's controversial stance on gun control, has written a new book, "It's How We Play The Game: Build a Business. Take a Stand. Make a Difference."
The book will debut on October 8.
Stack has received an extensive amount of media coverage for Dick's move early last year to stop selling assault-style firearms in the wake of the Stoneman Douglas High School shooting in Florida, as well as to no longer sell firearms to individuals under the age of 21. Dick's has since stopped selling guns entirely at dozens of locations and Stack has been outspoken in calling for stronger gun control.
Stack told CNBC, however, that he was exploring writing a book before the retailer's decision on firearms.
"I have thought about writing a book for a while," Stack told CNBC.  "A little more than a year ago, I [finally] said, 'I am just going to do this.'"
He cited three reasons for writing the book: to help entrepreneurs, bring attention to the challenges facing youth sports, and explore the retailer's move around gun control.
"If we had a chance to it all over again, we wouldn't change a thing," he told CNBC. "Meeting the families in Parkland … the one thing I promised them when I left was we would keep the conversation going."
The book also discusses Dick's steps to manage the recent challenges facing the sporting goods industry as well as the importance of vendor partnerships.