Ashley Wagner and Alex Rigsby headline the roster of winter U.S. Olympic and Paralympic Contenders that are being supported by the Dick's Sporting Goods through flexible employment or sponsorship agreements.
Dick's is the official sporting goods retail sponsor of Team USA.
Headlining the roster of 41 U.S. Winter Olympic and Paralympic Contenders are Team USA hopefuls figure skater Wagner and women's hockey goalie Rigsby. In addition to serving as an ambassador for the Contenders program, Rigsby is employed as a Dick's store associate as she trains for Team USA in the lead up to the Olympic Winter Games PyeongChang 2018. Rigsby credits the Contender program as the first job that has provided the flexibility to accommodate her intense training schedule, and hopes the program can generate awareness of the financial need of many U.S. Olympic and Paralympic hopefuls.
"This program provides an amazing opportunity to athletes like me who need assistance to fund our dreams of playing for Team USA," said Rigsby. "I've really enjoyed working at Dick's Sporting Goods and helping customers select the gear they need to enjoy the sports they love. It's been a really rewarding experience."
The Contenders are offered flexible work schedules and competitive compensation, allowing them to devote the necessary time for training to be part of Team USA at future Olympic or Paralympic Games. For the winter 2017-2018 season, 41 U.S. Olympic and Paralympic hopefuls from ten different sports are participating in the program, currently working in 24 stores across 17 states.
"As a longtime supporter of athletes at all levels, Dick's is extremely proud to support U.S. Olympic and Paralympic hopefuls in a way that makes a truly meaningful difference in their ability to pursue their Team USA dreams," said Scott Hudler, senior vice president and CMO, Dick's Sporting Goods. "We know that flexibility in work schedule that gives our Contenders the time and funding to train and compete is critical to their ability to represent our country at the highest level, and we are incredibly happy to be able to provide that."
Dick's announced the Contenders program in February 2015, and to-date has employed or sponsored over 300 Contenders training to make Team USA. In 2016, more than 15 percent of athletes enrolled in the Company's program went on to represent Team USA at the Olympic or Paralympic Games in Rio. Those 42 athletes brought home a total of 23 Olympic and Paralympic medals (11 gold, 8 silver and 4 bronze).
"Dick's Sporting Goods' commitment to Team USA through their sponsorship of the USOC and the Contenders program is making a real impact for those striving to achieve their Olympic and Paralympic dreams," said Lisa Baird, USOC Chief Marketing Officer. "We are thrilled that this program continues to grow and we are proud that Dick's is a part of the USOC family of partners."
A current roster of the Team USA Contenders working at Dick's Sporting Goods stores across the nation includes the following winter-sport athletes: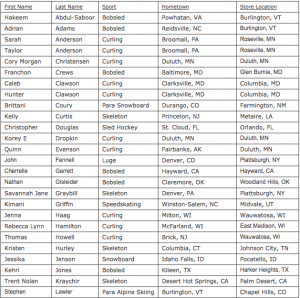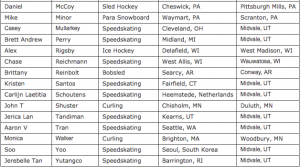 For more on the Dick's Sporting Goods Contenders program, visit dicks.com/thecontenders.
Photo courtesy Dick's Sporting Goods