Dick's Sporting Goods  will be opening four new Dick's Sporting Goods stores in February.
Dick's will now have 721 Dick's Sporting Goods stores nationwide in 47 states. The new Dick's locations will bring approximately 210 collective jobs to four communities through the hiring of full-time, part-time and temporary associates for these stores.
"Great sports and outdoor traditions are at the heart of what we do, and we look forward to sharing them with these communities," said Scott Hudler, senior vice president and chief marketing officer, Dick's Sporting Goods. "Where these sports and outdoor traditions run strong, our stores serve as the heartbeats of the community, bringing people together in a meaningful way that no other retailer can replicate."
Communities where these new stores are opening can expect to find top-of-the line in-store services and exclusive offerings in apparel, footwear and equipment from the Company's own private brands, such as CALIA by Carrie Underwood and Field & Stream and Ethos, as well as key, national vendors like Nike, Under Armour and adidas.
Grand Opening events for these newest locations will be held in the following cities: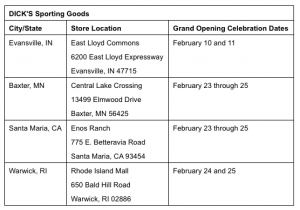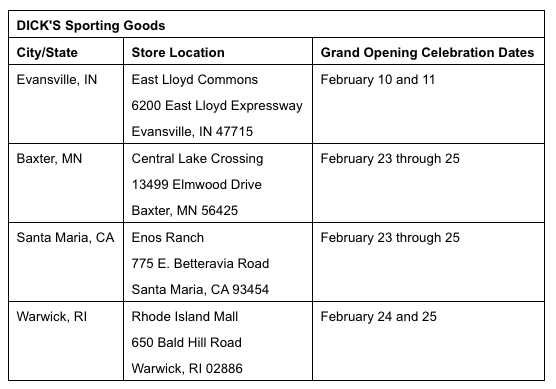 For each grand opening weekend, customers will receive the chance to win great prizes and meet several special guests, such as Kyle Rudolph** in Baxter, MN. and Don Sutton** in Santa Maria, CA.
Visit dicks.com/Evansville, dicks.com/Baxter, dicks.com/SantaMaria and dicks.com/Warwick for full details on the grand opening celebrations, including giveaways, promotions, special guests and brand activations.