Themes of individuality, enhancing self and community and harnessing the collision of art and science drive the next chapter in Cordura's Authentic Alchemie denim series. "Imagination Without Limitation" features denims inspired by these three macro trends, which were identified by MaterialsMove CEO and Founder Linda Keppinger.
Keppinger drew inspiration from her lifelong journeys across the globe, through her quest for knowledge and ongoing research and her exploration of the variety and impact of human experiences.
"We originally introduced our Cordura Denim 'Authentic Alchemie' collection last year, where exploring the past enabled us to reinvent the future of our performance denims," said Cindy McNaull, global Cordura brand and marketing director. "Now, we're excited to expand our learnings and experiences by collaborating with textile and creative innovator, Linda Keppinger, and her exciting vision of what's to come in the world of durable fabric technologies."
The three macro trends identified by Keppinger and Cordura brand are "Make it for Me," "Show Me You Care," and "Faster and Farther."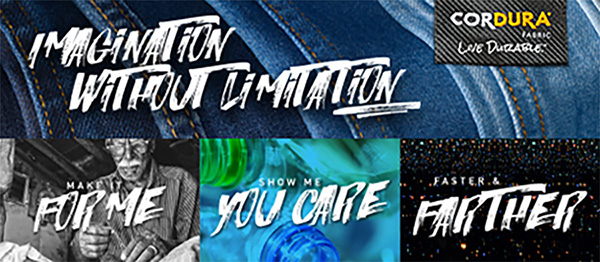 Make It For Me
An expression of the Craft Movement, this trend appeals to creative spirit and the desire to outwardly express what makes people unique. The drivers for this trend are authenticity and freedom of movement, embodied through denims with customized and embossed graphics, fabrics that look washed and tumbled, recreating of a heritage item in a modern way, customized stretch and mobility solutions, as well as deconstructing, reconstructing or mixing traditional with contemporary hand-finishing techniques.
Heritage expressions and engineered stretch solutions including Cone Cordura Selvage Denim, Kaihara Cordura Selvage Denim, heavy-duty Artistic Milliners 15 Osy Cordura Denims and Cone SGene Cordura Denim showcase this trend.
Show Me You Care
This trend focuses on evolving values, social and environmental consciousness and how individuals can unite to make a difference. Being connected and dialed into the world makes for better individuals and neighbors. The drivers for this trend are sustainability and softened strength. It's about having less and doing more, making every purchase and every action count.
Denims that are in it for the long haul are key with trend, like softened strength Cordura Denims from Artistic Milliners made with Lenzing Tencel fiber. Also featured are lightweight stretch, supple performance Cordura Denims with Lycra DualFX fiber technology from Advance Denim and durable Cordura Combat Wool denims from Artistic Milliners.
Faster And Farther
Reshaping and expanding ideas beyond what was thought possible for human experience is at the heart of this trend. It's the intersection where technology meets art, when motivated by imagination. The drivers for this trend are extreme performance and hidden science. Denims expressing this trend sport super-tech features like moisture management, temperature regulation and lasting freshness.
On trend "Imagination Without Limitation" Cordura Denims in the spotlight include Cordura TransDry Denim in collaboration with Cotton Incorporated, Artistic Milliners Cordura Denim with Dow Intellifresh, Arvind speciality bi-stretch Cordura Denims for commuter gear and hardwearing stretch Cordura Denims from Kipas.
Photos and video courtesy Cordura