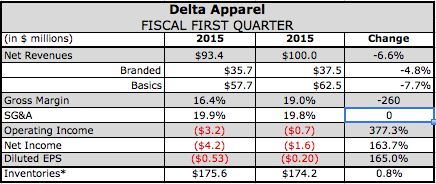 Delta Apparel, Inc. widened its loss in its fiscal first quarter ended Dec. 27, to $4.2 million, or 53 cent a share, from $1.6 million, or 20 cents, a year ago. Continued price discounting in its undecorated tee business as well as declines at Soffe and Junkfood due to the "unsettled" retail market contributed to the results.
Revenues sunk 6.6 percent to $93.4 million.
In its Basics segment, sales dropped 7.7 percent to $57.7 million due to lower prices on reduced unit sales in the undecorated tee business on weak demand. Art Gun, with the installation of state-of-the-art digital printing equipment in the September quarter, achieved 4 percent unit growth but revenue were also impacted by price competition.
Sales in the Branded segment declined 4.8 percent to $35.7 million. Sales rose 15 percent at Salt Life but fell 10 percent at Soffe and 5 percent at Junkfood.
On a conference call with analysts, Robert Humphreys, chairman and CEO, said the lower sales were mitigated somewhat by improved margins in all but one of the company's business units and by overall lower general and administrative costs. SG&A expenses decreased 6.6 percent as a cost restructuring completed in the prior quarter and continued tight spending controls offset higher marketing expense for Soffe and Salt Life.
Humphreys also said he believes most of Delta Apparel's businesses are "pointing to growth in subsequent quarters, particularly in the second half of the fiscal year."
Salt Life ended the quarter with a "substantial" Spring order backlog. The Salt Life retail store and licensed Salt Life restaurants continue their success and a Salt Life Internet channel is being launched.
While facing challenges from a "soft retail market," Soffe is expected to see sales growth for the year with a promising spring line and a new marketing campaign. Said Humphreys, "While it may be premature to provide the details, the program will involve highly targeted consumer media to drive engagement and loyalty with Soffe's core consumers."
Junkfood is expected to benefit from the success of several new programs with specialty retailers and a continued healthy response to the opening of its first store in Venice, CA.
Reductions in its administrative headcount, its ongoing rationalization analysis of its products and sales channels, and recent investments in its manufacturing platform are expected to pay off in the bottom line. Said Humphreys, "As the year progresses, we should see benefits from efficiency improvements and lower input costs, with these lower costs improving our gross margins beginning in the second half of the fiscal year."