Delta Apparel, Inc. experienced quite a showing in the company's fourth fiscal quarter, with reported net sales up 20.5% to $126.2 million from $104.8 in the prior-year period. What's more is that DLA saw a considerable 40.8% rise in net income at $5.7 million, versus $4.0 million, in the prior-year quarter.


Fourth quarter diluted earnings per share for the Greenville, SC-based apparel manufacturer jumped 36.2% to 64 cents per diluted share from 47 cents in the prior-year quarter. Gross margins improved 70 basis points to 23.9% of sales in the fourth quarter, primarily due to higher margins in the company's Activewear segment. Full year margins also increased 220 basis points to 23.7%. According to Deb Merrill, VP and CFO of Delta Apparel, "In fiscal 2010 we benefited from a full-year of lower cost production from our Honduran textile operation, improving our results over the prior year by about $2 million, adding 100 basis points to our margin."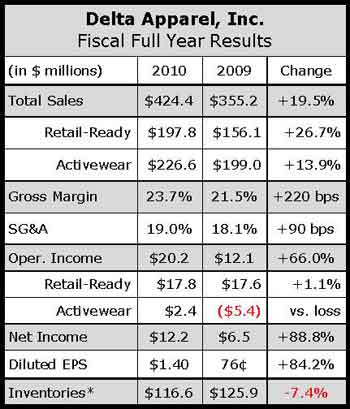 In a conference call with analysts, company Chairman and CEO Robert Humphreys said the "competitive position in our Activewear segment continues to improve and we have gained significant market share in our catalog business and full package products over the last two years." In terms of Delta Apparel's Retail-Ready segment, Humphreys maintained that it, "…should maintain its growth trends in the upcoming year. Our brands are well-positioned and we expect them to expand their footprint at retail."

By business segment, the Retail-Ready segment, which consists of the Soffe, Junkfood, To The Game and Art Gun businesses, showed continued strength by posting sales of $53.8 million, up 7.6% from $50 million in the prior-year quarter. The rise was driven primarily by strong sales to department stores, independent sporting goods stores and outdoor retailers. For the full year, sales in the Retail-Ready segment grew 26.7% to $197.8 million due to 14% organic sales growth plus the additional revenue from To The Game. Gross margins in the Retail-Ready segment were 39.7% of sales in the fourth quarter and 38.7% of sales for the full fiscal year.

Returning to profitability in the company's third fiscal quarter, the Activewear segment saw Q4 sales improve 32.2% to $72.4 million, driven by heightened sales in catalog and private label products. Gross margins in the Activewear segment were 12.2% in the fourth quarter and 10.7% for the full fiscal year. Full year revenues increased $27.6 million, or 13.8%, to $226.6 million compared to $199.0 million in the prior year. Revenue increases were volume driven from increased unit sales of catalog products.

Delta Apparel remains concerned about the challenging economic conditions which continue to impact consumer demand for apparel. In addition DLA said that volatile cotton prices, global yarn shortages and limited capacities in cargo freight have created further short-term challenges in the apparel marketplace.

In terms of outlook, President and CEO Humphreys maintained that guidance wouldn't change from previous estimates. Delta Apparel expects revenues to range between $455 million to $465 million and earnings to be $1.55 to $1.70 per share in fiscal year 2011. The company expects gross margins to increase about 200 basis points in fiscal 2011, based on improved margins from the Activewear segment.