ADS Inc., a defense contractor that supplies gear to U.S. Special Forces and other tactical markets, has partnered with Abom Inc., which owns patents for heated lens technology used to prevent fogging in goggles and other protective eyewear.
Based in Virginia Beach, ADS links military branches, first responders, law enforcement and government agencies with innovative suppliers to develop customized solutions that help customers overcome challenges and achieve mission success.
"We're honored to have been selected as a product partner of such a highly regarded and productive organization," said Jack Cornelius, Abom CEO. "We look forward to collaborating with the team at ADS in order to expand our reach and provide the very best anti-fog protective eyewear solutions in military and tactical sales markets."
Abom's relationship with ADS is more of a sales channel partnership than a traditional distribution agreement, an Abom spokesperson explained. Given ADS' close relationship with many armed forces and civilian law enforcement organizations, they will be an influencer of Abom's future military, tactical and safety product development. ADS has a very large sales team with relationships that go deep and wide in military and federal markets.
"We pride ourselves on connecting our customers with the finest products and solutions available," said Parker Jarvis, ADS Senior Business Development Manager. "Abom's patented design and technology offer unique capabilities that provide an advantage for operators in a variety of scenarios."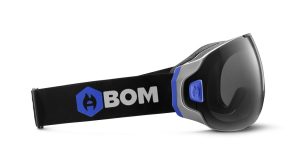 When it was founded in 2014, Abom Inc. launched its microcontroller-managed heated fog-free goggles. The company has developed a portfolio of 12 issued and 47 pending patents to provide a solution to fogging. It's anti-fog technology is licensed in snowsports, military/tactical and safety markets.
More recently, Abom has launched eyewear products that eradicate foggy lenses for the military, tactical and safety markets. Abom's ballistic-rated military winter goggles were recently tested by the U.S. Army and the testing team relayed positive feedback.
ADS Inc., is a logistics and supply chain solutions provider that serves all branches of the U.S. Military, federal, state and local government organizations, law enforcement agencies, first responders, partner nations and the defense industry. ADS is a Top 50 Department of Defense Contractor and Gold Tier supplier for the Defense Logistics Agency. The company is focused on solving customers' challenges by providing product and service offerings, procurement and contract options, support and customer service.