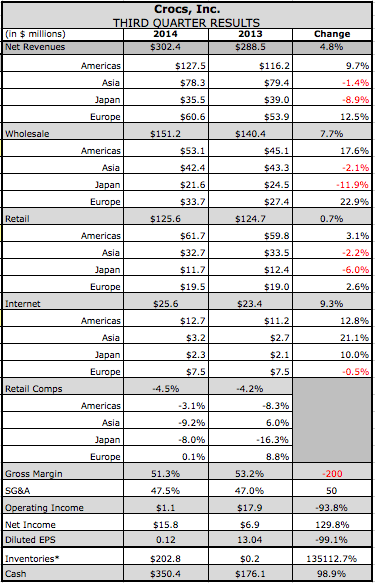 Crocs restructuring efforts started to show some pay offs in the Americas and Europe. Unfortunately, its business in China worsened. Operating earnings tumbled 93.8 percent in the third quarter to $1.1 million after $17.4 million in restructuring and reorganization charges as part of its turnaround plan tied to its investment late last year by Blackstone Group. Blackstone purchased $200 million of Crocs convertible preferred stock to help support its capital structure while gaining two board seats.
Net income slid 8.4 percent to $12.0 million, or 12 cents a share. Excluding non-recurring charges, earnings improved 82.6 percent to $29.4 million, or 30 cents a share, beating Wall Streets consensus estimate of 14 cents.
Revenues in the quarter grew 4.8 percent to $302.4 million, and advanced 5.4 percent on C-N basis-in line with guidance.
On a conference call with analysts, Andrew Rees, Crocs president, said the company was in the beginning stages of its turnaround efforts but the business faced various challenges during the quarter, which represented the continuation of trends seen earlier in the year.
Notably, weaker results were seen in its China wholesale and retail business, which impacted its performance in Asia. This was offset by strong sales growth in Europe, and improvements globally in its Internet and wholesale channels.
Globally, wholesale sales rose 7.7 percent to $151.2 million, retail sales gained 0.7 percent to $125.6 million and Internet sales climbed 9.3 percent to $25.6 million. On a C-N basis, sales increase 8.8 percent across its wholesale segment, 0.7 percent at retail, and 9.7 percent on the Internet. Global comps were down 4.5 percent.
In the Americas region, sales rose 9.7 percent to $127.5 million and grew 10.2 percent on a C-N basis. Exceeding expectations, wholesale sales in the Americas rose 17.6 percent to $53.1 million and advanced 18 percent on a C-N basis. Retail sales were up 3.1 percent to $59.8 million and ahead 3.6 percent on a C-N basis. On the downside, comps declined 3.1 percent and Latin America volume weakened.
In the Asia-Pacific region, revenues were down 1.4 percent to $78.3 million and off 2.7 percent on a C-N basis. Excluding China, net sales in the region were up in the mid-teens.
Jeff Lasher, CFO, said Chinas revenue was impacted by a high level of existing inventory at its partner stores as aggressive assumptions on same-store sales for the Spring Summer season led to over-buying. Third-quarter China wholesale volume declined 35 percent from last year. Crocs recorded a reserve for doubtful accounts of approximately $5 million in the Asia region, primarily due to delayed payments from its partner stores in China. The Asia-Pacific regions comps declined 9 percent due to declines in China, Korea, and Hong Kong.
In Europe, revenue was up 12.5 percent on a U.S. dollar basis to $60.6 million and up 13.4 percent on a C-N basis, driven by a 22.9 percent increase in wholesale. Japan was down 8.9 percent to $35.3 million and 4.6 percent on a C-N basis, primarily caused by weak same-store sales and lower at-once demand in wholesale.
Gross margins were down 190 basis points from 53.2 percent to 51.3 percent. The decline was primarily the result of currency related decline in gross margin in Japan, lower margins on new product introductions in 2014 compared to 2013 launches, and the decline in China revenue and other Asian markets as the average margins in those markets are higher than the global average.
Excluding one-time items, SG&A expenses declined. SG&A included bad debt reserves of $5 million, and expenses of $4.1 million to implement a new ERP system. Charges as a result of transition activities and accelerated depreciation of assets for retail stores that being closed were also taken. More restructuring charges are expected as part of its turnaround strategy.
Outlining its progress in key strategic initiatives announced in July, Rees noted that the company has discontinued the Crocs Golf business, closed Ocean Minded, and consolidated key products into the core Crocs line as part of efforts to rationalize its product line. Thirty percent of its style color combinations from Fall/Holiday 2015 line have been eliminated.
Our current focus before holiday 2015 is developing powerful product stories, including Fuzz Love, a collection of clogs, boots and flats, which our customers know and love, said Rees. Fast Forward, a product story inspired by active casual products. And Flat-Out Fun, a range of fashion flats that combine great style and comfort for our female consumer.
Crocs is also moving forward with efforts to focus its global efforts and investments on six key countries that deliver 75 percent of its revenues while also shoring up its executive team. Scott Yuan was appointed general manager for greater China; Michelle Poole, SVP of global product creation and merchandising; and Bob Munroe, most recently Reeboks president, took over as general manager of the Americas region.
Crocs said it planned to discontinue providing backlog details given the challenges currently gauging it given the timing of bookings. But Rees noted that for the Spring Summer 2015 season, the Americas region is meeting expectations in the US with wholesale volume expected to be essentially flat with 2014. Europes bookings as of last week were up mid-single digits and volume there s expected to be up mid-to-high this spring. Japan on a locally-currency basis is expected to be flat. In aggregate, Asia volume is expected to be down mid-single digits for Spring. Excluding China, Asia bookings are up single digits. China bookings year-over-year are down $20 million for Spring Summer, but improvement is expected for the second half of 2015.