Columbia Sportswear saw a slight up-tick in its top-line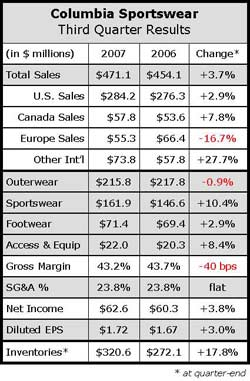 during the third quarter fueled by sales of Columbia brand sportswear, and Mountain Hardwear, which was partially offset by considerable declines at Montrail, Pacific Trail and at the company's European operations. Excluding changes in currency exchange rates, consolidated sales increased 2%. Gross margins declined due to an increase of spring close-out product.

The big announcement from Columbia this quarter was their new owned-retail initiative, which will see roughly 15 new stores each year for the next several years. The new boxes will be a mix of outlet and full price stores in the 10,000 to 12,000 square foot range. Still, Columbia's management team repeatedly emphasized their main focus is still on wholesale distribution.

The company reported that the spring order backlog was essentially flat at $414.4 million, compared to spring backlog of $414.5 million last year. Geographically, spring orders increased in Asia and international distributor markets and decreased in the U.S., Canada and Europe.

Consolidated product backlog, which includes both global fall and spring orders was $692.7 million, also essentially flat compared to consolidated product backlog of $693.9 million last year.
Geographically, Q3 U.S. sales of Columbia outerwear increased double-digits.

Columbia sportswear sales were also "healthy" in the quarter. Growth was offset by weakness in Pacific Trail outerwear, which decreased significantly along with sales of Sorel and Columbia cold weather footwear. Early U.S. retail sell-through of fall season products was slow and the only bright spots so far have come from fleece and sweaters, which are showing stronger sell-through.
Europe third quarter sales, on a currency-neutral basis, were down 22%.

Outerwear sales decreased "significantly," while sportswear and accessory sales also decreased. Footwear increased modestly. Preseason fall orders in Europe were "very disappointing," decreasing substantially year over year. Spring orders were also "weak," decreasing across all major product categories. Management said that changes are underway in European operations with plans to improve product design, create more focused marketing, and reduce operating expenses to realign cost structure.

Sales in Canada, on a currency-neutral basis, were up 2% with Columbia brand outerwear driving third quarter sales growth. Sportswear also increased, but growth in these categories was offset by softness in cold weather footwear shipments. Early fall sell-through at retail has generally lagged behind prior years due to the comparatively warm weather conditions. Currency-neutral Spring backlog decreased.

By brand, Pacific Trail sales decreased 87% to $1.7 million. Columbia president and CEO Tim Boyle said that the lower sales are the result of a weak order booking back in March.

Mountain Hardwear sales grew 14% to $29.5 million. Boyle said that MTH "has done very well in the specialty business." He continued, "When we bought the brand in '03 we thought that we could get it up to — in five years — to be about $100 million brand and we are on pace to be able to do that."

Mountain Hardwear president Mike Wallenfels told Sports Executive Weekly that U.S. sales were stronger than the 14% reported for the brand with sportswear as the primary driver for the season-to-date. Outerwear and equipment sales were also up, with a considerable up-tick in pack sales coming in Q3 due to their new college-age back-to-school product offering.

Sales of accessories (hats and gloves) were somewhat flat due to warm weather last winter and higher than normal inventories at retail. Wallenfels said that women's product sales were growing more rapidly than men's, driven by fleece and insulated jackets. By channel, on-line retailers were showing the strongest growth, followed by regional sporting goods chains and specialty retailers. Wallenfels said that MTH Spring '08 backlog was strong.

After restructuring sales operations, Montrail sales decreased 28% to $2.6 million. Montrail was described as "a small business" with Tim Boyle claiming that Columbia "made some significant improvements in the products there. But we still had some residual products that just didn't perform as well as they should have."

Looking ahead, Q4 revenue is expected to grow 3% with EPS at roughly $1.00 per diluted share. Full year 2007 revenue growth should be 5% with EPS at approximately $3.70 per diluted share. Q1 2008 revenue should grow 4% when compared to the first quarter of 2007 with EPS of approximately 60 cents per diluted share.