Citing a weak sales forecast for 2009, Columbia Sportswear Co. said it plans to table plans to open branded retail stores in several U.S. cities. The outerwear giant also cancelled plans to ramp up its marketing and advertising budget and said it was implementing additional steps "to manage personnel and other overhead expenses across the entire organization."

The subdued growth stance came as Columbia reported sales in the fourth quarter slid 5.8% to $354.9 million from $376.8 million in the year-ago period. Net income fell to $18.6 million, or 55 cents per share, down from $45.7 million, or $1.26, in Q4 2007. The latest quarter included a pre-tax charge of $24.7 million, or 46 cents a share after-tax, to write-down the value of goodwill and trademarks tied to the 2006 acquisitions of Pacific Trail and Montrail. The year-ago quarter included an after-tax tax credit of 14 cents a share.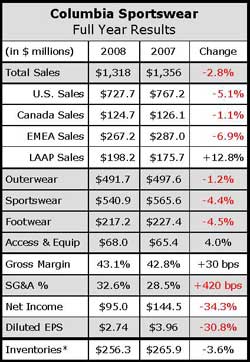 On a conference call with analysts, company President and CEO Tim Boyle said sales came in slightly better on an operating basis than guidance given in October as the arrival of winter weather in key markets in December helped to stimulate demand. Combined with better-than-expected gross margins, net earnings, excluding impairment charges, were 15 cents a share above the mid-point of that guidance.
But Boyle said the "sudden deterioration in consumer activity," and the financial health of retail partners since the third quarter, has led them to re-examine the net sales assumptions used in formulating 2009 business plans. Although a 2009 sales forecast will not be provided until April when Fall '09 bookings are complete, the company cut or postponed several initiatives in a bid to reduce costs.
The two biggest areas are retail expansion and brand marketing, both a core focus this year to revitalize demand for its brand. Columbia had planned to open 15 outlet stores and six branded stores in 2009. A store on Michigan Avenue in Chicago will open in late 2009 as well as outlets in the U.S. and Europe to aid in liquidation. But retail stores in San Francisco, New York, Dallas and Toronto will be put on hold.

In the fourth quarter, sales in the U.S. declined 3% to $205 million as a low-double-digits decline in wholesale sales was partially offset by a significant increase in retail sales. Columbia opened five branded stores last year (four Columbia and one Mountain Hardwear) as well as 16 new outlets, including one in the U.K.. Boyle said that profitability at its own stores has been below plan. Columbia said it still plans to launch e-commerce this summer.

Boyle added, "Our wholesale business is facing some very serious headwinds as retailers continue to shrink their inventory levels, not only in an attempt to match reduced consumer spending, but also in order to generate cash in order to pay down lines of credit, or to pay off looming debt maturities."

Store expansion is slowing and large retailers "are relying more on their private label brands, reducing their reliance on advanced bookings from vendors in favor of at-once orders, and being more aggressive in canceling advance orders at the first sign of sluggish sell-through," he said.

In the EMEA region; revenues fell 21% to $59.9 million, including a 3% negative effect from foreign currency changes. Sales in the Europe direct business declined by more than one-third while its EMEA distributor business showed double-digit growth, in line with plans. Management changes and product realignments have been made in Europe. Sales in Canada sank 12% to $27 million, including a 14% negative effect from foreign currency. Sales in the LAAP (Latin America & Asia Pacific) region increased 6%, helped by net gains in Japan and Korea on a constant-dollar basis.

By category, fourth quarter outerwear sales declined 6% to $171.7 million, with lower Columbia and Pacific Trail sales partially offset by an increase in Mountain Hardwear. Sportswear sales declined 8% to $106.8 million due to lower Columbia and MHW sales. Sales dipped 1% to $59.8 million in footwear, and fell 6% to $16.6 million in accessories and equipment.

By brand, Columbia brand sales decreased 7% to $305.6 million. Sorel's sales jumped 15% to $22.8 million, helped by a greater emphasis on women's styles. MHW sales inched up 1% to $24.2 million.
Gross margins decreased 10 basis points to 42.1% of sales. SG&A grew to 32.2% of sales from 27.6% due to planned investments in marketing and retail expansion.

COLM expects sales to decline between 10% and 12% in the 2009 first quarter. The decline reflects the 11% decrease in Spring backlog already announced in October 2008, combined with expectations of increased order cancellations and deteriorating consumer spending at its retail stores. Earnings are expected to come in between 4 cents and 8 cents versus 56 cents a year ago.