Collective Brands saw double-digit sales increases with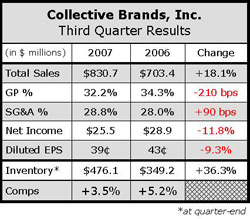 strong results from its Payless, Keds and Saucony businesses bolster the top line, but purchase accounting expenses relating to the recently closed Stride Rite acquisition negatively impacted the bottom line. While reported earnings and net income declined for the quarter, without the purchase accounting expense, the bottom line would have read $33.3 million, or 51 cents per diluted share, an increase of 15.2% versus the third quarter 2006.
Total sales for Payless were $685.9 million while Stride Rite reported $144.8 million for the third quarter of 2007. Overall third quarter sales were driven primarily by the addition of Stride Rite. Comparable store sales at Payless were down 3.5% for the third quarter of this year. Management said that unseasonably warm weather and consumer behavior linked to today's economic environment unfavorably impacted purchasing patterns. These trends resulted in lower retail traffic and weak sales of boots at Payless stores, in turn resulting in a unit sales decline of 5%. However, Payless experienced strong sales in women's casual and canvas footwear. Another favorable factor in the quarter was the 3% increase in average unit retail prices.
Overall, for the third quarter, Stride Rite Corp. outperformed PSS management's financial expectations. They said this was due primarily to strength at Sperry Top-Sider, solid growth and continued share gains at Saucony, and the company's European business, which saw strong sales in Saucony technical footwear and Keds.
During the 11-week period during which Collective Brands owned Stride Rite in the third quarter, the company saw a mid-single-digit sales increase, led by the strength in Sperry Top-Sider and Saucony. Operating profit improvement at Stride Rite out-paced sales with a "double-digit" increase.
Management said that Saucony will continue to focus on technical running and growing share in the technical running channel beyond its number three market position. The introduction of Saucony Kids has exceeded plan. PSS is going to increase the age of reach to six- to ten-year-olds in Stride Rite retail stores and with wholesale accounts.
The Keds business was said to be stabilizing and is beginning to show "positive and material growth prospects" internationally.
Sperry Top-Sider was called out as both the fastest growing and most profitable brand as a percentage of sales at PSS. Growth in the third and fourth quarter was driven by rugged and casual footwear. Management is working on upgrading the image of the brand so it can be marketed both on eCommerce and internationally this spring.
Overall Collective gross margins slipped during the quarter due to purchase accounting expenses. Excluding these expenses, gross margin was 35.6% of sales, an increase of 130 basis points over the same period last year.
About 80 basis points of the 130 basis point gross margin increase was driven by Stride Rite. Approximately 50 basis points were driven by higher average unit retail prices, as well as by more direct sourcing of product.
SG&A as a percent of sales increased 80 basis points. Approximately 40 basis points of the increase were driven by $3.1 million of acquisition related expenses. The remainder of the rate increase was driven primarily by lower comparable store sales and higher advertising expenses, offset in part by lower incentive compensation.
The third quarter 2007 operating margin was 3.3%. Excluding purchase accounting, operating margin was 6.8%, an increase of 50 basis points over last year's third quarter operating margin of 6.3% driven by a 20 basis point increase in the Payless business unit and the acquisition of the higher margin Stride Rite business.
On a macro scale, Collective President and CEO Matt Rubel said that it is a "pretty tough environment domestically" due to "a challenged consumer economy." He pointed to competition from electronics, increased food costs, increased energy costs, and importation price increases as factors that have impacted the footwear industry as a whole.
In spite of these challenges, PSS feels that they will see additional cost savings out of the Stride Rite deal. In 2008, the company expects to achieve $5 million or more in pre-tax synergies over the base year of 2007, this is unchanged from prior guidance. In 2009, PSS expects to achieve synergies of $15 million or more and in 2010, Collective anticipates synergies of $25 million to $30 million versus 2007.
Fourth quarter 2007 comparable store sales are expected to decrease in the mid-single digits. Gross margin is anticipated to be lower by 500 to 600 basis points. These declines are primarily due to one less fourth quarter week in the retail calendar. Excluding purchase accounting, the 2006 to 2009 compounded annual growth rate in operating profit is expected to be in the mid- to upper-teens, assuming a revenue growth rate in the low- to mid-single-digits in 2008 and 2009.