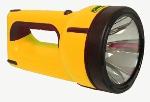 The Coleman Co. recalled 50,000 of its WaterBeam 4D Water-Activated Floating Spotlights made in China because the lens assembly can come apart from the main housing, the U.S. Product Safety Commission announced.


Coleman has received 33 reports of the lens assembly coming apart, 18 of which resulted in reports of impact injuries such as bruising, lacerations and minor burns.

The recalled spotlights are Coleman water-activated hand-held spotlights, model number 5338-782 (orange) UPC 76501 222733, model number 5338-792 (yellow) UPC 76501 222753 and model number 2000000153 (blue/white) UPC 76501 226683. A white label is affixed to the inside of the spotlight lens with the model number and production date information printed on the label.

The spotlights were manufacturerd by Sky City Holdings International LTD, China and sold from January 2005 through June 2010 at various sporting goods outlets and retailers for between about $20 and $25.