Clothing Comes Full Circle At The Renewal Workshop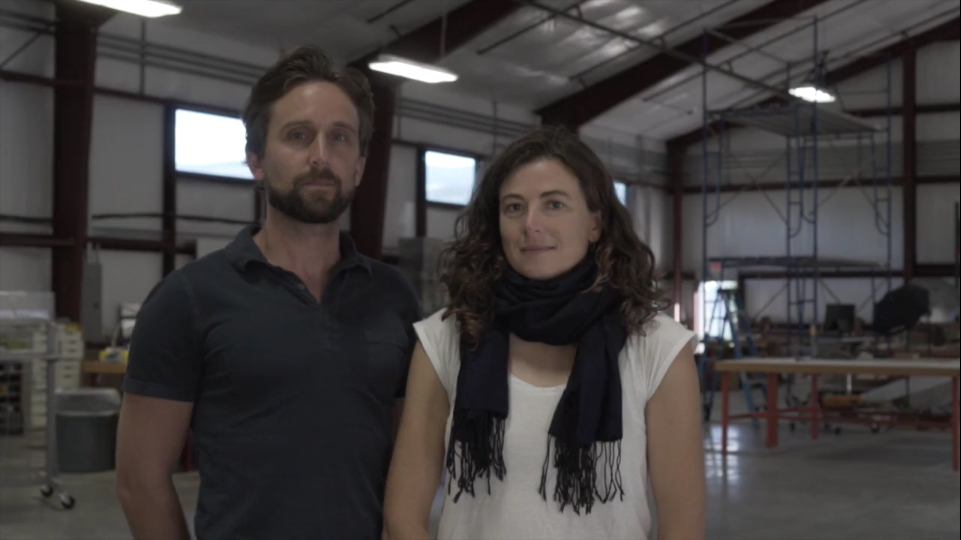 Nicole Bassett and Jeff Denby are leading an anti-landfill revolution in the apparel industry.
Cascade Locks, OR is about as far from a landfill as a town can get. So it's fitting that the riverside hamlet in Hood River County, 20 minutes from Multnomah Falls and an hour from Mt. Hood, is home to The Renewal Workshop, a company on a mission to redefine waste in the apparel industry.
The Renewal Workshop may be brand new — the Indiegogo campaign reached its $50,000 goal just last month — but Co-founders Nicole Bassett and Jeff Denby are both apparel industry veterans. Bassett was director of sustainability at Prana, and Denby started Pact, his own organic apparel brand. After years of watching the trajectory of the industry, they came to a troubling and surprising realization: even the more responsible and sustainable brands weren't doing much to ensure their products didn't end up in a landfill.
"I kept thinking, 'someone will figure this out,'" Bassett told SGB, "but they didn't. Eventually, we started to wonder where the industry would go next." As it turned out, the next great idea in responsible-clothing manufacturing came from Bassett and Denby themselves — and grew into The Renewal Workshop.
The pair's first challenge was lining up brand partners. "One of the interesting things when we started talking to brands was that they would say, 'Well, who else is doing this?' And we had to say, 'No, no one is!''' remembered Denby, adding that everyone seemed to assume that these kinds of initiatives were already underway somewhere, by someone. "OR [Outdoor Retailer] in August of 2015 was our first chance to present to brands, and they were immediately really interested."
The initial interest ramped up quickly, with the likes of Prana and Ibex eager to partner with the forward-looking, environmentally conscious company. "The brands didn't have a solution for disposing of their products," said Bassett. "Our goal isn't just to change the consumers; it's to effect change in the people that make the apparel."
"We want people to start thinking of apparel like they think of cars or electronics, as something with more than one life.
Nicole Bassett
Waterless And Landfill-Free
An important part of that change is a revolution in the way brands and consumers think about clothing in general. The Renewal Workshop operates on a "circular system," meaning that nothing that comes through their door ends up in a landfill. "We want people to start thinking of apparel like they think of cars or electronics, as something with more than one life," Bassett explained.
That new life begins with "random boxes" arriving at the factory, filled with items "that we have to sort through," said Denby. "So we have all this one-of-a-kind product. Whatever the brands get back, that's what we get." Once sorted, each item is inspected, graded, repaired if necessary, cleaned and labeled by the workshop's crack factory team, assisted by a cutting-edge liquid CO2 cleaning system called Tersus.
Bassett found out about Littleton, CO-based Tersus Solutions while doing research on equipping the factory. "I asked a friend within the apparel industry, 'What should we be looking at?' He mentioned a company that was doing waterless cleaning," she said. "Funny enough, we reached out to Tersus basically at the same time Patagonia made a huge investment in them." Patagonia made the strategic investment in CO2Nexus, the company that developed Tersus, in April 2014 through its $20 Million and Change fund.
Part Of A Trend
Other companies making circular systems part of their sustainability initiatives include The North Face, which launched its Clothes the Loop program in 2013, and Royal Robbins, which introduced Royal's Rewear Program in September of this year. Both companies use I:CO (I:Collect), an international solutions provider that recycles clothing and shoes, to do the landfill-prevention legwork. And Patagonia tapped the same fund they used to invest in Tersus to support their own Worn Wear reuse and recycling initiative.
Companies with eco-conscious customers want to be seen as conservationists, not just gear-pushers, and it's encouraging to see outdoor apparel manufacturers taking a step in the right direction. However, The Renewal Workshop stands apart for several important reasons, one being it's not a section of used clothes in a pre-existing store. Also, it's self-contained. The Cascade Locks factory takes the clothing from box to hanger without the assistance of an outside partner.
Less Waste, More Value
Once the clothing is restored back to brand standard and fitted with a Renewal Workshop label, it's ready to be snapped up by an Indiegogo contributor (the only way to get in on the first wave of products). The campaign offered three levels of contributions – $100, $250 and $500 – designed to engage consumers with "First Pick" apparel options and a year of membership. After the founding collection is shipped, the company will focus on a direct-to-consumer site, which will launch sometime in November.
The membership program came about because "We want to serve our customers really, really well," emphasized Denby. It's not about two-day free shipping or getting more bang for your buck. The Renewal Workshop wants their members to get something that they need, that fits them and that they can get excited about. "You build a profile — maybe you like snowboarding — and because you're a member, we look out for a snowboarding jacket you might like. When the product comes through, we can use data in our system and hand-select things for each member." He concluded, "It goes along with our company ethos: less waste, more value."
Photos courtesy The Renewal Workshop