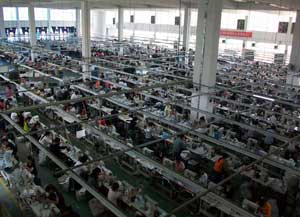 Few companies seem like they would be better insulated from China's labor shortage than American Sporting Goods.
The owner of the Avia, Ryka, And1 and Nevados footwear brands was one of the first foreign companies allowed to operate a joint venture factory in China and has been operating wholly-owned factories there for 12 years. In 2006, when it saw wages rising in Shanghai, it built a new factory in the landlocked province of Jiangxi seven hours southeast where there was less competition for labor.
Four years later, ASG is struggling to fill jobs at its third factory in Jiangxi, which became operational in January, according to Jerry Turner, president of the Aliso Viejo, California-based company. As of late July, the 500,000-square-foot plant was operating at half capacity and Turner predicts it could be Christmas before the factory is running full bore.
"It was not a panacea moving inland," noted Turner in late July. "We are running into the same problems we were running into in Shanghai or other companies were encountering in Southern China. Even when you have workers, you are faced with the turnover problem. Turnover may be 40 to 50%. It's been that way for the last four years. You're constantly training workers. They reach a skill level and they leave."

Of all the challenges facing the U.S. sporting goods industry in 2010, one would hardly think labor shortages in China would top the list but whether it comes to making golf clubs, toning shoes or hiking boots, the topic is dominating earnings calls and boardroom discussions across America.
The deep recession and a steep rebound in orders this spring have made it difficult for Chinese factory owners to fill jobs. This whipsawing of the industry has sporting goods companies – particularly in the apparel and footwear business – headed toward longer lead times and late deliveries – the exact opposite direction of what their dealers want.
As this article went to press, signs emerged that the labor shortage was easing. Economic data released by the Chinese government in mid-July showed delivery times steadied in June while backlogs declined, indicating Chinese manufacturers were finally catching up on their order backlogs.
The country's Purchasing Managers Index for input prices, while still rising, has dropped dramatically since April, indicating the rate of inflation for everything from labor to materials was slowing. The pace of expansion was particularly pronounced in sporting goods, which was among the fastest contracting industries in terms of what it was buying and producing.
Christopher Svezia, who follows active lifestyle brands for Susquehanna Financial Group, thinks vendors have probably caught up on a rush of replenishment orders that flooded in this spring. It's not yet clear whether they will be able to keep up during and after the December holidays.
"If this does not improve by back-to-school we will be in trouble," Svezia said. "Most companies will find ways to air freight deliveries, but there will be some haggling on who pays for that."

THE END OF AN ERA
The causes of China's seemingly sudden labor shortage were planted many years – even decades ago – and most agree the era of cheap unlimited Chinese labor is over. The reasons are many, but essentially boil down to the simple fact that 30 years of massive direct foreign investment and economic reform have dramatically expanded economic opportunity for Chinese workers. Of course all this means that average Chinese are earning higher incomes, yet even this good news is causing headaches for U.S. brands. Many cut-and-sew plants, for example, are now reserving capacity for their own brands.
"I see athletic shoe companies that were supplying us four years ago that have 5,000 stores," noted Turner. "They've all gone their own way with their own brands and are doing extremely well. The government has done a very good job over the last 10 to 15 years improving the standard of living for people there."
U.S. brands have been bracing for this for years, but their dealers and consumers have been largely insulated until now. That began changing this year when dealers found it was much more difficult to replenish items in season or find closeout merchandise. Supply will likely tighten further before the supply chain finds its new equilibrium.
This spring, labor shortages stalled production at many foundries that make golf clubs, delaying shipments by months, said Eric Yeh, president of Chicago-based Infiniti Golf. At Wolverine World Wide, executives have warned investors that rising costs in China will pinch margins even as overall profits and sales rise. Some analysts recently lowered their 2011 earnings forecast for Nike after the company acknowledged higher costs – including labor and freight – were pressuring its gross profit margins.
A half-dozen sporting goods brands contacted for this article said their Chinese manufacturers are demanding longer lead times so they can have enough time to recruit and train workers. The era of squeezing in rush orders is over. In the golf business, lead times have gone from 70 days in some cases to as much as a year at factories serving major brands, which tend to plan further in advance. Dealers are responding by building up their safety stock for next spring, said Yeh.
Lead times at China's tanneries have gone from 90 to 120 days and are now moving toward 150, according to Josh Fairchilds, vice president of product development and marketing at Oboz, the Bozeman, MT-based supplier of outdoor footwear. Finding a container to ship finished product can extend lead times to as much as six months. This forced Oboz to place orders for fall and winter product in July, a full month before it had firm pre-season orders from its largest retail partners.

"What it means for us is we have to look at new SKUs with a lot more of a critical eye," Fairchilds said. "It just adds one more layer of risk to everything. I definitely count myself lucky to have a good relationship with my factories."
American Sporting Goods was encouraging its customers to place their orders for January through March in July to avoid incurring expensive air freight charges, which can add $7 to the cost of a pair of shoes. The company is redesigning shoes to lower their labor content and shooting for fewer, longer production runs. But at the end of the day, Turner said, there is no getting around the higher costs.

Brands that can – are raising prices. Wolverine World Wide increased prices on select brands in 2009 and again this year and expects more to come later this year and next.
Large global brands with manufacturing expertise will likely partner with their Chinese manufacturers to try and improve yields but this approach is unlikely to yield relief any time soon. Automation will require a major cultural shift and a better paid workforce.
"In the past, the response to any obstacle or difficulty that came up was to throw more workers at it," Yeh said of the country's smaller manufacturers. "They can't do that anymore. Pretty soon they will have to raise their prices because in order to attract a quality workforce they will have to pay better, improve the working environment or reinvest in automation."
Infiniti Golf opened a new office in Guangdong this summer to partner more closely with the smaller factories it uses. "For me, to be 1 to 2 percent of a large manufacturer's business is risky," said Yeh. "I'd rather be 10 percent of a smaller manufacturer that way, when Infiniti needs in, he will really try to help me out. That being said, there are a lot of smaller size manufacturers that are here today and gone tomorrow."
Yeh advises small brands to consider hiring a local agent to maintain a permanent presence on the ground. Companies competing on price alone will increasingly shift product to countries with lower labor costs.
BEYOND CHINA
Western sporting goods companies began shifting apparel work out of China in 2008, when the government enacted sweeping new labor laws. Mass merchants, often with their Taiwanese logistics partners, have since moved some work to lower-cost Bangladesh, Indonesia and India. Deckers Outdoor Corp. moved production to northern China in 2008 to secure tax benefits and lower wages and get away from wage pressures in the south. It is now scouting locations in Vietnam.
But every country presents its own labor and infrastructure issues. Few have the extensive supply chains and transportation infrastructure it took China 30 years to develop. Footwear makers note virtually all of Asia's leather tanneries are located in China. This prevents a wholesale shift out of China for apparel, footwear, housewares and other low-tech manufacturers. Indeed, from 2000 to 2008, when Chinese input costs and currency rose substantially, the country's share of the world's manufactured exports grew from 4.7 to 12.7 percent.
Vietnam is facing many of the same issues as China, according to Osprey Packs Founder Mike Ptofenhauer, who lived in Vietnam for four years to oversee the company's manufacturing operations.
"The labor force in Vietnam is limited, and perhaps becoming less accessible to the sort of low-tech manufacturing required by outdoor industry manufacturers," Ptofenhauer said. "The labor costs are continually rising along with the competition for labor, particularly in the cut-and-sew industry."
Ptofenhauer notes some sewing contractors have moved to the outskirts of the city only to find that the traffic congestion is so bad that they can't attract labor.

UNPLEASANT DISCUSSIONS
Compounding problems of late has been a dearth of container ships, which ocean freight carriers sidelined last year in a bid to boost rates amid multibillion-dollar losses. Carriers have even slowed their freighters to save fuel costs, further delaying shipments.
U.S. brands are coping by air freighting shipments – an unsustainable tactic that is prompting some unpleasant discussions between U.S. brands and their Chinese factories. This spring, one big-box retailer demanded a Chinese manufacturer who missed a delivery date pay to air freight the shipment to the United States. The manufacturer concluded it would be better off withholding the shipment, but countered with an offer to pay ocean freight costs. The retailer pulled their business and said they would find another vendor only to return 90 days later to admit they were unable to find a vendor who could fulfill their needs. The manufacturer agreed to take them back, but said it would be unable to ship for eight months.
"That's the situation," said a source familiar with the situation. "Before, it was clearly a buyer's market."
Yeh said brands will now have to partner more closely with their Chinese factories.
"The retailer has to help too," he noted. "They have to provide a forecast and everybody has to share the risk. We are all in this together. I as a retailer can squeeze vendors, but if I don't get product, I don't make money. In the end, we all serve one master and that is the consumer."
Editor's Note: For more coverage of this issue, and many other stories, look for this month's issue of SGB, the most widely read trade magazine serving the sporting goods and outdoor markets.
To subscribe to SGB, go to: www.sportsonesource.com/printMag/


Editor's Note: For more coverage of this issue, and many other stories, look for this month's issue of SGB, the most widely read trade magazine serving the sporting goods and outdoor markets.

To subscribe to SGB, go to: www.sportsonesource.com/printMag/