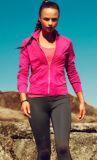 Scandinavian-based Casall, Europe's premium fitness apparel line for more than 30 years and one of the world's first companies to design fashionable fitness apparel specifically for women, has launched in the U.S., with a robust online presence for consumers.
Casall's functional styles are designed to inspire people to perform their best, look their best and feel their best," says U.S. General Manager Morgan Bayer. "This is what we like to call our Total Wellness Lifestyle."
Casall's seasonal collections include yoga, pilates, activewear, running, and underwear. Unlike traditional activewear brands, Casall has customized fits – slim, regular and loose, to support all types of training. In addition to women's apparel, a select but expanding collection of men's apparel is also available.
The website can be found at casall.us.
Inspired by Scandinavian simplicity, fresh design, sustainability and beauty, almost 90 per cent of Casall's products are manufactured in Europe, where great care is taken in creating quality fabrics and functional designs.
"Our customers want products that support their fitness activity and fulfill their highest standards, while truly caring about how the product is made and what it's made from," adds Bayer.
In addition to its partnership with the world's largest association for fitness and wellness professionals – IDEA Health and Fitness Association – Casall is also working with top Fitness Instructors at casallfitpro.com to help support the launch and offer the chance to pass along special promotions to their clients.