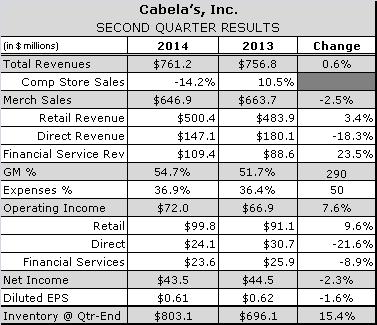 Cabela's Inc. was able to partially offset a steep drop in gun and ammo sales and report record operating margins in the second quarter by growing sales of camping gear, apparel and footwear to 60.8 percent of merchandise sales.

Sales of General Outdoors and Clothing and Footwear categories, which comprise camping and fishing gear, grew by $28.3 million, or 7.8 percent, to $393.3 million to reach 60.8 percent of CAB's merchandise sales compared with 55.0 percent a year earlier. The performance helped help offset a $38.6 million, or 12.9 percent decline in sales of Hunting Equipment, which includes gun and ammos sales. A $20.8 million increase in Financial Services revenue from credit card operation enabled CAB to offset the remaining $16.8 million decline in Merchandise sales and eke out a 0.6 percent increase in total revenues during the quarter.

"We are really excited about the future of our camping business," said Tommy Millner, Cabela's Chief Executive Officer, noting that the company has spent the last 18 months improving the quality and performance of Cabela's-branded tents, sleeping bags and hiking footwear.

Store expansion helped CAB to increase its bricks-and-mortar sales $16.5 million, even as comparable stores sales plummeted 14.2 percent, while a greater than expected decline in online ammo sales caused Direct sales to decline by $33 million, or 18.3 percent.
Despite opening seven new stores during the quarter, Cabela's expenses increased just 50 basis points to 36.9 percent of revenues thanks to lower spending on incentive compensation, contract labor, store openings, health insurance and other corporate overhead. Operating margins grew 70 basis points to a record 9.5 percent. Net income slipped 2.3 percent to $43.5 million, but exceeded analysts' expectations.
"We are pleased in our ability to achieve record levels of profitability as firearms and ammunition normalize," said Cabela's CEO" Tommy Millner.
While lower sales of ammunition, shooting, optics and firearms products accounted for roughly half the 14.2 percent drop in comparable store sales, comps performance improved sequentially throughout the quarter. New format stores outperformed the legacy store base by 45 percent to 55 percent in both sales and profit per square foot on a rolling four quarter basis. For the 12 months ended June 30, the 16 new stores opened for the full period averaged sales per square foot of $474.

Furthermore, on a comparable store sales basis, new format stores that have been in the comp base for one year or less outperformed the consolidated comp base by 360 basis points for the quarter. With this strong new store performance, retail store expansion remains on track with plans to open 13 to 15 new stores per year over the next several years.

Cabela's-branded products share of Softgoods and General Outdoors category sales grew 160 basis points each. Growth was spurred by the launch of XPG (Extreme Performance Gear) and growing sales of Cabela's Guidewear, Cabela's Instinct and Wildlife and Land Management products. Merchandise margins for guns and ammo also improved as CAB backed off some of the aggressive promotions used in the first quarter. Nevertheless, overall merchandise gross margin slipped 70 basis points to 37.0 percent compared to the second quarter of 2013 due primarily to a change in the way CAB allocates operating and promotional costs for its Club Visa credit card and loyalty program.
During the quarter, the average number of active credit card accounts grew 7.7 percent due to new customer acquisitions in by the Retail and Internet channels. Average balance per active credit card account was grew 4.4 percent and the average balance of credit card loans grew 12.4 percent.

While the value of CAB's inventory on June 30 was 15.4 percent higher than a year earlier, the company expects to open five new stores by the end of the year.

Executives said the imminent launch of fall products, trends at its Club Visa program, the likelihood that ammo sales bottomed out in the second quarter and the potential to further reduce spending auger well for the third quarter.

"We're challenging every single contract that is both existing and to be negotiated," Millner said of the company's efforts to slow spending amid the sharp drop in firearms sales.

On the other hand, lackluster reports by other retailers and a slower than expected start to July are curbing expectations.

"At one time, I was hoping to see flat comps in the third quarter," said EVP and CFO Ralph Castner. "That doesn't seem to be the case now. I think we'll probably see something in the mid-single-digits decline."


CAB reaffirmed its full-year guidance of high single-digit to low double-digit rate growth in diluted earnings per share and updated its forecast for third quarter revenues, which are now expected to increase at a high single-digit to low double-digit rate.