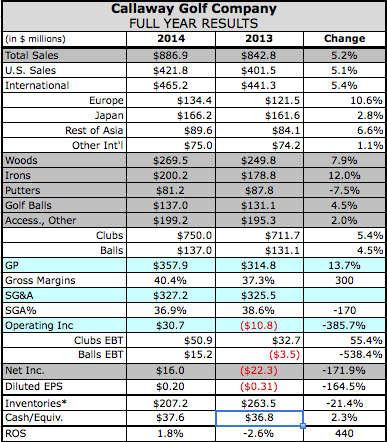 Callaway Golf Co. trimmed its fourth-quarter loss, feeding a return to profitability for the year for the first time since 2008. The company still offered a cautious outlook for 2015 due to foreign exchange headwinds and uncertain golf market conditions.
Sales in the fourth quarter rose 5.8 percent to $134.6 million due primarily to increased sales of woods, up 21 percent; irons, ahead 27 percent; and golf balls, up 3 percent. The increase in woods and irons was led by a strategic change in product launch timing resulting in the fourth quarter release of the Big Bertha 815 family of woods and Big Bertha Beta Irons and Hybrids compared to no similar product launches in 2013.
On a currency-neutral (c-n) basis, sales grew 13 percent, Callaway officials said on a conference call with analysts. Regionally, sales at the U.S. were $50 million, flat compared to last year while international sales were $85 million, a 10 percent increase. The international growth was primarily driven by Japan and Europe. Sales were adversely impacted by $7 million due to changes in foreign currency rates compared to last year.
Gross margins improved 440 basis points due to a favorable sales mix in pricing, operating efficiencies and less promotional activity. Included in 2013 were restructuring charges of $4 million. Operating expenses increased 1.9 percent to $76.0 million due primarily to an increase in marketing expense tied to product launches.
The net loss in the quarter was reduced to $41.5 million, or 54 cents a share, from $49.5 million, or 65 cents, a year ago.
In the full year, Callaway earned $16.0 million, or 20 cents a share, rebounding from a loss of $22.3 million, or 31 cents, a year ago. Revenues increased 5.2 percent to $886.9 million and 8 percent on a c-n basis. The gains were driven by growth in most major product categories, including woods, up 8 percent; irons, ahead 12 percent; golf balls, rising 4 percent; and accessories and other, moving up 2 percent. Regionally, the U.S. ran ahead 5 percent, Japan grew 3 percent, Europe jumped 11 percent, Rest of Asia gained 7 percent, and Other Foreign Countries inched up 1 percent.
Operating earnings in the year reached $30.8 million against a loss of $10.8 million. The earnings gain reflected the sales gain, gross margin improvement of 310 basis points, and flat operating expenses, all of which more than offset an approximately $6 million increase in other expense due to a decrease in foreign currency contract gains. The 2014 results also benefitted from a $17 million decrease in pre-tax charges related to the cost reduction initiatives completed in 2013.
On the call, Chip Brewer, president and CEO, noted that Callaway's hard goods dollar market share in the U.S. was 18.5 percent in 2014, up 340 basis points year-over-year. In Japan for the full year, it finished at 14.4 percent, up 50 basis points year-over-year and made Callaway the number one American brand in that market. In the U.K. the most recent share data showed Callaway at 18.3 percent, up 370 basis points year-over-year. Europe's market share was 20.3 percent, up 340 basis points and placed Callaway as the number one selling brand for the last eight consecutive months.
"This global market share growth was driven by significant gains in woods, irons and wedges," said Brewer.
Other successes include building its US PGA Tour roster to 32 full staff players, up from 15 in 2012. R&D investments helped support a 32 percent increase in its custom club business. Its golf ball business delivered a $19 million improvement in profitability in the year on a $6 million increase in revenues.
Trade reaction to its 2015 line, led by its XR family of irons, "has been very positive." Early sell-throughs of its Chrome Soft golf balls launched mid-January "has been encouraging."
Regarding the overall industry, Brewer said market conditions over the holiday were "just fair" in Asia but showed improvement in the U.S. and U.K.
"Unfortunately it's too early to get a reliable read on 2015 market conditions," said Brewer. "We believe our inventory positions both internally and at retail are in reasonably good shape. We believe the industry is making good progress at reducing and maintaining appropriate inventory levels and the industry's mood at last week's PGA show was one of gradual improvement and cautious optimism."

Looking ahead, Callaway projected that its 2015 net sales will decline 1 to 4 percent due to significant changes in foreign currency rates compared to 2014. On a c-n basis, sales are estimated to increase approximately 1 percent to 4 percent. This growth is being driven by an estimated 5 to 6 percent growth in the company's core channel business, partially offset by a change in product launch timing and a reduction in closeout sales compared to 2014.
Gross margins are expected to remain about the same as a percent of sales but improve 210 basis points on a c-n basis as a result of continued supply chain improvements and a more favorable sales mix.
The company estimates that its fully diluted earnings/loss per share will decline significantly solely as a result of the foreign currency exchange challenges. On a c-n basis, the company estimates EPS will increase 40 to 90 percent due to the strength of its 2015 product line and the many operational improvements implemented over the last couple of years.