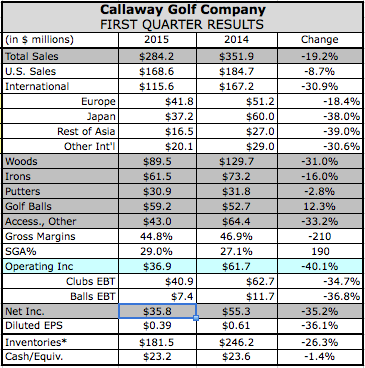 Callaway Golf not surprisingly saw a steep decline in the first quarter but they were even worse than expected due to currency challenges and worsening conditions in Asia. On the upside, earnings came out better than expected due to improved cost management and overall operating efficiencies.
Revenues declined 19.2 percent to $284.2 million. The company had previously estimated that the percentage decrease be in the mid-teens primarily as a result of a planned strategic shift in its premium wood launch from the first quarter, weaker foreign currency rates and an anticipated decrease in sales in Japan due to the consumption tax increase which took effect in April 2014. Since providing the guidance, the U.S. dollar strengthened further and market conditions, particularly in Asia, showed less improvement than anticipated.
Earnings slumped 35.2 percent to $35.9 million, or 39 cents a share, but came in better than anticipated due in part to better than expected gross margins and other income/expense.
On a conference call with analysts, Chip Brewer, president and CEO, said that while revenues were lower than expected, the "positives outweigh the negatives" with the efficiencies that helped the bottom line as well as continued brand momentum noted by market share gains.
Approximately 1 percent of its Q1 shortfall was traced to currency movements. In Asia, Japan was particularly weak, down 28 percent on a local-currency basis with several larger retailers recalibrating inventory levels. Regardless, Brewer said the Callaway "brand position across Asia remains very strong and we remain optimistic for the balance of the year and the long-term."
Europe performed consistent with expectations and its U.S. business was the highlight for the quarter. Said Brewer, "For Q1, market conditions were roughly flat in both of these markets. The U.S. business is continuing the strong turnaround story that has been non-folding over the last three years." A strong performance also came in India.
Regarding market share, hardgoods dollar market share in the U.S. was 20.6 percent, up 130 basis points year-over-year. Japan's hardgoods share reached 16.6 percent, up 150 basis points. In the UK, its Q1 hardgoods share was 17 percent, down 80 basis points year-over-year. The global market share performance was driven by gains in irons, putters and balls, partially offset by a small decrease in the woods category.
Brewer said Callaway is pleased with the reception for XR Woods and Irons and saw a strong response to the Odyssey Works Putters in Chrome Soft Golf Balls.
"We think we are positioned for a very strong year in irons, putters and golf balls," said Brewer. "The wood category is highly competitive this year, and we are most certainly going to hold significant position. However, due to our strategic decision to realign launch timing, the comps for our wood business during the first half of the year are going to be more difficult."
As a result of the revenue shortfall, Callaway decreased its full year revenue estimate to $840 million to $860 million, a decline of 3 percent to 5 percent versus last year. It had previously projected sales between $855 million to $880 million. On a currency-neutral (c-n) basis, sales are expected to be flat to up 3 percent.
Due to the above-plan earnings, however, its full year EPS estimate was lifted to range from a loss of 3 cents a share to a profit of 4 cents. That compares to its previous range of a loss of 9 cents a share to a profit of 1 cent. On a c-n basis, the new earnings estimate per share would range from 36 to 43 cents a share, an increase of 80 percent to 115 percent compared 20 cents in 2014.
"I'm confident that Callaway Golf is in a much stronger position today that it has been in quite some," Brewer said in closing. "The changes we have implemented are being noticed and are proving effective in driving increased consumer interest and improved operating efficiencies. I also believe that the industry fundamentals are improving. As a result, I remain confident that we are on track with our overall plans and that the plan will be lead to steadily improved performance in long-term shareholder value."