Callaway Golf started fiscal 2008 off with a strong quarter, but still tempered its outlook to the low end of previous guidance on worries surrounding the economy as a whole. Though sales were relatively flat for the company in the domestic market, growth was strong in international markets with Japan having a particularly good quarter. Paired with the back-end work the company has been engaged in for the past couple of years, the overall sales gain played off relatively flat margins and decreased expenses to produce net income growth of just over 20%. Things look fairly good for the second quarter as well, according to president and CEO, George Fellows.

"Bookings for immediate shipment, a reasonable measure of sell through for the first quarter in U.S., was up 11% versus a strong 2007 period," said Fellows. "Bookings for immediate shipment in April are up 7%."
The company saw fairly even growth between its Clubs and its Balls businesses for the quarter. Clubs as a whole grew 9.6% to $308.0 million for the first quarter from $281.1 million last year. Operating income for the Clubs side of the business grew 16.6% to $76.2 million from $65.3 million last year.
The 13.1% growth in Woods sales for the quarter came from new Fairway Woods and Hybrid introductions more than offsetting lower second year sales of the FT-5 and FT-I. The I-Mix product that garnered much attention at the PGA Merchandise Show in January began shipping in the quarter, but that product focuses on too small a segment of the market to be expected to offset the year-ago FT-I and FT-5 sales.
Sales of irons decreased 3.6% as the company continued to sell-through last year's X-20 and X-Forged irons. The year-ago models were somewhat offset by the new F-T and Big Bertha lines of irons, but the company's focus on new product this year was more in the Fairway Woods and Hybrids categories.
Golf ball sales were $58.4 million for the quarter, an increase of 9.1% compared to last year's sales of $53.5 million. This increase was due to the introduction of several new balls, including the HEX Tour-ix, HEX Hot-BITE and the new Top-Flite ball models. Operating income for Balls dropped 22.4% to $4.4 million from $5.7 million last year. On a conference call with analysts, management attributed the drop in income to the year-ago boost from clearing out and trimming back Top-Flite SKUs. Excluding that one-time event, operating income for the segment would have increased approximately 20%.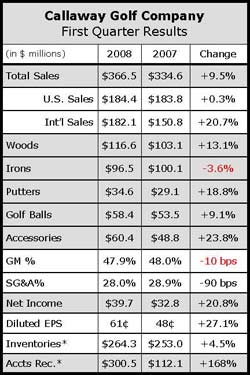 Accessories continue to perform well with sales of $60.4 million for the quarter, an increase of 23.8%. This increase was driven primarily by Top-Flite package club sets and Callaway junior sets. Bags and Footwear were both called out as growth drivers for the quarter and going forward.
Putter sales were $35 million, an increase of 19% compared to $29 million in sales last year. This increase was driven by strong sales of Odyssey Black series and Divine Line models that were introduced late last year, as well as the White Hot Tour and Sabertooth models.
Looking at sales on a regional basis, U.S. sales were relatively flat, but the company saw strong growth internationally. International sales increased 21% to $182 million compared to $151 million in 2007. Foreign currency translation positively impacted sales by $12 million. So, on a currency neutral basis international sales increased 13% compared to last year driven by strong growth in Europe and Japan. Sales to Europe increased 18.0% to $66.1 million from $56.0 million for the year-ago quarter.
In Japan, sales jumped 40.6% to $53.3 million from $37.9 million last year. Management said that the introduction of a new Legacy driver and accompanying product line fueled the strong growth in Japan. The rest of Asia saw sales grow 16.0% to $26.5 million with China described as growing quickly off a small base, while India is still in the very early stages of development.
Looking to the rest of the year, the company maintained its previous guidance of sales in the range of $1.145 billion to $1.165 billion, with earnings per share of $1.08 to $1.18. Management was cautious, however, saying they expect sales to come in at the low range of those estimates.
A final good note for the company is this was their best season ever for delivering product on time, according to management.
"Each year we have gotten better. You know, we had severe difficulties if you go back to '05 when I first got here and each year we have gotten significantly better," said Fellows. "Without any question '08 was by far our best year yet."