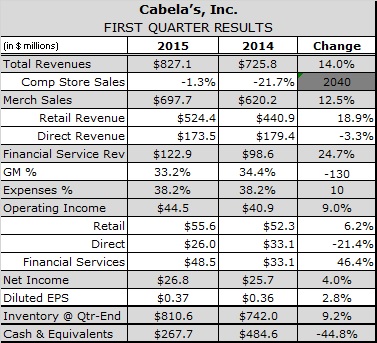 Cabela's Incorporated has a shot at growing its comparable store sales sometime in the back half of the year as it laps the post-election boom in firearms sales, CEO Tommy Millner said Thursday.
"We would certainly hope that sometime in the back half of the year, we would have a shot at going positive," Millner told analysts during the retailer's April 23 first quarter earnings call.. "Our trajectory is really good."
CAB reported total revenue increased 14.0 percent to $827.1 million in the first quarter ended March 28 as 14 new stores and associated growth at its credit card business easily offset an expected decline in same-store sales.
Cabela's Retail store revenue grew 18.9 percent to $524.4 million compared with the three months ended March 29, 2014. Comp store sales declined 1.3 percent companywide and 0.4 percent in the United States, a major improvement from the 5.5 percent and 4.7 percent declines reported for the fourth quarter of 2014. Moreover, the companywide decline was largely due to currency declines in Canada. U.S. comparable store sales increased in six of 13 merchandise subcategories, including power sports, hunting equipment, optics, camping, shooting, and fishing. Apparel, home and gifts were soft. Average ticket rose 2.2 percent.
"We're seeing really good movement in traditional hunting and target shooting shotguns," Millner continued. "Bolt-action rifles are good. We are starting to see movement again in modern sporting rifles. And handgun activity continued to see ongoing strong performance in small frame, .380 handguns, and I suspect that's just coming from new participants in the sport, the .380 is a great entrance level gun before they step up to a 1911 or something bigger. So I mean, the gun business is just returning to normal trends."
Same-store sales declined a whopping 21.7 percent in the first quarter of 2014 as the retailer comped against a spike in gun and ammo sales following the re-election of President Barack Obama.
Small store format gets another look
In a reversal of recent trends, the company's Outpost stores posted the strongest comps growth of the quarter, CAB EVP and CFO Ralph Castner said. Cabela's developed the smaller stores to enter markets of 250,000 or fewer people but halted expansion last year after they failed to meet expectations. A new team is now working on a new, 50,000-square-foot iteration. The stores are a key component of CAB's plans to expand from 67 to 225 stores.
Direct revenue decreased 3.3 percent to $173.5 million as customers who had been gone online in search of scarce ammo shifted back to buying their bullets at CAB's retail stores, where inventory levels continued to improve.
Particularly strong performance in women's and children's apparel, optics, home and gifts, as well as power sports all contributed to the sequential improvement in Direct revenue. Consolidated comparable store sales decreased 1.3 percent compared with the first quarter ended March 29, 2014.

Higher ammo, power sports sales press merchandise margins
Merchandise gross margin slipped 120 basis points with half attributable to a higher percentage of low margin power sports and ammo sales, and a slightly more promotional approach early in the quarter. Costs incurred extracting containers from West Coast ports also raised cost of goods sold by "tens of basis points," according to Castner. The remaining 60 basis point decline was attributed to the impact of a previously disclosed change in how Cabela's allocates the costs of acquiring new credit card customers between its Retail and Financial Services businesses. Discounting returned to more normal levels after hitting margins harder than expected in the fourth quarter of 2014.
Financial Services revenue increased 24.7 percent to $122.9 million. Growth in the average number of active credit card accounts was 7.0 percent due to new customer acquisitions in our Retail and Internet channels. Growth in the average balance per active credit card account was 5.0 percent, and growth in the average balance of credit card loans was 12.3 percent to $4.2 billion. For the quarter, net charge-offs remained at historically low levels of 1.53 percent compared to 1.80 percent in the prior year quarter. Increased Financial Services revenue was driven by increases in interest and fee income as well as interchange income.
Consolidated Gross margin declined 130 basis points to 33.2 percent. Expenses grew 14.1 percent but remained flat at 38.2 percent of revenue. Operating income increased 9.0 percent.
The company reported net income of $26.8 million and earnings per diluted share of 37 cents, compared to $25.7 million and 36 cents in the year ago quarter. First quarter 2015 results include incremental expenses related to the relocation of a distribution center in Winnipeg, Manitoba, Canada, of a penny per diluted share. On an adjusted basis, net income increased 6.9 percent to $27.5 million compared to $25.7 million in the year ago quarter, and earnings per diluted share were 38 cents compared to 36 cents in the year ago quarter.
While Cabela's grew retail square footage 17.5 percent in the year ended March 28, inventory grew by just 9.2 percent, even as it prepares to open four stores in the second quarter, three in the third and three in the fourth. CAB has announced the location of nine stores it will open in 2016.
2015 guidance intact
With volatility in firearms and ammunition sales subsiding, CAB reaffirmed its guidance for low double-digit growth in revenue, and a high single- to low double-digit growth rate in diluted earnings per share for full-year 2015, as compared to full-year 2014 non-GAAP diluted earnings per share of $2.88.
The retailer expects a TV advertising campaign launched April 19 at the Academy of Country Music Awards will spur sales of a totally revamped line of camping gear leading up to the Memorial Day weekend. Called "Disconnect Day," the campaign urges people to unplug themselves and their children and go camping.
Longer term, there is a much larger opportunity to take down costs with a new SKU profitability tool CAB's merchandising teams are using. The potential "is eye-opening, to say the least," said Millner. "It is helping us drain cost out of the entire supply chain, on products both Cabela-branded and national brands, in hard goods and soft goods. You can literally take most products in every category, and there is some activity going on to make them more efficient through the supply-chain."
---
Editor's Note: Cabela's had to scrap radio commercial for the opening of its first store in Massachusetts last month after locals pointed out it mispronounced the name of the town. "It's not Ber-lin," explained CEO Tommy Millner, "It's Berl-in. Our customers corrected us on that, which meant that we had to change some radio commercials. So one learns a lot."