Cabelas Inc., reported that profits surged more than 20 percent for the fiscal second quarter ended July 2 on a strong top-line as well as improved same-store sales.


In a conference call with analysts, company President and CEO Tommy Millner said Cabelas realized strong results in Retail revenue growth along with a record second quarter profitability on a consolidated basis as well as in the Direct and Retail segments. Millner also pointed to a strong performance from the Cabela's CLUB Visa program, higher merchandise gross margins and increases in market share – all of which combined to help the retailer achieve after-tax return on invested capital.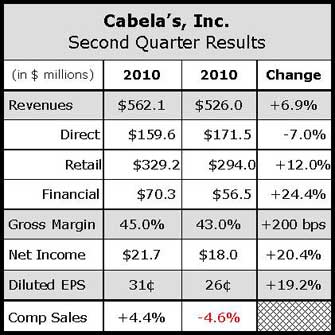 Cabelas posted earnings of $21.7 million, or 31 cents per diluted share, compared to earnings of $18.0 million, or 26 cents per diluted share, in the year-ago period.

Cabelas revenues for the second quarter improved a healthy 6.9 percent to $562.1 million from $526.0 million in the year-ago period. Total merchandise sales improved 5.9 percent to $488.4 million from $465.5 million. Merchandise margins improved 80 basis points on margin improvements in ten of 13 merchandise sub-categories. Gross margins improved 200 basis points to 45.0 percent of sales versus 43.0 percent a year ago.

Retail revenues improved 12.0 percent to $329.2 million in Q2 from $294.0 million as the company continues to enjoy returns from its new next-generation store format that Millner said generates more sales and profitability per square foot than the corporate average. Same-store sales were up 4.4 percent during the quarter. Milner added that due to strength from firearms and power sports in the Retail segment, merchandising margins were adversely impacted, although margins did improve somewhat.

For the Cabelas CLUB Visa program, revenues jumped 24.4 percent to $70.3 million from $56.5 million in Q2 last year. Net charge-offs decreased 244 basis points to 2.34 percent compared to 4.78 percent in the prior-year quarter, marking the lowest level of net charge-offs in the past three years. CAB also said it lowered its allowance for loan losses $5.0 million as compared to an $8.9 million reduction in the prior year quarter.

Revenues for the Direct segment sank 7.0 percent for the quarter (4.6 percent adjusted for divestitures). Management said the entire decline was a result of ammunition and shooting categories returning to more normal levels from last year's inflated levels. For the quarter, the number of multi-channel customers increased 2.8 percent.

Also of note, Millner announced two more next-gen store openings in 2012 in Rogers, AR and Charleston, WV, bringing the total new store count for 2012 to five new stores – four in the U.S. and one in Canada.