With its momentum only accelerating in 2010, Brooks Sports is projecting revenues to grow 26 percent to "just under $300 million" in 2011. That forecast came during an exclusive Sports Executive Weekly interview with Brooks President and CEO Jim Weber last week in New York City. In 2010, Brooks revenues jumped 19 percent to about $240 million globally. Footwear grew even faster, up in the mid-twenties, he said.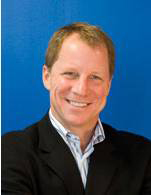 So far, Weber said the company is exceeding an aggressive ten-year growth plan set out in early 2010 that called for revenues to reach $1 billion by 2020.

"Our backlogs are up in the 30 to 40 percent range in every product line and in every geography we have," said Weber. "So the business is super healthy. And while the overall category is healthy, we're growing faster than the category."

The growth in 2010 was well above plan considering that backlog entering 2010 was flat. Weber credits the performance partly to Brook's ability to get back into product. That included absorbing "out of control" air freight costs to ensure timely deliveries.

"We really scrambled last year," he said. "Our team on the operations side and in customer service delivered better than anyone and we've heard that from a lot of retailers."

But the progress reflects strong demand for Brooks products and the response to its "Run Happy" marketing campaign and run positioning.
On the product side, Brooks holds the leading position in the specialty run accounts (SRA) channel in both stability and motion control, said Weber. The brand also has "some great neutral shoes coming with our Glycerin and Ghost updates" that are expected to expand share in that category.

But Weber particularly expects a monster payback from the major investment it's putting behind its PureProject collection that addresses the minimalist opportunity and launches in October.

While much of the media focus has been on "shoe/no shoe," Brooks felt the barefoot movement more directly addresses two running experiences, according to Weber. One is the "Float" experience that calls for more support and is represented by Brooks' current models: Ghost, Glycerine, Trance and Adrenaline GTS series. He described this run experience as one "where you literally want to throw your shoes on, put the iPod on, and just cruise." The other "Feel" experience addressed by PureProject is for runners who want to feel the road or trail to be more "totally engaged in their run," Weber said.

Moreover, much like a runner might have a trail shoe and a road shoe depending on the surface he or she planned to run on, he believes Float and Feel represents a two-shoe opportunity depending on the desired run experience.
"Depending on the day, you might be in the mood to push it hard and want to work the run because you've got to work harder in this [Feel] kind of shoe," said Weber. "And then on other days you might want to 'cruise' with a Float model. So we're super excited about this. This is performance product. There's very unique technologies here and we think the runner is going to experience it not only in the store when they first put the shoe on, but in mile five it's going to be like, 'Wow!' And that's what we've gone for so we're really jazzed about it. And the product is gorgeous."

Indeed, he believes PureProject will allow Brooks to reach a younger runner looking for more of the "Feel" experience. Weber elaborated, "From a design point of view we've taken this significantly younger and bolder and that was part of the goal as well. We are not going to get old as a brand. Running transcends age. So we get a chance to introduce our brand to a lot of new runners and a lot of younger runners and this line is going to give us the spirit to do that."

A recovery area has been apparel, which was impacted in 2009 and early 2010 amid the downturn along with many other apparel brands in the market but started hitting double-digit gains in late 2010. Weber projects its apparel business will be up 30-to-40 percent this year. He said, "We repositioned it about a year and a half ago and it's doing very well. Our apparel backlogs are up in the 40-to-50 percent range now."
Particularly doing well is Brooks Nightlife reflective collection not only in apparel but in accessories such as caps and gloves, which Weber described as "actually a big business for us."

Weber also believes Brooks is benefiting from its positioning as the most running-focused brand in the running space, including its distribution focused on reaching runners. The primary focus is on three channels: SRA, which represented 54 percent of pairs sold in 2010; the sporting goods channel, 10 percent; and athletic specialty (primarily Finish Line), 5 percent. Internet actually represented its second largest channel at 14 percent, although Weber noted that Brooks had terminated around 40 online retailers in the last two years that weren't positioning Brooks as a performance brand. Department stores, primarily Nordstrom, made up 3 percent of sales.

The family channel, consisting of close-outs, accounted for 3 percent; and Other, 10 percent.

Also benefiting the company is its more lighthearted "Run Happy" marketing campaign that Weber believes helps the brand better resonate and connect emotionally with the running lifestyle than many competing brands focusing on a performance message.

"We always, always start with science and serious gear but it's a glass half-full message with this whole 'Run happy spirit.' It's fun. It's interesting and no one else is doing what we're doing here," said Weber.

Besides revenue and profit growth, Brooks' recent success was confirmed by the brand becoming one of three brands to be featured in the brochure for the recent shareholder meeting of its parent, Berkshire Hathaway, the investment arm of Wall Street legend Warren Buffet. "Warren basically put is in there, which is fantastic," said Weber.
Closer to retail, the brand's success became evident this January and February when it passed Asics as the top-selling footwear brand in SRA. Weber estimated that Asics had held the top spot since the nineties after taking over from Nike. Internally, the achievement validated the brand's switch around a decade from a mass-volume approach to focus solely on run.

"We're competing as an entire company in [the SRA] channel and I think we're going to be hard to compete with and that's our goal," said Weber. "And we're marketing effectively with these folks and we're partnering with them. It starts with product but it's a lot more than product. So we're going to continue to focus on [the SRA] channel as a critical strategic imperative. You can't be a leading running brand unless these people are supporting your products."