Big City Mountaineers (BCM), a nonprofit dedicated to instilling critical life skills in under-resourced youth through wilderness mentoring expeditions, appointed Bryan Martin as the organization's new executive director
"I am excited that Bryan is joining Big City Mountaineers," says BCM Board President, Paul Andrews. "His experience in the outdoor and not-for-profit industries will be great assets to our organization. Bryan's belief in BCM's mission of transforming the lives of under-resourced urban youth through wilderness experiences shone through during the search process. I am confident he will strengthen and expand our program and its impact on urban youth."
Martin, pictured to the right,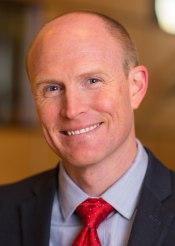 previously held leadership roles in fundraising and advocacy for outdoor-focused non-profit organizations including The Nature Conservancy. He most recently served as external relations officer for The Land Trust Alliance and, prior to that, director of conservation for The Colorado Mountain Club.
"I've admired the good work BCM does for urban youth for many years," says Martin. "I've spent much of my career working with organizations to protect natural landscapes and now I'm excited to help foster that connection and love for the outdoors with youth that might not have the opportunity otherwise."
Big City Mountaineers (BCM) serves over 2,000 young people each year by getting them outdoors with volunteer mentors for life-changing wilderness experiences. BCM's unique model of 1 to 1 mentoring is proven to develop integrity, responsibility, improve communication skills and decision making abilities in youth from risk-filled environments through a nationally recognized developmental analysis tool. Given the opportunity to develop these skills alongside caring volunteer mentors creates positive lasting change in these youth who become more likely to stay in school and avoid drugs, gangs and violence. To learn more, please visit www.bigcitymountaineers.org.