Benchmade Knife Company, producer of American made knives, has solidified a new leadership team for even greater growth.
"This is the perfect moment for Benchmade to prioritize our team and culture," said Jon deAsis, President. "Our commitment to culture and performance drove me to seek out the right people to help support the incredible growth we have been experiencing. Evolving our structure with key talent and vision will energize our brand and improve our ability to satisfy customers worldwide."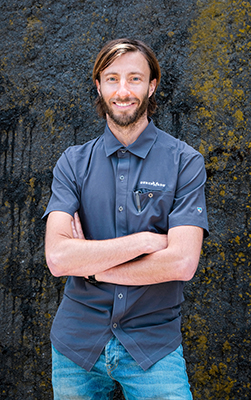 Recently filling the key role of Vice President of Marketing, Joe Prebich — (and SGB 40 Under 40 Honoree, Class of 2016) — joins the team with a long history of defining and developing strong brand relationships with consumers. Prebich's previous experience with leading brands like Fjallraven, Oakley and Red Bull, bring a level of consumer expertise that is a key element of Benchmade's commitment to best-in-class customer experiences.
"I am so proud to be joining the Benchmade family," said Prebich, shown right. "The reputation and dedication to quality are what drew me to the brand, but it is the people that I met along the way that proved Benchmade is truly committed. I look forward to working with the entire organization and to share this incredible story with customers across the world."
Bringing greater depth and sales leadership to the executive team, Charles Darby has been promoted to Senior Director of Sales for Benchmade's global sales and retail affairs. Darby has made a career at Benchmade and now ascends into the position with a continued commitment to the brand's long-time relationships across multiple sales channels.
"Benchmade has given me the chance over the past 15 years to grow as a person and professional," said Darby. "Now, as I take the reins with my incredible sales team, I am excited to put my perspective on the future and to partner with the group to translate our story to every one of our retail relationships.
Additionally, to emphasize continuity planning, culture and organizational development, Kristine Gittins has been promoted to the role of Executive Vice President focusing on securing strategic access to capital and ensuring execution of our corporate mission.
"Kristine has been an integral part of the culture and success at Benchmade and her promotion caps off a year that has challenged every industry. I am very proud of her leadership through difficult times and am looking forward to her continued success here at Benchmade."
Benchmade Knife Company is proudly taking action to ensure the future of the brand remains people and products. These strategic new additions follow what has been a year of reinforcing the core values of the business that were established when Les De Asis began hand-building knives 40 years ago.
"I am thrilled to have established a new leadership structure at Benchmade," said De Asis. "The addition of Joe and Charles to the team means that we will continue to grow our brand, create value, and enrich collaboration with all market partners. Our vision for servicing the market centers around the important relationships with our customers, investing more in our external channels and strengthening our brand identity overall."
Photos courtesy Benchmade Knives