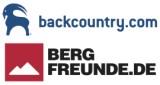 Backcountry entered the European outdoor market by acquiring Bergfreunde.de, which it described as the leading e-commerce company for outdoor enthusiasts in Germany, Austria, and Switzerland.


Bergfreunde.de was founded in 2006 and has grown quickly with a focus on premium outdoor products. Like Backcountry, it strives to be the definitive resource for the best outdoor gear on the planet.
"The Backcountry and Bergfreunde brands are well-aligned in terms of their passionate customers, their expert customer service, and an internal culture that thrives in the outdoors," said Jill Layfield, CEO of Backcountry. "This partnership signifies the first step toward building the first globally scaled outdoor e-commerce business. From North America to Europe, these two brands connect people to their passions through an exceptional online experience."

"We are thrilled to join the Backcountry family," said Martin Theben, founder of Bergfreunde.de. "We have always admired Backcountry's robust community and focus on remaining authentic within the outdoor community. We look forward to working together to offer the richest customer experience in outdoor e-commerce."
Backcountry.com claims to be the largest online specialty retailer of premium outdoor gear. Its seven specialty stores include: backcountry.com, dogfunk.com, Competitive Cyclist, SteepandCheap.com, WhiskeyMilitia.com, chainlove.com, and MotoSport.com. SGB magazine estimates its sales approached $350 million in 2012.
Backcountry is a subsidiary of Liberty Interactive Corporation. Its financial results are attributed to the Liberty Interactive Group tracking stock, which will soon be split into separate trading stocks for Liberty's QVC-related business and a collecton of e-commerce ventures, which include backcountry.com and bodybuilding.com.